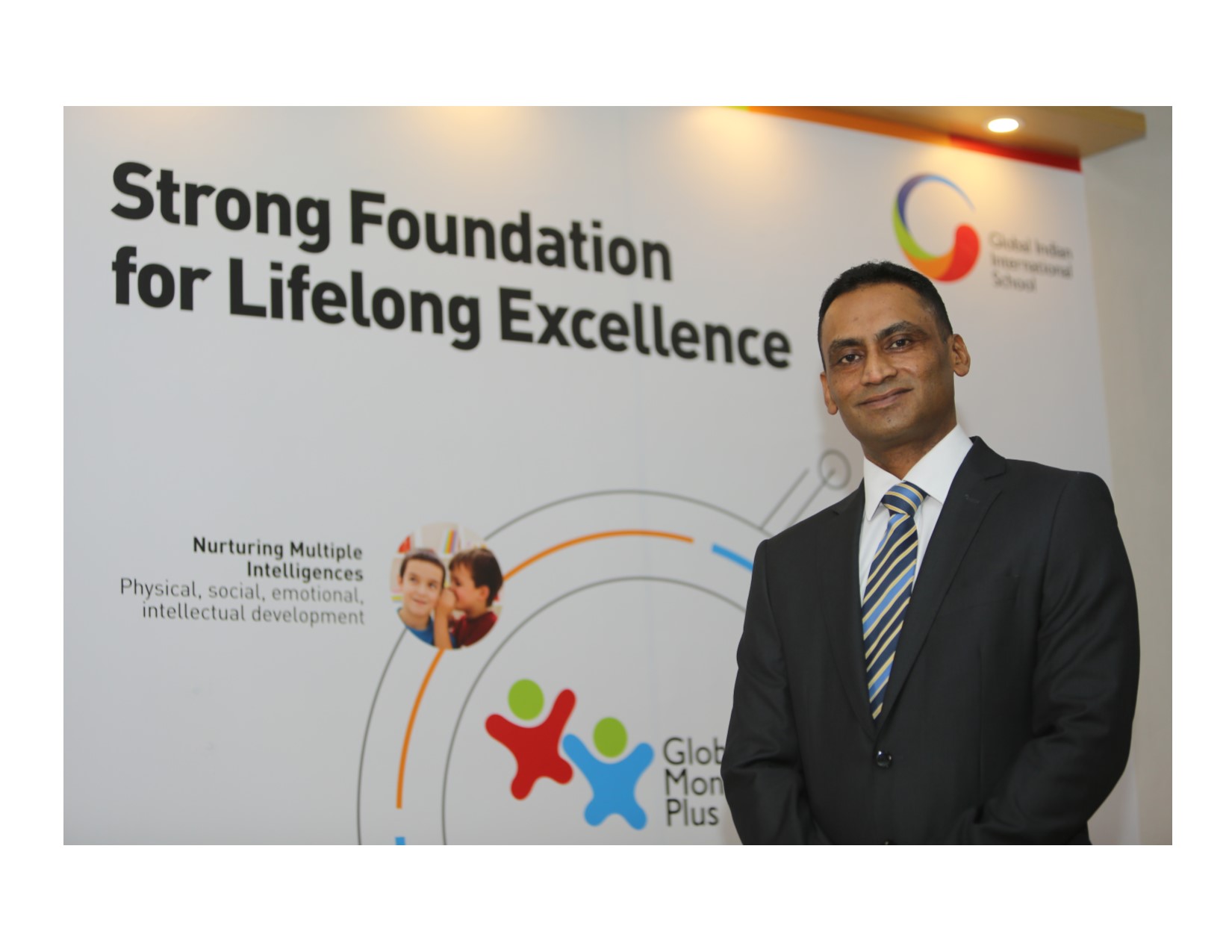 Dear Parents,
Greetings!
Another engaging month and a special one too!
The month saw many of our students take an onsite exam after a gap of almost 18 months. For many, it was their first-ever onsite examination. I am glad that they have all dealt with the challenge, well.
This month saw the launch of After School Activities and Daycare facilities in the school. The students are engaging fruitfully in the activities provided by the school and we are very happy to see their progress. I urge all parents to explore these school programs and enlist their child in it. The launch of Qutuhal Season-3 was another milestone for the school and we are very proud to witness the enthusiasm and large numbers of student entries. These 9 weeks promise to be a great learning experience for the participants. Well done GCIE!
This month saw a GIIS Leadership Lecture Series, Mr. Luke Coutinho, Holistic Life Coach, visited the campus and interacted with the students, it was truly ever-inspiring and left all of us motivated to lead a healthy life. Our students hosted the entire program with great confidence and panache.
The inauguration ceremony of "GSF turns 20" saw the school host its first major function in the new campus. Small beginnings in the post COVID era was very encouraging for all of us in school and I am sure, to many parents too. The student participation in the programs was heart-warming, to say the least!
We also saw a very fruitful Parent Teacher Meeting, that helped the teachers provide and receive one-to-one feedback to and from the parents.
The school continues to improve its provisions through the valuable feedback received from our parents and remains grateful for the support extended to us by you all.
I wish you all a pleasant reading and viewing with this edition of the Newsletter!
Activities in the October Month:
Gandhi Jayanti: Our little munchkins of kindergarten pay tribute to this great leader. They dressed up in white attire and made a collage of the things used by Gandhi Ji. Students colored the picture of Gandhiji and created the Charkha using popsicles and wool. The three wise monkeys embody the principles of 'see no evil, hear no evil and speak no evil' were taught to students. They participated in a parade reading slogans and explaining the meaning of the slogans while connecting to the learning centers in GIIS.
Book Week: Students celebrated book week. Different activities were organized the story- Hungry Caterpillar to encourage their reading as well as to make them familiar with characters of the story.
Making of Natural Fertilizer: On 7th October, our students soaked peels of used-up vegetables such as potatoes, cucumber, carrots, etc. in water and witnessed the transformation after 3 days. The reformed water was then used up as a natural fertilizer and watered in the soil and plants around the school. They got a hands-on understanding of reusing waste of vegetables in a simple and inexpensive way
Balad i – Quiz on UAE: Students participated in UAE quiz related to National fruits of UAE, local vegetables, Arabic food, Arabic drinks like Gahwa and Coffee. Students of KG II participated in UAE quiz competition with each team holding the signals high to get an opportunity to answer and to make their team win at the same time giving an opportunity to hone their teamwork skills.
Wacky Hat: Hats! Hats! Hats! We saw a lot of unique hats that had been given a fresh and crazy look using recycled materials.KG Children paraded with confidence and were happy to receive a standing ovation from the Primary children. All the children were excited to see their friend's hats and couldn't stop talking about it. A special thank you to the parents who made this day very creative and fun!
Scarecrow's Trail: Walk the Kindergarten Al boustan area to see the scarecrows on display. Come out and hit the trails and see all of the creative, spooky, and fun scarecrows our KG II kids have built!. This colorful and exciting fall event brought enjoyment to the entire section.
Halloween Day Celebration On 28th October, Students from Pre-KG to Grade 10 came dressed up in their spooky costumes and had a SPOOKTACULAR day. There were very happy Superheroes, Fairies, Witches, Goblins, and other interesting characters walking around. Excited faces were seen as students from KG to Grade 10 posed for photographs to the equally thrilled teachers. After the exciting fancy-dress parade, pumpkin carving and spooky stories, and other fun activities children enjoyed the homemade Halloween-themed delicacies. The children had a wonderful time and were seen smiling happily as they left the school.
Mathematics Week: Math Week is a fantastic opportunity for children to engage in math activities, which they may not normally get a chance to experience in a normal lesson. Over the course of the week, the whole school participated in different Math activities designed to challenge their thinking and develop their Math problem-solving skills. These activities included:
Learning about famous mathematicians and mathematical concepts.
"Math meets Art" Make Math FUN! Add a Splash of Art!
Mission math model making
Matific fashion Show (Use recyclable material and come dressed using mathematical tools or Math Items)
A mental Maths challenge during Quiz
"The Escape Room" Solve the puzzle and escape the room
Create your Board Games.
9. English Week: On the 10th of October 2021, GIIS Dubai kicked off the English Week, designed to foster an appreciation of the language. The theme of this year's English Week was - "Language and Literature Making an Edge in the New Era". The activities were designed to enhance vocabulary, language skills, and make learning more engaging. The students participated with zeal and enthusiasm by displaying their hidden talents in role plays, enactments, and other activities. The event was a great success with maximum participation from our students, which allowed them to enhance their diverse skills. This initiative was applauded by the students and parents in unison!
10.After School Activities: Our After School program is off to a fantastic start! We have been completing homework, doing math & literacy enrichment, Robotics, creative play, games, and crafting.This Programme is managed by various industry experts and In-house qualified teachers, in which students have the option of staying back after school hours to participate. ASA engages your child (grade 1-8) in completion of up to 80% of written homework daily (prep), receiving support in selected subjects. Basic age-appropriate training and engagement for 2 sessions/week in one selected activity and game each. There are swimming classes once a week.
11.Breast Cancer Awareness Month: October is Breast Cancer Awareness Month, an annual campaign to raise awareness of the disease. We aimed to get as many people involved in raising awareness about breast cancer.To mark this month, a special talk was conducted for senior grades along with the staff members on Thursday, 28th October during the zero period. Our school doctor Dr. Ishwarya Radha Krishna, an MBBS DMRD, gave a meaningful insight on risk factors, symptoms, stages, and treatments. She discussed the importance of specialized medical services to examine and detect as an important tool in the fight against breast cancer. Self-examination was stressed along with regular check-ups for overall well-being. Teachers joined forces to support a common cause that encouraged them to dress up in pink, coining the term Pink October.
12.Qutuhal: In Arabic and Sanskrit means curiosity. GIIS Dubai will host Interschool competition, Qutuhal Season 3 from 10th October to 2nd January 2022 in partnership with GIIS AD for GIIS global schools as well as non-GIIS students in UAE. Through the different activities at Qutuhal, students will get an opportunity to ideate, share, and co-create knowledge and keep their curiosity kindled. With a panel of judges who are pioneers in their respective fields and events held over a wide variety of engaging themes such as Space Exploration, Robotics, Digital Media, Sustainability, Culinary Science, and more this competition is an excellent platform for students to grow. The final gala event will be from 12th Dec 2021 to 2nd Jan 2022 followed by the awards ceremony on 15th Jan 2022.
13.Luke Leadership Lecture series: by Holistic Lifestyle Coach, Mr. Luke Coutinho on 14th October 2021. "Holistic living at an early age and its benefits" a thoughtful insight was shared by the renowned speaker Mr. Luke Coutinho at Global Indian International School, Dubai. Luke Coutinho practices in the field of Integrative Lifestyle Medicine and Life Coaching. Mr. Luke had an interactive session with the students of GIIS Dubai, Abu Dhabi, and the Parents Support Group. This LLS inspired creativity, passion, and action in our students, encouraging them to be responsible citizens, both now and in the future. It was indeed a defining moment for all.
14. GIIS Dubai organized a back-to-school health and environment workshop on 13th October with the Dubai municipality and other supporting partners for GIIS students grades 3 -9 to bring about awareness and teach the students about food safety and environmental care. To mark this occasion, GIIS students of grades 1 to 8 took part very actively in these engaging workshops and won a lot of goodies by way of their active participation. Three workshops on food and safety and environment were conducted at different timings for different grades of students which was well-received, engaging, and fun learning. Dubai municipality also provided a lot of giveaways for the students.
15.Student Achievements :
Arohi and Hridhaan from Grade 2 B, Pallav - Grade 6A, and Anushka from Grade 7A were awarded Merit certificate by Aazadi ka Amrit Mahotsav (Inter school Quiz Competition) conducted by Udaan INDIA.
It took hard work, determination and passion for Jayobrata Das ,Grade 1 B student to score an International rank of 565 and Certificate of Genius from Genius Cerebrum International Mathematics olympiad, Genius Cerebrum, USA.
Warm Regards,
Antony Koshy,
Principal, GIIS Dubai