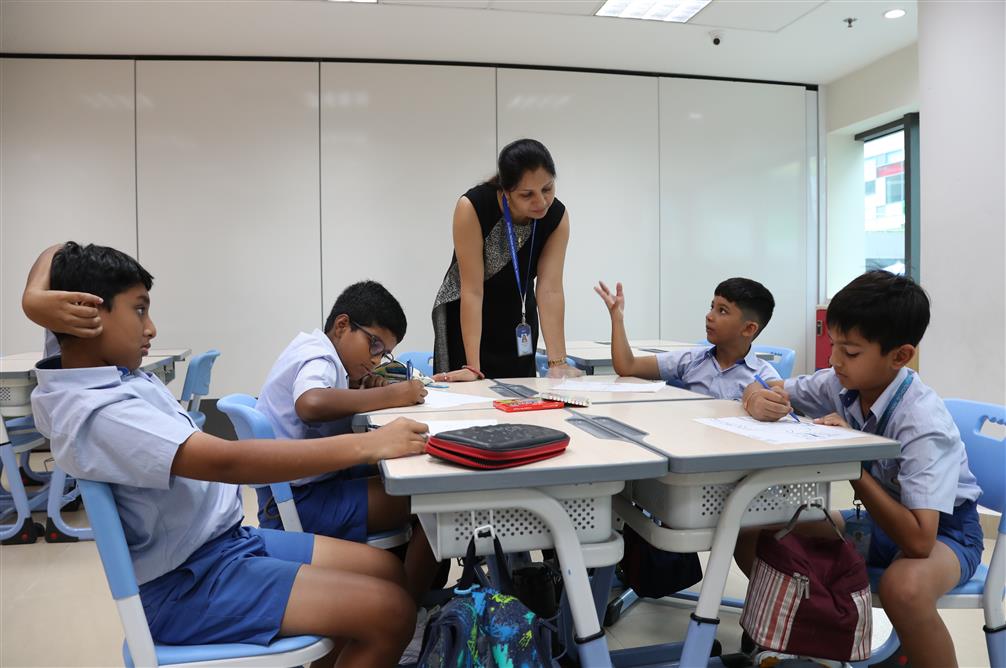 The recently introduced IB PYP curriculum at GIIS SMART Campus is helping the school in achieving its goal of building skills and knowledge in and beyond the classroom as well as inculcating a strong sense of values in students. The 21st-century infrastructure of GIIS SMART Campus acts as a catalyst in deriving the maximum benefits from a hands-on curriculum framework like IB PYP.
The integration of innovative facilities at SMART Campus, IB PYP curriculum framework and 9GEMS educational framework result in a robust learning structure where students maximise on experiential learning.
The IB curriculum is designed to develop certain attributes in students over a period of time. These attributes of IB learners profile are:
Inquirers - Guided by teachers, students explore topics across subject areas through inquiry, encouraging them to take ownership of their learning.
Knowledgeable - Students continually build on existing knowledge, skill sets, and concepts.
Thinkers - Students learn to think critically and approach problems from multiple angles to come up with practical solutions.
Communicators - Students are empowered to improve their oral and written communication skills. Through music and drama, they learn other creative ways to express themselves.
Principled - Students should be principled and ethical and practice universal values.
Open-minded - IB encourages students to consider multiple perspectives and engage them in thoughtful dialogue with others who have different viewpoints.
Caring - IB aims to create compassionate leaders who will work for worthy causes in future.
Risk-Takers The international curriculum fosters a sense of entrepreneurship among students, encouraging them to test their ideas.
Balanced - A well-rounded education involves more than academics. IB fosters a holistic personality that is well-balanced with academic qualities and talent in sports and extracurricular activities.
Reflective - To be effective leaders, students must be able to think carefully when solving problems and making decisions.
The state-of-the-art facilities at GIIS SMART Campus are optimal for implementing the IB PYP curriculum. The thoughtfully planned learning infrastructure ensures that students are well-equipped with 4Cs - collaboration, critical thinking, creativity and communication. The school successfully implements the curriculum and ensures that all the above-mentioned goals are achieved with a unique approach to teaching and learning.
Here are just a few examples of how the schools unique approach and infrastructure support the objectives of the IB PYP:
Innovative Learning Spaces
The campus provides a plethora of dedicated learning spaces for students to explore their interests and build their skills. The GIIS SMART Campus is equipped with 40 skill- based studios, digital classrooms, seminar halls for discussions and presentations, and a number of learning commons. Cohort size is small to ensure a lower student-teacher ratio. Learning spaces such as the Maker Club and Centre for Robotics and AI encourage students to work on their critical thinking skills.
Multiculturalism
Our multicultural environment encourages students to be open-minded and adapt to diversity. Our students participate in events in the local community to learn more about different cultures, preparing them to become a part of the larger, global society.
Community Service
We also support students in becoming involved in community service activities. Learning that they can make a difference both locally and globally instils principles and fosters a sense of caring.
Workshops
To enhance our students' capacity to take risks, our curriculum includes Entrepreneurship, coding and Robotics bootcamps. These activities provide a supportive environment for students to explore their interests and test their knowledge.
School-Sponsored Events and Activities
Students have ample opportunities to become more knowledgeable and improve their communication skills through a variety of school-sponsored events. Real World Convention Challenge (RWCC), Hi-Q Quiz, and inter and intra-school competitions provide a platform for students to develop their unique personalities and gain confidence. Extracurricular activities help them balance academics and outside interests. School-sponsored events align with our 9GEMS pedagogy, especially the first gem, which is dedicated to building academic proficiency and providing a strong foundation in transdisciplinary knowledge. Special events and extracurriculars encourage students to apply what they learn across subject areas, both in and beyond the classroom.
GIIS SMART Campus facilities and a strategic approach to learning provide a conducive environment for bringing out the IB traits in students. The schools NextGen facilities, coupled with the robust IB PYP curriculum and 9GEMS approach, provides an ideal educational framework that thoroughly prepares our students to be global citizens and lifelong learners and leaders.