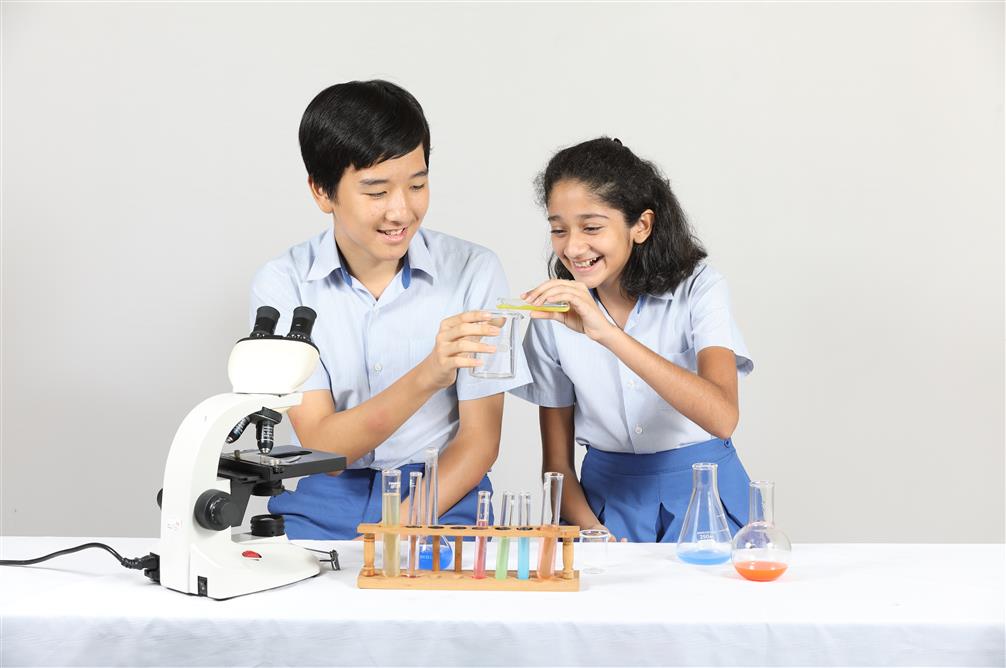 In this series of articles, we aim to discuss GIIS pedagogy, 9GEM and to share with you with some examples on how GIIS has ingrained each GEM into the students life across all campuses, worldwide.The 5th GEM is Innovation and Creativity.
UAE
Green imagination
Imagination with inspiration does wonders in ones life. One of our latest attempts to inspire Kindergarten 1 and Kindergarten 2 children produced great results. They were asked to create exhibits from recyclable materials and waste. The theme given to Kindergarten 1 children was "Transformation of Ancient to Modern Era Transportation" and to Kindergarten 2 was "Culture and Various landmarks of the World".
With the creative support of their parents, our children did miracles. They came up with brilliant presentations, using toothpicks, old newspaper, cardboard, used foil paper, paper plates you name it. This activity has taken our students one step further and they learned more about the various means of transportation and the culture, monuments, and landmarks of Australian and Asian countries. It was a reflection of family bonding.
Dubai Dolphinarium
The students of Class 6, 7 & 8 visited the Dubai Dolphinarium and experienced first-hand the gracefulness of dolphins and playfulness of seals in the action-packed show. They watched in wonder as the dolphins and seals performed incredible acrobatics, dances, played with a ball, jumped through hoops and even painted. The students also visited the Science Museum and gained scientific skills through hands-on investigations and immersive experiences.
MALAYSIA
Christmas & Halloween celebrations
Christmas was celebrated with much joy and the students wore red and white clothes and Christmas caps which added to the festive mood. The students performed songs and danced to a cheering audience with the teachers joining in.
Halloween was celebrated with a fun-filled exciting fancy dress parade in the Kindergarten Department. Children entertained parents with some Halloween songs and then paraded around the school in their costumes.
SINGAPORE
Organic gardening
In an endeavor to instill green values in its students and nurture environmentally responsible citizens, GIIS East Coast Campus embarked on a green journey called Organic Gardening. As part of our Earth Day celebrations and to promote healthy eating habits among students, we introduced coco peat an organic growing medium which reduces usage of water by up to 70%, and warranted the reuse of the medium for up to 3 years. Coco peat facilitates growing vegetables, greens and fruits indoors with no soil, no sunlight and minimal resources. Childrens Grow Kits, which consisted of a Grow Bag, Organic Fertilised Coir Pith, Organic Seaweed Fertilizers and Palak seeds, put up for sale in the schools organic garden.
Innovation & Enterprise Family Day
Innovation and Enterprise Day was celebrated with the aim to provide team activities between parents and their children to think, create and inspire. Several competitions were organised to strengthen the bond between parent and child, and also to nourish the innovative temperament of our pupils. Various competitions like Kinetics were held to nurture the scientific outlook of our students. Competitions like Brain Axe and Are you smarter than a GIISian? put the intellectual abilities of our parents and students to test.
Earth Day
The students took part in innovative activities to celebrate Earth Day that encouraged them to make beautiful art out of recycled materials and learned more about the Earth through activities such as Trash to Fashion, Oratory Competition and Movie Mania.
Sony toy making competition
The Sony Creative Science Awards (SCSA) toys competition aims to trigger innovative neurons in young minds. The articulation of the scientific principles is elicited in their wondrous creations. This year we had two winning entries from GIIS Queenstown: Anahita Mederitta's Toy Aiming for the sky was selected for whizkid category and Chris Fernandes' Toy Finding Dory from scizkid category.
Cyber wellness
Our students took part in various activities to showcase their talent and created colourful artwork. The cyber wellness team shared cyber safety netiquettes and participated in the Einstein in Me science fair. Students presented their meticulously handcrafted models and experiments to teachers, parents and fellow peers. This interactive learning model evoked curiosity. Students also participated in this engaging and synergistic exhibition.
Healthilicious & Little Chef
This interactive project was devised to spread awareness about leading a healthy lifestyle and the benefits of eating healthy. Students made nutritious snacks, set up display counters and provided menu cards to share recipes and nutritional value of their snacks. A total of S$610 was raised and donated to charity. A parent-child engagement activity was also conducted. It explored the theme Traditional Flavours, which helped them understand and gain insight into their roots.
Innovation Fest
To inculcate the virtues of Creativity, Innovation and Problem Solving, the Innovation Fest was organised for all students. The plethora of activities planned for the fest aimed to tap into the innate abilities of students creative minds, helping them to see things in new and different ways and enabling them to develop into future innovators. These activities included innovative games, models, talks by leading experts, videos and interactive sessions aimed at imbibing awareness and a sense of responsibility about the environment and inculcating creativity and innovation.
Amazing Science X Challenge
The Amazing Science X Challenge was held at the Science Center Singapore. 162 teams from various Singaporean institutions displayed their exhibits for the coveted position in the competition and the winning exhibits were selected to be displayed at the Science Centre Singapore. Of the 20 teams that participated from Global Indian International School, three teams won the Special Mention award and one team was awarded the silver medal a great victory for GIIS! This competition was the perfect opportunity for channeling students creativity and innovation into a scientific enquiry to come up with futuristic ideas.
Kindergarten fancy dress competition
The children dressed up as their favourite characters from a baker with hot cross buns, Snow White and a twinkling star to police officers, doctors, firemen and other professionals. Students even enacted their favourite characters from books. The enthusiasm and zeal with which the children participated and performed were commendable.
Einstein in me
Young children are naturally curious and passionate about learning. Science education fuels that curiosity and provides children with valuable ideas and skills. Understanding science helps kids appreciate and relate to the world around them. Einstein in Me was an interactive and fun event where both teachers and students got an opportunity to demonstrate and conduct science experiments for the students. Students were excited to see so many new experiments like colour burst, volcano eruption, magnetism, the concept of sink and float, balloon inflate, fire needs oxygen to burn, friction, lava lamp, etc.
Delightful learning
Toys are tools that help children learn about themselves and the world around them. The play is critical to the healthy growth and development of children. As children play, they learn to solve problems, get along with others and develop fine and gross motor skills needed to grow and learn. They learn to be more independent, learn to share with their peers and gain experiences working in groups. At GIIS we believe in the motto Learning is Delightful. Through play, children develop their social and cognitive skills. Free play encourages creativity, develops fine and gross motor skills, improves spatial intelligence and keeps the little ones carefree and lively.
INDIA
Black & White Day
Black and White Day was celebrated as the theme for the month of January. The little ones were introduced to colours and learnt to identify various colours and objects. To help them identify colours and objects in black and white, teachers decorated the soft boards with black and white images. Students and teachers also came to school in black and white clothes. This activity included student participation in craft work and colouring activity in the classrooms.
Spirit of Uttarayan
The festival of Uttarayan is a uniquely Gujarati phenomenon when the skies over most cities of the state are filled with kites from before dawn until well after dark. All students and teachers tried their hands at kite-flying. Festivals and occasions give everyone a chance to get social, connect to their roots, and live a day out of our routines. A variety of activities were organised during the festive celebration for students too, including kite coloring.
Honey Extraction Centre & Snake Park
Field trips are meant for students to learn from practical experiences on subjects that are being taught in the school. They visited the honey extracting center and snake park as part of their field trip. The students learned everything from a collection of nectar from flowers by honeybees to the formation of honeycombs to store honey, and finally the extraction and storage of honey from honeycomb frames to drums. The students even saw the magnificent Queen Bee that they had read about in books. At the snake park, they encountered live snakes both poisonous and non-poisonous like Russel Viper, Cobra and Boa constrictor.
Science Day
Science Day was celebrated with different scientific experiments conducted for our students. They were amazed to see our teachers demonstrate fun activities, such as the effects of heat on water: when balloons are filled with water they do not burst even when they are brought closer to burning candles!
RWCC competitions in Singapore
GIIS Real World Convention Challenges (RWCC) is an annual competition organised by GIIS East Coast Campus in Singapore, providing students international exposure, giving an opportunity to network, and fostering innovation and international entrepreneurial skills.
The team from GIIS Bangalore flew to Singapore to participate in this event that involved individual performances as in the case of Transformation Turncoat, plus team performances like InnoBeats and Quality Circle Presentation. The students were rewarded with trophies they won in different categories, but the weeks of dedicated practice along with picture-perfect props, rhythmic music notes, speech and elaborate powerpoint presentation had more impact on their learning process.
Green business ideas
The Global Knowledge Exchange Programme at GIIS is organised with an aim to generate global outlook and citizenship among its students. The students and teachers from GIIS Noida (India), Kuala Lumpur (Malaysia) and Chinchwad (India) came together for a knowledge exchange session on the topic Green Business Ideas, where the students had to present an economical business plan along with a 3D model to support their ideas.
The session began with GIIS Kuala Lumpur presenting their idea Farm to Fork to Farm which focussed on developing an eco-friendly system that recycled waste or leftover food into compost and animal feed. GIIS Noida, on the other hand, served delicacies in plastic bowls, to be eaten with plastic spoons. Their idea was Edible Cutlery and the students presented the concept brilliantly in the form of a minimum viable product. GIIS Chinchwad, Pune, presented Grid Connected Solar Rooftop Modules. The idea focussed on generating solar energy using a grid solar system. This was a unique sustainable idea that intended to combine sustainable living with viable business sense.
The students got an opportunity to understand various business models, and put forth questions that broadened their learning horizons.
Thinkers who tinker STEM-tastic exhibition
Have you entered a room abuzz with tiny balloon car roving, a JCB hydraulic arm stationed on a classroom desk and a liquid experiment that shows the presence of carbs in your food? The Multi-Purpose Hall (MPH) of GIIS Ahmedabad was bustling with students putting Science Technology Engineering Maths (STEM) into action and exhibiting vivid models. STEM activities are held regularly in the classrooms to harness students energy and curiosity to comprehend myriad scientific, engineering and mathematical problems through activities. Where book explains the theory, STEM supplements with the practical knowledge, explaining the mechanism of a steam boat sailing in a tub of water, science behind liquids changing colour, galvanisation, lungs breathing etc. Experiments create an everlasting impression in students minds, thereby allowing ease of understanding scientific concepts.
Innovation & leadership development
Promoting skill development and confidence building among school students, a group of 19 students from GIIS Indore participated in Kidovators 2016, a platform that enables school students to showcase their leadership skills, intuitiveness and preparedness for life ahead.
This challenge was carried out in two rounds, one was a national level written aptitude test while the grand finale challenge consisted of solving national and global problems and crisis through their own perspective and understanding.
{{cta('9c50a1e7-8810-4d35-8cd5-891420a0ac43')}}