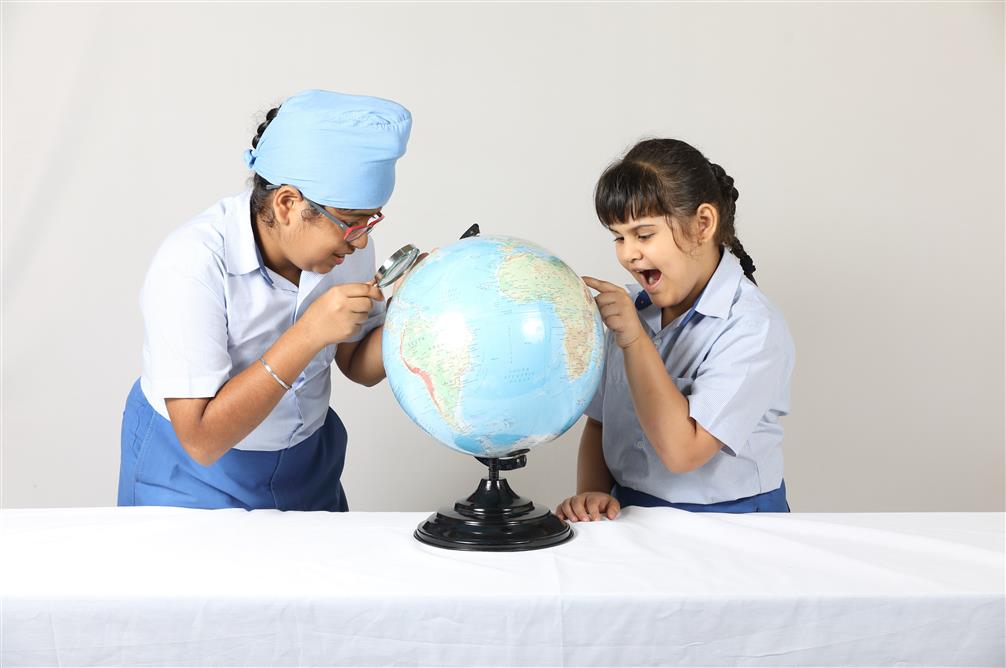 In this series of articles, we aim to discuss GIIS pedagogy, 9GEM and to share with you with some examples on how GIIS has ingrained each GEM into the students life across all campuses, worldwide.The 7th GEM is Universal Values and Ethics.
JAPAN
Indias 68th Republic Day
GIIS took part in Indias Republic Day celebrations held at the Indian Embassy. After the flag hoisting ceremony, the event were inaugurated by the Honourable Ambassador of India to Japan. Students sang patriotic songs and delivered speeches about various prominent figures from Indias freedom struggle. Following this event, a special assembly was also held to mark this significant occasion.
SINGAPORE
The Tray Return initiative
Our students were assigned to an outreach programme on the Tray Return project assigned by National Environment Agency (NEA) to different schools including GIIS. This initiative, piloted in Nov 2012, includes spreading awareness amongst people to return their trays after finishing their meals in an effort to keep hawker centers and food outlets clean. It is an act of social graciousness towards cleaners. Tokens of appreciation like magnets and pens were given to people who returned their trays to the tray stations. The project was a great learning experience for our students as it helped them understand that simple acts of kindness go a long way.
National Day
The 51st National Day of Singapore was celebrated with a lot of enthusiasm at GIIS East Coast Campus and students and teachers came dressed in red and white. A special field assembly was conducted where students delivered a speech on the transformation of Singapore from a fishing village to a modern metropolis. The highlight of the programme was a song sung by the school choir, which was written by our students. The song was a tribute to the founding father of Singapore, the late Mr. Lee Kuan Yew.
Independence Day
The 69th Independence Day of India was celebrated with a lot of enthusiasm at GIIS East Coast Campus. A special field assembly was held to mark this auspicious occasion where students and teachers came dressed in the tri colors of the Indian national flag. The programme began with the ceremonial flag hoisting and singing the national anthem. Our students were dressed as Indian national leaders and some of them even spoke a few lines about them. Students delivered a speech on the development of India post-independence. The school choir sang a patriotic song to infuse us with the patriotic fervour.
Kindness makes us smile
Friends of Singa is an initiative and the brainchild of Singapore Kindness Movement. It is an annual national level competition that aims to inculcate kindness and good values in its young citizens, the future of Singapore. The participants from our school hosted theme-based assemblies, introduced a Smile-o-meter, an interactive scale that allows teachers to rate classes based on class atmosphere, felicitated bus drivers, cleaners, school support staff as well as students who performed various acts of kindness and hosted a kindness carnival. The FOS (Friend of Singa) members of the school dressed up as Peace Mascots during Sports Day. They also held celebrations for the International Friendship Day and started a daily Heartfulness Meditation session conducted in the school daily. These activities have helped the students flower as individuals and equipped them with the skills for a global tomorrow.
Green school visit
Green Tour Visit was organised for 50 students and four teachers from Sacred Heart, Ludhiana, India. The aim of the visit was to share and learn green practices that are followed by both schools, and for students to understand how they can take up the responsibility of making their school and city greener. Various hands-on activities like compost-making, art from waste and ways to conserve water were demonstrated. They were thrilled to watch the skit on the environment put up by our students followed by a workshop on Tetra Pak Recycling where they were amazed at the various products that were made by proper recycling of Tetra Pak. It was an enriching experience for both schools.
Green living exhibition
As part of our Green Practices, our students are given hands-on experiences to be advocates of green living. They were also a part of the Green Living Exhibition in collaboration with WWF through eco-school project at Marina Bay Sands, Singapore. Students learnt very enthusiastically about sustainable lifestyle and paper recycling techniques. They also showcased the Green Practices at school and compost-making video was presented.
Friend of SINGA
Singapore Kindness Movement is a government-funded body, which aims to promote helpful and courteous behaviour amongst its people. GIIS is proud to be an active supporter of this noble movement for six years, as teaching values of kindness and graciousness is also a part of our school's holistic development programme for Singapore. As a part of the Friend of Singa 2016, the school's project has been awarded as "The most heart-warming community service project". We are sure these little steps towards building values in our students will set a long way in becoming socially responsible global citizens of the future.
International Fiesta
Internationalism in our school curriculum aims to encourage students to accept, embrace, and celebrate cultural diversity and foster sensitivity towards other members of the international community. International Fiesta allowed students to portray the spirit of internationalism through sports and food.
INDIA
Community helpers day role play
The pre-primary teachers at GIIS did a role play that depicted different community helpers and their roles in our daily lives. The teachers portrayed professions such lawyer, beautician, dentist, plumber, firefighter, policeman, teacher, electrician, carpenter, nurse, doctor, pilot, air-hostess, gardener and so much more with a perfect storyline and a quick description of what they do. It was thoughtful and a simple series of incidents bring into limelight the role of various community helpers who make our lives easier and comfortable. Our young students also came dressed as like community helpers and boosted the wonderful role play on stage.
See the good in people and help them.
Mahatma Gandhi
Need for universal brotherhood
GIIS Ahmedabad students observed Peace Day, an activity under the Mahatma Gandhi Centre for Universal Values, and remembered the victims of Hiroshima and Nagasaki. To spread the message of peace and equality, students also spent a day at Little Angels School. The school for underprivileged students has around 200 students who are not from affluent houses.
Our students brought happiness to the children of Little Angels through paper cranes and taught them origami. These children were also taught to paint and dance by our students. The warmth, love, and attention GIIS students gave these children indicate how even the smallest of goodwill gesture can bring a smile on someones face! Extending the Peace Day to our campus, all GIIS students came together to pay homage to the victims of Hiroshima by singing the song Aman ke liye; they also presented a skit on Sadako, a 11-year-old Japanese girl, who died of cancer caused by the atomic attack. They presented paper cranes to the schools housekeeping staff, similar to the paper cranes Sadako used to make as per the old Japanese belief.
{{cta('9c50a1e7-8810-4d35-8cd5-891420a0ac43','justifycenter')}}