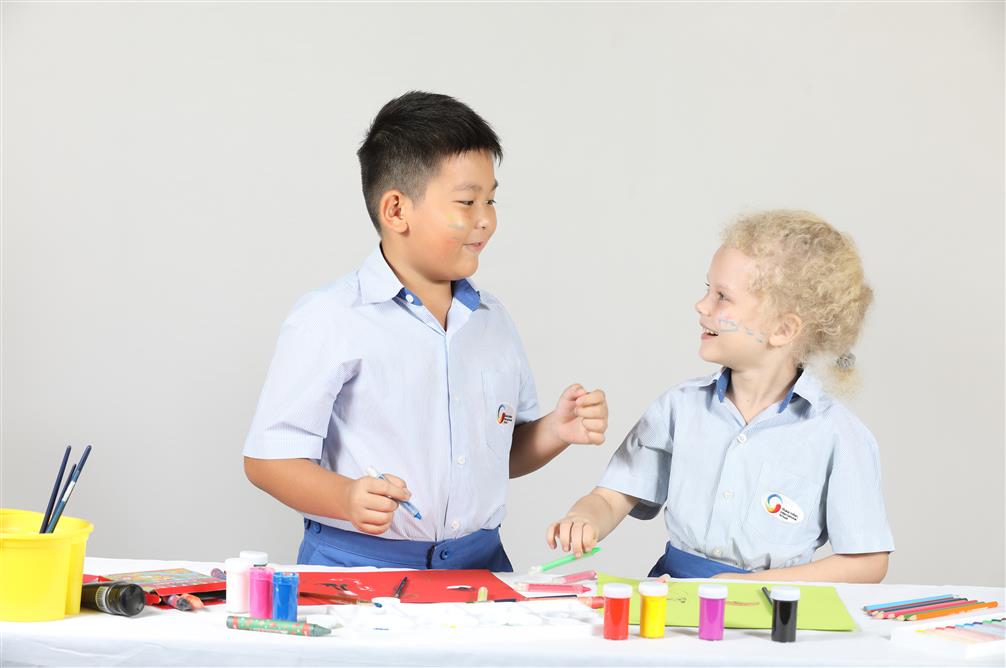 In this series of articles, we aim to discuss GIIS pedagogy, 9GEM and to share with you with some examples on how GIIS has ingrained each GEM into the students life across all campuses, worldwide. The first GEM is "academic excellence".

UAE

Graduation Day
There is something special about a Kindergarten graduation ceremony innocence retained, journeys begun and dreams waiting to be achieved. The first graduation ceremony for our Kindergarten 2 students of GIIS Abu Dhabi was conducted and the students of Kindergarten 1 gave a fitting memoir as a tribute to Kindergarten 2 in which they enacted the journey of learning through fun-filled activities and Montessori Method at GIIS. Kindergarten 1 students then bid farewell to their seniors with a melodious song. The most awaited part of the ceremony was the distribution of graduation certificates.

JAPAN

National Spelling Bee competition
It was a day of joy and excitement at GIIS Tokyo. The schools 7th grader, Shantanu Edgaonkar was crowned winner of the 8th Japan Times Spelling Bee when he correctly spelled toxicosis and beat 36 other school participants from around the country. According to the Merriam-Webster Unabridged, toxicosis means "a pathological condition caused by the action of a poison or toxin."
Shantanu also won several awards at the event, including airfare, an all-expenses-paid trip to the United States, a trophy, Samuel Louis Sugarman Award, one-years subscription to Britannica online premium, amongst others.

Adieu to class 10 & 12 students
GIIS Tokyo bid adieu to graduate Class 10 and 12 students. All the teachers present felt nostalgic about the students time in school and wished them the best for their upcoming exams. The students also shared about the experiences they had in school and they thanked their teachers for helping and supporting them every step of the way.

MALAYSIA
English Week
The English department conducted English Week, comprising of various exciting activities like crossword, poetry writing competition, spelling bee and musical games. The students enjoyed participating in these activities and prizes were distributed to those in the audience who gave correct answers.
Social Studies Week
SST Week was a chance for students to put their Political Science, Geography and Economics knowledge to practical use. They had to choose topics and build projects, models, and collages, giving them insights about issues including the industrial revolution, global warming amongst many others.

Singapore

Literary warriors
The weeklong Literary Fest was conducted throughout school and it culminated with a special assembly put up by the various language departments. The assembly commenced with the presentation on Authors as Literary Warriors, followed by a masquerade by the English Department. The Hindi Department presented Rahim Ke Dohe, which was sung and explained in Hindi. The contributions of famous Tamil poets were highlighted through a song and dance, which captured the attention of the students. The children of Class 5 sang a foot-tapping French song and the assembly concluded with a recitation of a philosophical French poem composed by Victor Hugo.

Global School Awards 2016
The Global School Awards ceremony was an occasion to acknowledge and felicitate our young achievers who stand for the very essence of our institution excellence! The awards ceremony commenced with GSF Presidents Award for All Round Excellence, followed by Justice C.S Dharamadhikari GIIS Award for Co-curricular Excellence and the Chandu Borde GIIS award for Sports Excellence to felicitate our talented sportspersons who have represented Singapore and our school at various levels and achieved great laurels. Subsequently, Subject Proficiency Awards were given to the outstanding students who have performed consistently well in a particular subject.

Interschool Hindi debate competition
Students participated in a first-ever Hindi debate competition. The participants were judged based on their idea articulation, organizational and presentational skills. Our students won prizes and accolades including the Best School Trophy.

English Week a la Francaise
English Language Week explored a myriad of activities spelling bee, writing competition, debates, drama, and extempore. The schools Francophone students teamed up to display their linguistic and cultural talents centered on French culture and language. Popular activities such as a French bistro the Bistro Francaise, a French singing competition called Rossignol and a quiz were a great hit amongst students.

Sustainable Science
Science Week's theme, Sustainable Science for the Future, showcased a variety of science-related activities. Beginning with many amazing experiments, it carried on to showcase the new developments in science such as Generating electricity from blood flow and an Automatic Box Opener which aimed to reinforce hygienic practices as it eliminates the need to touch the bin. Science Week ended with a journey to space in the Science Centres Portable Planetarium.

Royal Commonwealth Essay Competition
As the worlds oldest and largest international writing contest, it provides a platform for young people to compete with their peers in a global environment. Its objective is to encourage budding writers to develop their critical thinking skills and demonstrate their creative writing talent. This year we submitted a total of 22 entries out of which three students were awarded gold certificates and seven were awarded bronze certificates.

Spell-O-Well
This is an interschool competition organized to promote scholastic excellence and enhance the vocabulary skills of students. Students enjoyed participating in this competition.

I'm a little graduate
Global Montessori Plus provides an age-appropriate learning environment for children to reach their fullest potential. The graduation ceremony of Kindergarten 2 Im a little graduate was organised by the school to mark the occasion of our Kindergarten 2 students successfully completing this programme. Our little graduates cheerfully walked down the red carpet to receive the scroll and it was an emotional moment for the teachers and parents as they saw the little ones so confident to face the challenges that lay ahead.

INDIA

GK-NIE Quiz competition
A study says that reading newspapers daily increases ones intellect and helps students with their academics by increasing their learning and grasping power. Getting students to read newspapers early in life helps them to acquaint themselves to the world they live in. GIIS organised an inter-house GK-NIE Quiz Competition. All the students of classes 3 to 8 participated in the preliminary round of the quiz and from there, the final round participants were selected. The uniqueness of this quiz competition was that the GK questions put forth to the finalists were picked from the NIE newspaper, a students edition of the Times of India. With the overwhelming response from students and the parents, GIIS is now looking to organise an interschool quiz competition to encourage students to be more aware of the happenings around the world.


{{cta('9c50a1e7-8810-4d35-8cd5-891420a0ac43','justifycenter')}}