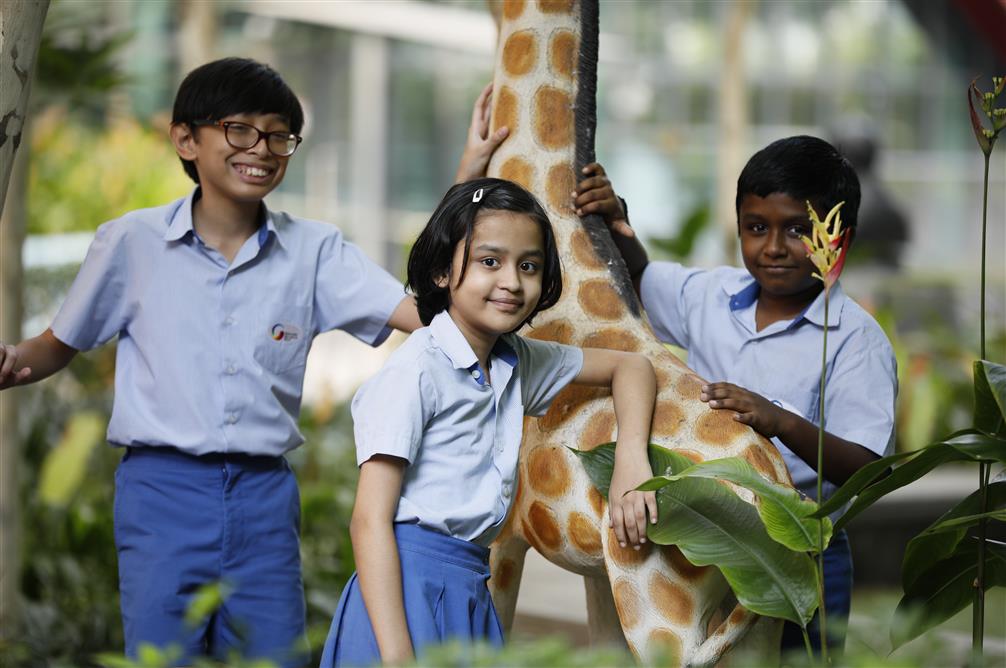 Great things are done by a series of small things brought together Vincent Van Gogh
We at GIIS too feel that we can produce creatively genius students if we provide them the right platforms and a conducive physical environment to thrive at school.
People often believe that creativity is something you're born with or not. Therefore, only certain individuals have this gift. But that's just not the case. We can cultivate creativity in all students by making classroom settings conducive to it.
Here's how international schools can nurture creativity in learners:
Flexible Classrooms
Classrooms should be set up in such a way that students and teachers can change the layout to encourage collaboration. For instance, students might organise desks in a semi-circle for class discussions or in pods to accommodate small groups. Sliding partitions make it possible to temporarily convert two classrooms into one, encouraging a freer exchange of ideas within a larger group of learners. Re-arranging the classroom can give students more space and flexibility to think outside the box. Versatile set-ups also allow students to be involved in how the room is organised, which improves their motivation and morale.
Spaces Beyond Traditional Classrooms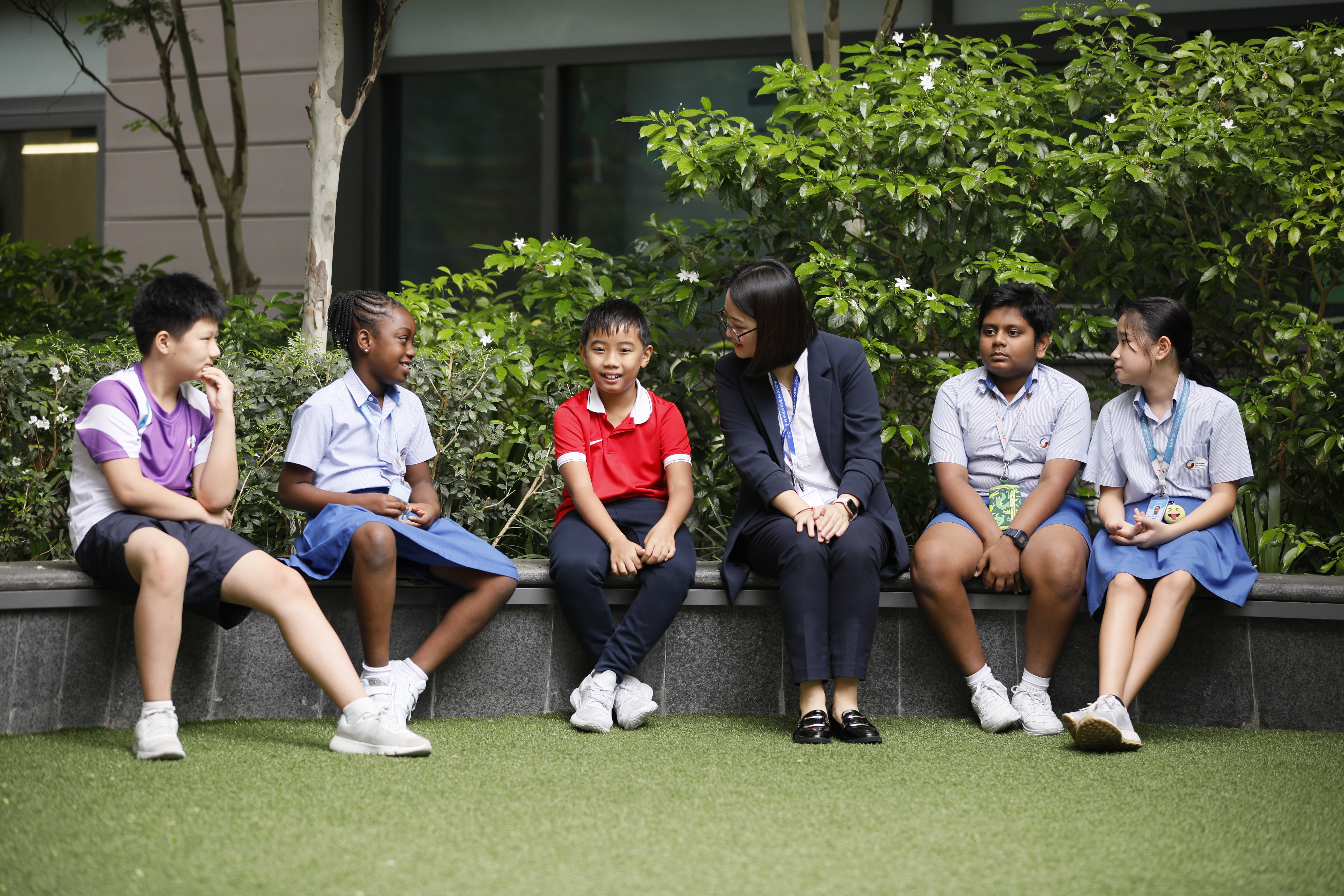 Teaching in open air helps better absorption
Outdoor learning spaces offer a refreshing break from the traditional classroom, inspiring students to come up with new ideas and insights. Connecting with nature energises students and sharpens their capacity for creativity because it stimulates them to think beyond the ordinary.
Multimedia Resources
When teachers have access to multimedia resources, they can make class time more engaging. Smart boards allow teachers to display student work or anything else that might inspire original thinking. Strategically using a variety of digital devices encourages students to think in new dimensions and share their ideas. Virtual classrooms increase the number of resources teachers and students have at their disposal to explore new perspectives or bring different classes together to share ideas.
Space for Collaboration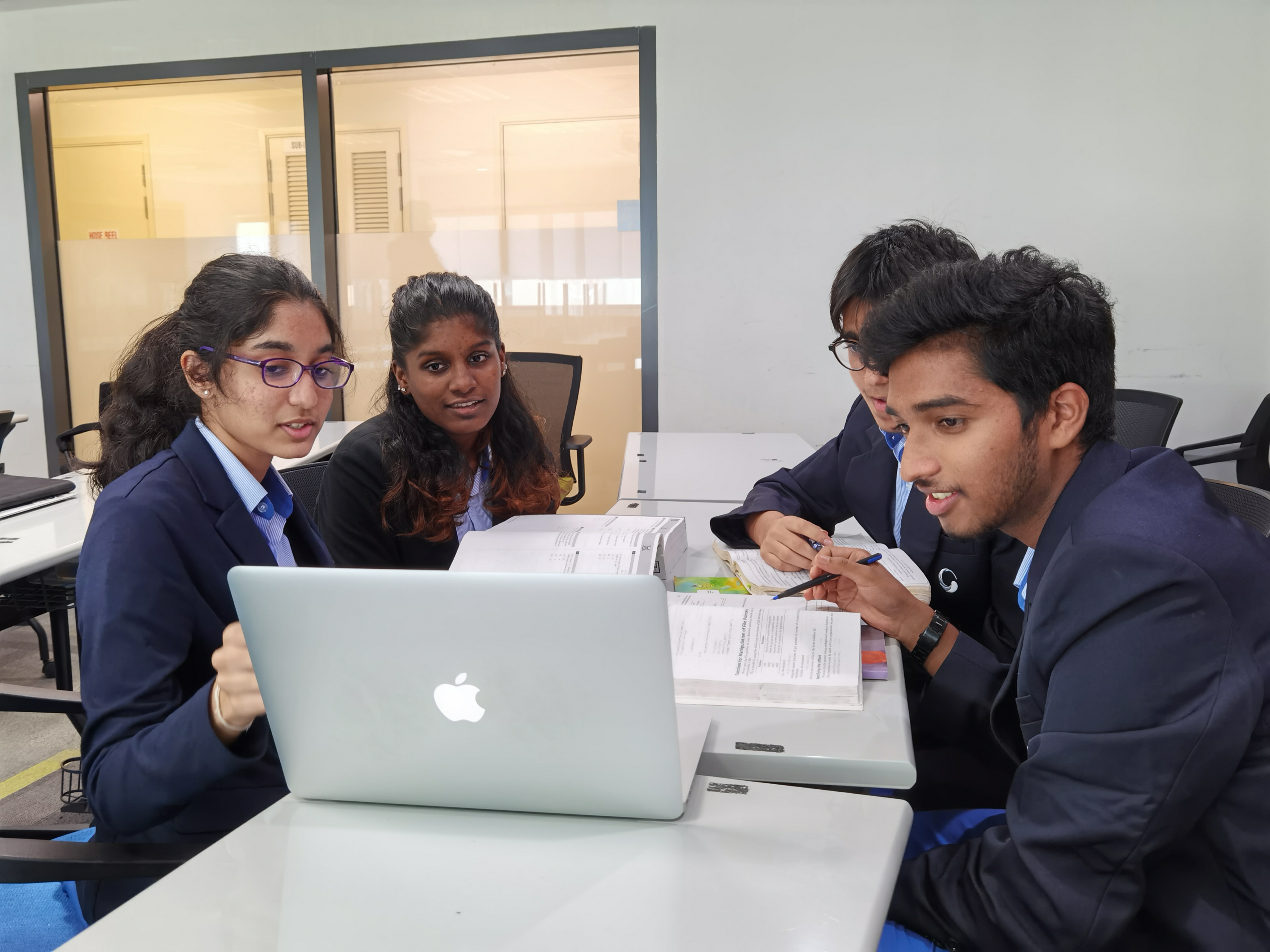 Collaborative spaces offer students ability to think out-of-the-box
Collaboration plays a critical role in sparking innovation. When students have ample opportunities to interact freely, they can fine-tune their ideas and draw inspiration from unexpected sources. Peers can help each other find novel solutions to problems, consider ideas from multiple angles and put their insights into practice. Working as a team generates a greater variety of ideas than working alone.
How GIIS Creates an Environment that Enhances Students' Creativity
Digital Classrooms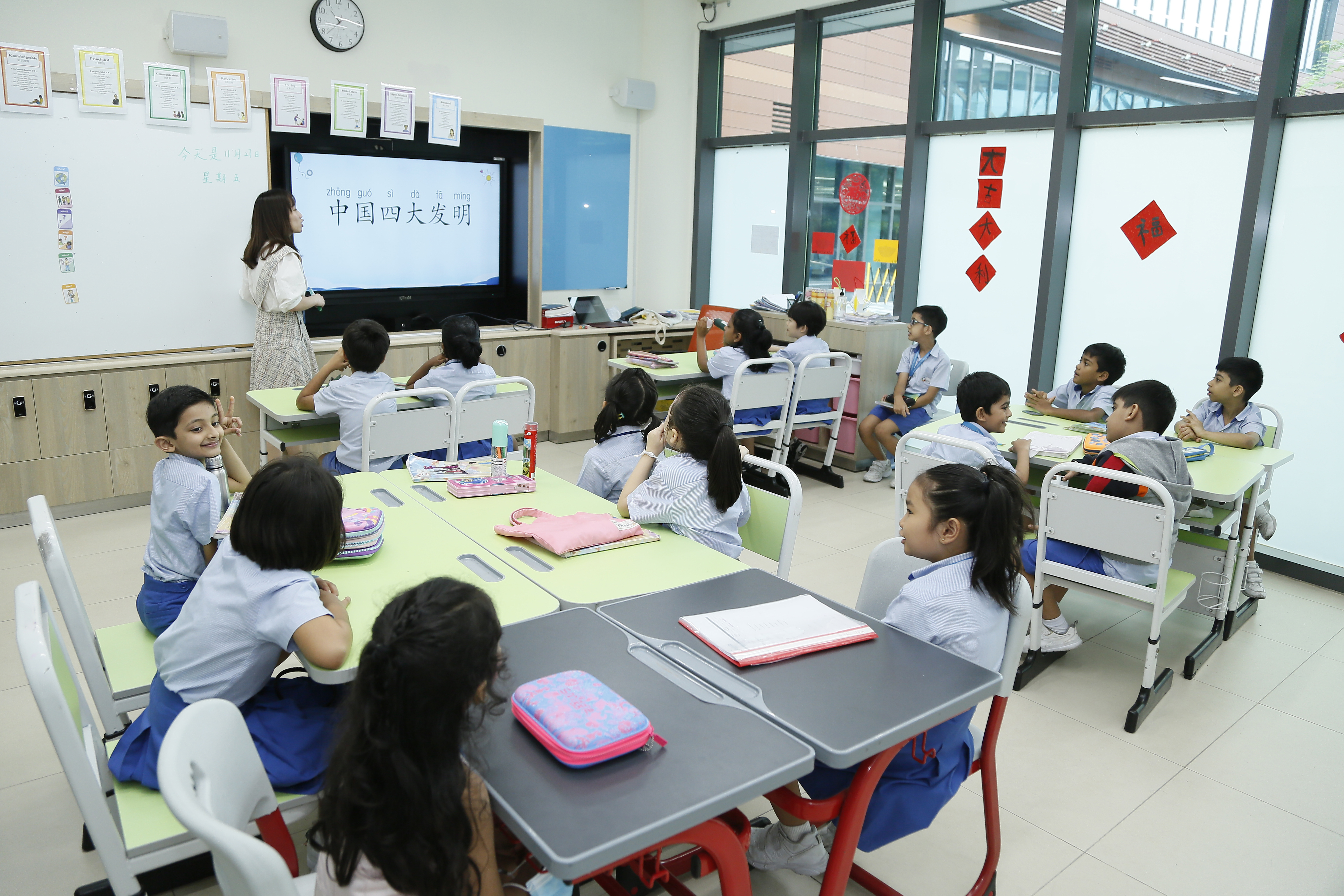 Digital classrooms invigorate students' imagination
Our tech-savvy campus features 92 SMART classrooms with 180 touch-screen displays. Interactive whiteboards, Apple TVs and Wi-Fi connectivity allow for virtually unlimited digital collaboration. We use technology to connect with our other GIIS campuses and bring guest speakers to our classrooms remotely. Advanced audio-visual systems and projectors enable us to make the most of our digital capabilities to encourage innovative thinking.
Expandable Classrooms
Our classrooms have foldable partitions between them, so we can quickly expand our learning areas. Converting two or even three rooms into one large space makes it possible to bring multiple classes together without requiring students to move from one location to another. The ability to convene larger groups without disrupting the learning process facilitates uninterrupted brainstorming and collaboration. Using technology in these spaces enhances the potential for what we can accomplish. We can use multimedia capabilities to ensure that discussions and presentation materials are accessible to the entire group.
Learning Commons
Our NextGen campus boasts three specially designed outdoor learning areas.
Our NEST classroom area accommodates more than 100 students. Here, refreshing breezes and stunning views of the surrounding greenery provide the ideal backdrop for formulating novel ideas.
As its name suggests, our MIST area generates a refreshing mist to invigourate students, giving them a one-of-a-kind experience and a new sense of perspective.
Featuring an open-air classroom and performance area, our Amphitheatre spurs creativity and collaboration beyond our campus buildings.
Student Innovation Rooms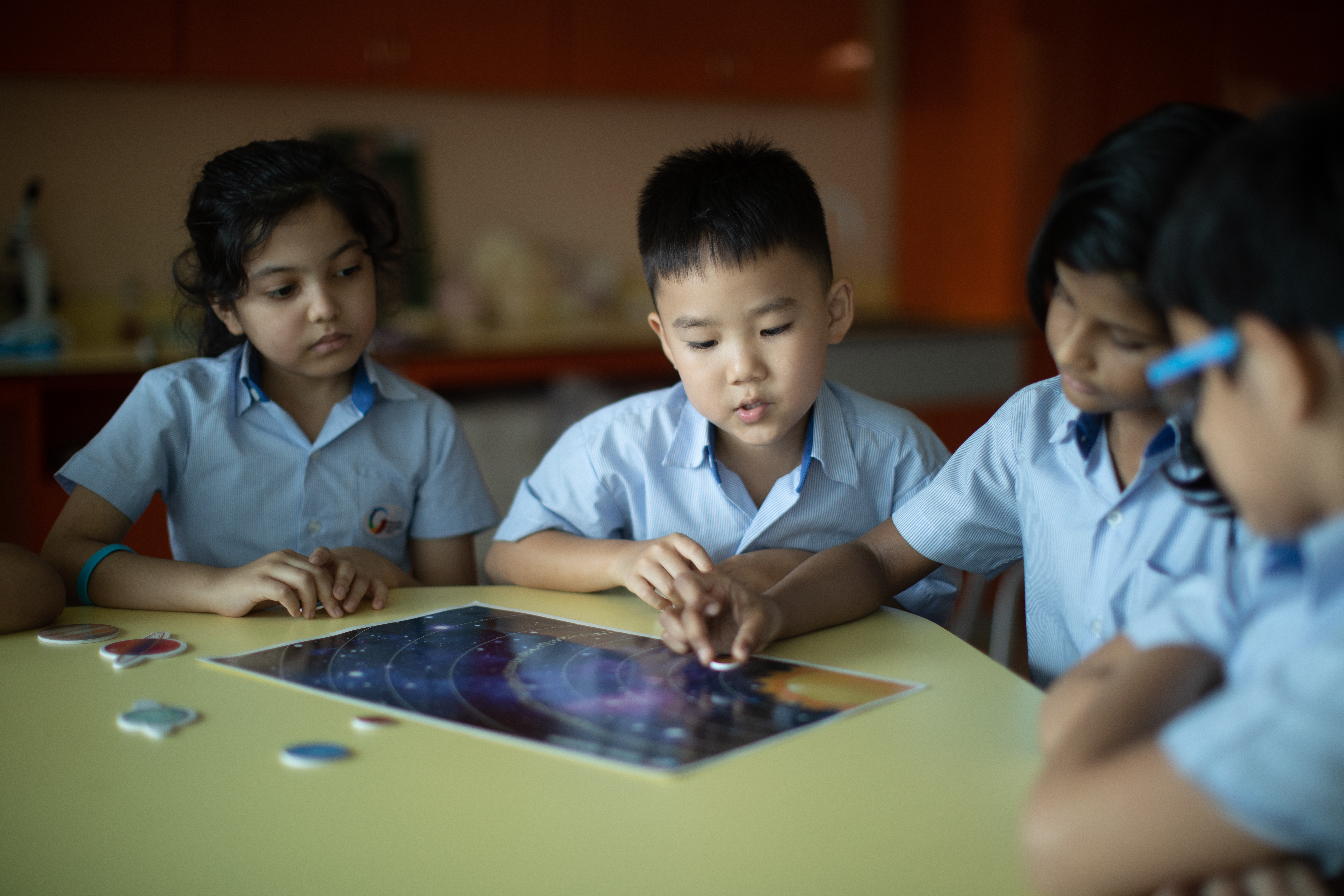 Facilities that help students learn beyond the curriculum
Learners can explore their creativity individually and collaboratively in our sixteen student innovation rooms (SIRs). These unique spaces give students the freedom and flexibility to stretch their minds and venture into unchartered territory. Innovation rooms are equipped to empower students to pursue their skills and interests, unlocking hidden potential and creativity.
At GIIS, we strive to maximise each student's capacity for creativity and innovation. Capitalising on these qualities prepares students to flourish in our rapidly-changing, twenty-first-century world. To learn more about how our facilities and curricula foster ingenuity, contact us to speak to our admissions team or schedule a visit.