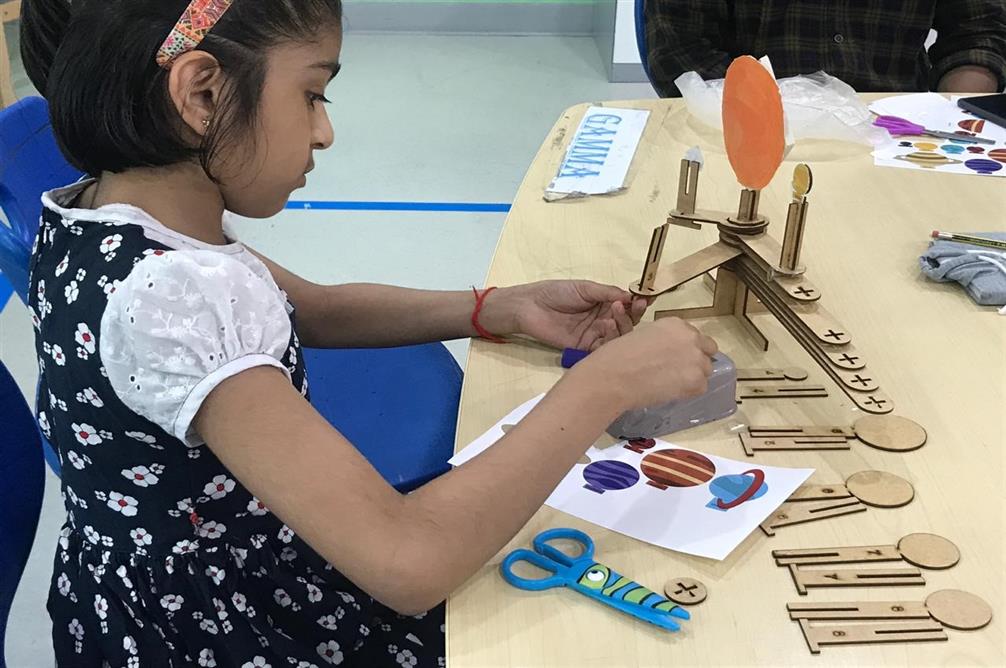 Qutuhal signifies the journey of a student through curiosity and imagination. GIIS provides a platform that allows students to think and explore experiential learning through various topics in science and technology. Science Technology Engineering Math (STEM) a critical tool for sustainable development where the efforts are geared up to bring scientific literacy at a very early age.
GIIS believes that every student has the creative potential which can be developed with practice and training supported by right resources. Getting kids to think outside the box doesnt take much, but some of the best innovation comes when we place restrictions around something. Its innovating inside the box. Give them a crazy situation with rules and see what their mind produces. The right questions can get the mind going which help the students to embrace their creativity and build environments where the imaginations are nurtured and failure is encouraged, not feared.
Today the children are inundated with information and data. What they need to learn is what to do with that information. The simple logic of HOW, WHY and WHEN needs to be learnt by them. At GIIS Smart campuses in Abu Dhabi and Dubai, smart learning is part of the campus culture. Qutuhal program offers all the children an exciting range of opportunities for collaboration, workshops and competitions. Simple desired outcome is to nurture innovation, critical thinking and creativity from a young age. The first step towards realizing this goal was to integrate the program with the curriculum. This has helped GIIS Smart Campuses in UAE to ensure that no child is left out of this program. One particular result has been a noticeable improvement in participation of girls in the program which is against the trend worldwide (Girls in STEM are in low numbers). To enhance the effort systematic development of spaces inside the campus has been undertaken.
Under the initiative of GCIE (Global Center of Innovation & entrepreneurship) a Makers lab along with a STEM and Robotics lab has been set up. In addition to this special immersion spaces have been created where sufficient content is available in 3D, 4D, AR and VR format.
While the teaching learning happens in the class, the child has to experience the real life problems and attempt to find solutions for the same, either alone or through collaboration. To encourage and develop this habit Ideation walls have been put up in the campuses and weekly Posers - the problem of the week are there for the children to ideate on and find a solution. This they do by critical thinking, debates, discussions and collaboration. The learning process is further strengthened by activities like Quality Circles, Industry visits and Leadership Lecture series with industry experts.
The children are encouraged to participate in international Events and competitions hosted by GIIS campuses globally like Real World Challenges Convention,Leaps. Children also participate in the local competitions being conducted by agencies and companies in UAE.
GIIS, Abu Dhabi continues to encourage its students to explore their creativity through initiatives like Qutuhal.