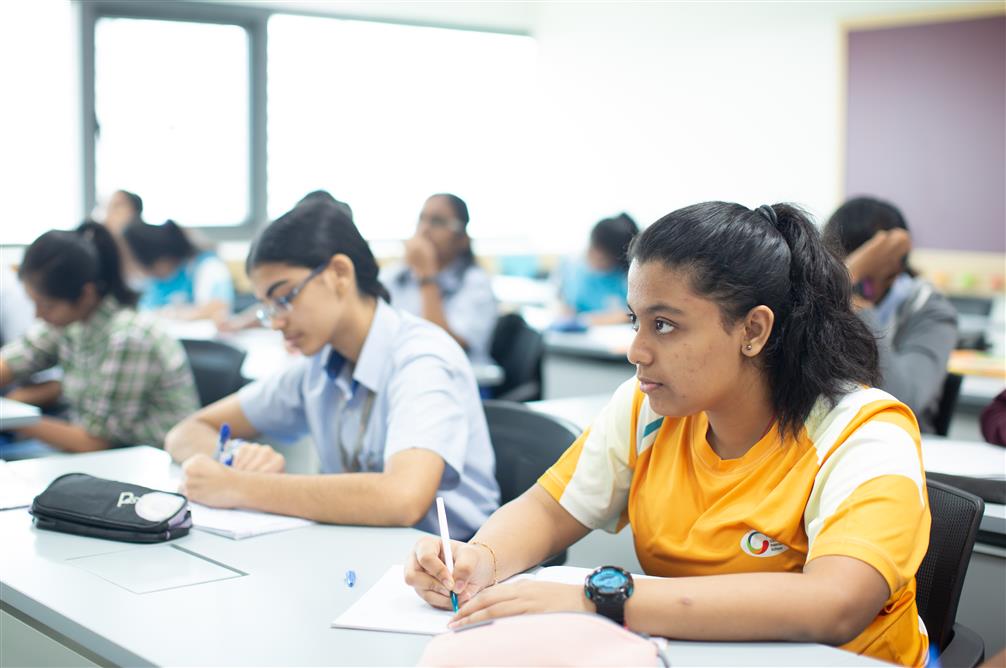 As children finish their primary education, parents are often confronted with the decision of choosing a suitable middle years curriculum that can serve as a preparatory course for their higher studies in future. Cambridge Lower Secondary Programme (CLSP), is a sought-after lower secondary curriculum at GIIS that gives a great head start to the middle year students and equips them with the in-depth knowledge in core subjects like English, Math, Science and study of the world and society at large.
Parents often struggle to understand the basic difference between CLSP and other curricula so that they can make the right decision.
Although the primary objective of every curriculum is to raise the proficiency of students in various academic areas, they differ in their methods of teaching, classroom experience and assessment pattern.
Cambridge Lower Secondary Programme is known for offering broad choice of subjects, modern classroom techniques to develop critical-thinking and problem-solving skills and a strong assessment mechanism to highlight strengths and weaknesses of students before they embark on the rigorous course of IGCSE in Grade 9 and 10.
Here are the main highlights of the Cambridge Lower Secondary Programme that make it different from other curricula:
Cambridge Lower Secondary Programme is designed to instill concepts in English, Math and Science through application. Students consistently apply the concepts in new as well as unknown situations. For example, in CLSP mathematics, the whole approach is geared towards developing problem-solving skills where students build critical thinking to identify various types of mathematical problems and then strategy to solve them. Students learn the techniques and the skills of applying the concepts and strategies in solving mathematical problems. Acquiring mental strategies to solve number problems is an integral part of the CLSP maths training.
Cambridge Lower Secondary Programme focusses on developing analytical thinking and inference drawing skills. The assessments in Cambridge Lower Secondary Programme do not simply focus on recall questions as in the case of most of the other curricula. The tests are designed to trigger analytical thinking in students and encourage them to provide perception-based answers rather than factual references. This helps students in developing intellectual inquisitiveness.
In Cambridge lower Secondary Programme, the topics or subjects are not included explicitly in the syllabus but are rather taught to students by way of applying. For example, CLSP English focuses on 4 areas - Reading, Writing, Listening and Speaking. While in most of the other curricula, the concepts of Grammar will be included in the syllabus, CLSP incorporates grammar in the 4 skills mentioned above. CLSP gives a lot emphasis on Listening and Speaking to develop communication skills and concepts in grammar are honed as students practice these skills.
Cambridge Lower Secondary Programme has a more international flavour as compared to any national curriculum. Subjects like Global Perspective develop 21st-century skills like research, analysis, evaluation, reflection, collaboration and communication are sharpened through a wide range of topics using a personal, local and global perspective. Some of the Cambridge Global Perspective topics are sharing planet earth, families, values and beliefs, obeying the law, keeping healthy, keeping safe and so on.
Curriculum execution is more dynamic in Cambridge Lower Secondary Programme. It essentially includes a lot of research and interpretation. Also, the onus of learning and acquiring the skills lies on the learner.
Conclusion: More than hundred GIIS students appear for IGCSE exams every year. The Cambridge Lower Secondary Programme for Grade 6 to 8 provide a strong foundation to the students and prepares them to meet the challenges posed by the decisive IGCSE exams in Grade 10. The transdisciplinary and inquiry-based approach of Cambridge Programme also helps the students study other international curricula like IB Diploma Programme in Grade 11 and 12.
The Cambridge Lower Secondary Programme at GIIS helps the students achieve excellent results in IGCSE. The academic training starts early as students are exposed to all the examinable subjects as early as Grade 7. While skill-based labs provide help in experiential learning, which is the requirement of the curriculum, the dedicated spaces in the campus facilitate in project-work and collaborative studies.
By choosing Cambridge Lower Secondary Programme at GIIS, students get to study an internationally recognised course, in a dynamic set-up, taught by dedicated and experienced teachers, at an affordable fee.