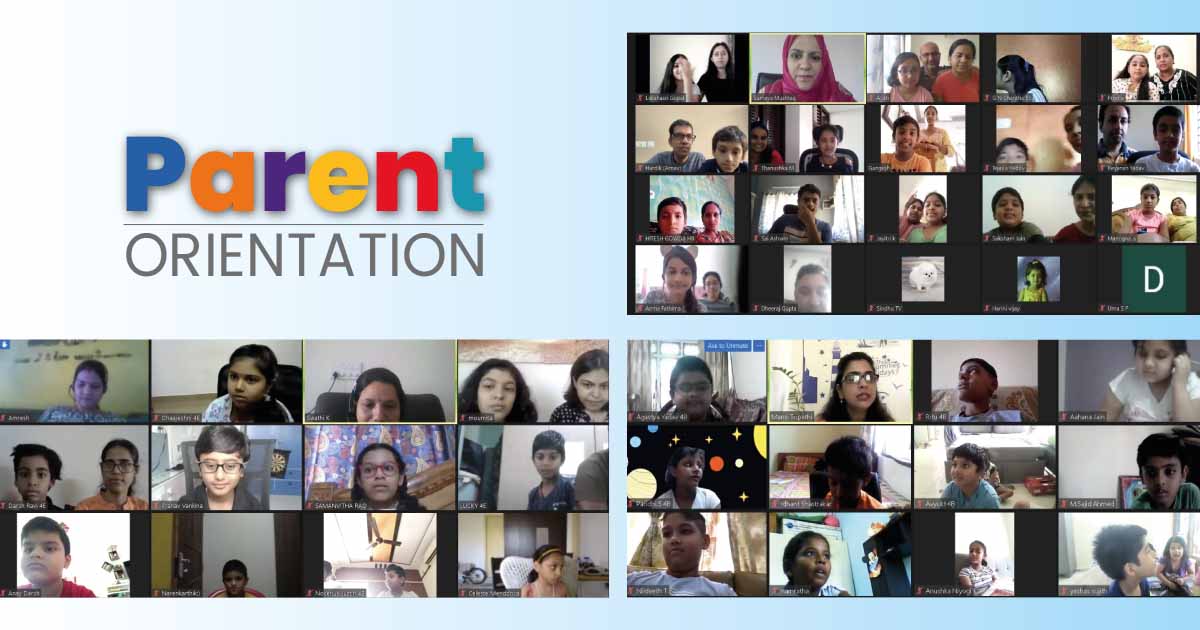 GIIS Whitefield recently organized the Parent Orientation for Pre Primary, Primary, Secondary, and Senior Secondary segments via the Virtual platform. With lots of excitement and a brief introduction to the curriculum at all levels, all the designated teachers' were formally introduced to the parents. For the cooperation and support of the parents all throughout the previous academic session, GIIS Whitefield team is highly grateful to all. Since the previous year, 'virtual classes' has become the new way of teaching and learning.
The Parent Orientation programs are fantastic opportunities for students and parents to know what to expect in the coming year and to familiarize them with the curriculum, rules, and regulations of the school, teaching methodologies, and co-scholastic activities. Mr. Ashwani Kumar Saxena (Principal), Ms. Preetha D'Mello (Head Mistress, Pre Primary), Ms. Jeelu Mary Varghese and Ms. J Anuradha (Academic Coordinators) addressed and welcomed all the parents and students for another great year of academic excellence and quality learning.
The aim was to give new parents an opportunity to experience and understand the world their child explores at GIIS. The parents were briefed about the rules and regulations of the school.
The Global Montessori Plus curriculum was explained in brief. It being one of the best for pre-primary learning, built on the foundation of 5 pillars comprising of Excelerate programme, i-play, iCare, multi-faceted, and future-ready learning to facilitate a smooth transition to primary schooling.
From Grade 1 onwards, blended learning, activity-based and project-based learning form an integral part of the CBSE curriculum that we follow. Parents were shared an overview of the various subjects, examination patterns, and the activities that would be incorporated in the year ahead. Co-scholastic activities were also discussed that gave the parents an idea of how the GIIS 9 GEMS pedagogy, which is an integral part of GIIS curriculum, provides hands-on learning activities that not only give our students a medium to fully utilize their creative talents and energies but also help them in their all-round development.
This session also included the Question and Answer segment where parents were free to ask their queries. We are confident that the Academic Year 2021-22 will bring forth many new learning experiences for students under the able mentorship of highly efficient, well-trained, and experienced teachers.
This year too, we are sure that our students will reach for the stars and make GIIS Whitefield proud!