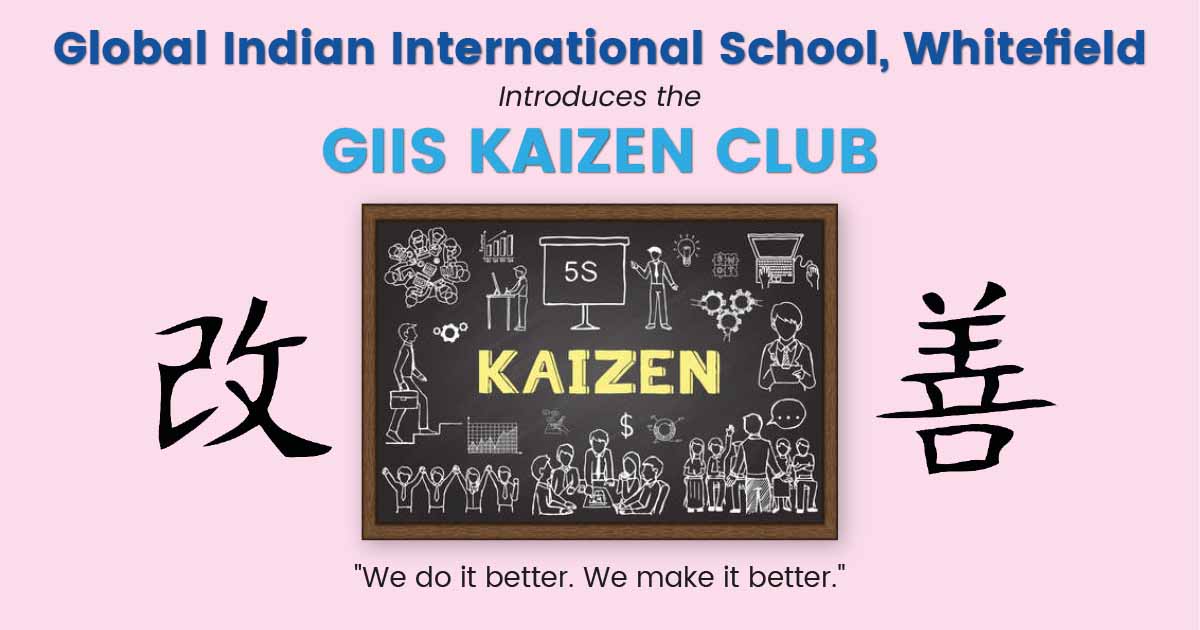 The Kaizen philosophy assumes that our way of life - be it our working life, our social life, or our home life - deserves to be constantly improved. — Masaaki Imai
GIIS Whitefield has introduced the Kaizen Club in June 2021 open to all the teachers, students, and staff. Kaizen, in Japanese means, change for the better. In our school, the idea is to establish a work and learning culture of continual improvement where each one will play an important role in the overall growth of the school. The growth will be due to the positive changes in the processes or methodologies in the areas of teaching, learning, and administration.
GCEE (Global Centre for Excellence in Education) established Kaizen clubs at each GIIS campus. The vision was to enhance the quality of best practices and quality circle presentations in external forums (like IMC MQH, APQO ACE, CII, etc.) and to take Global Excellence Day to next level by improving the overall quality of our improvement projects in different segments.
GIIS Whitefield has always been in the process to identify innovative ideas and has been receiving commendable recognition for ideas shared by students and teachers. With the help of Kaizen, students strongly believe that it will help them solve many problems that occur on day to day basis with optimal and efficient solutions. Teachers believe that every small change that is brought about, with focus, leads to great learning and probable changes. This eventually would help in identifying solutions that will help many others too.
Leaders, teachers, and students join hands to make change for the better. Let's hear from our Kaizen Club members in GIIS Whitefield, and more insights.
Kaizen has a great influence on most world leaders and also in India. Recently, Prime Minister, Mr. Narendra Modi inaugurated the Zen Garden and the Kaizen Academy at the Ahmedabad Management Academy (AMA), Gujarat. While talking extensively about the significance of change in various industries through the world-famous Japanese philosophy of Kaizen, he also shared his thoughts around creating learning educational spaces based on the school system of Japan where the philosophy to Kaizen is part of every curriculum. This is quite a big encouragement for GIIS to identify, acknowledge and implement every change for the better.
GIIS hallmarks the emphasis on excellence in imparting quality education across all campuses across the globe. With the Kaizen Club being part of the education system, students will be able to implement new things by keeping the 'change for the better' ideology in their minds. Kaizen in education will also help the faculty to implement new ways of teaching whereby the students will be able to imbibe the knowledge shared, with utmost ease.
The GIIS Whitefield Kaizen Club will enable the creation of room for the generation of new ideas that will be showcased as the Kaizen Wall of Fame. GIIS family aims to achieve greater success through the principles of Kaizen in education and bring noteworthy solutions.