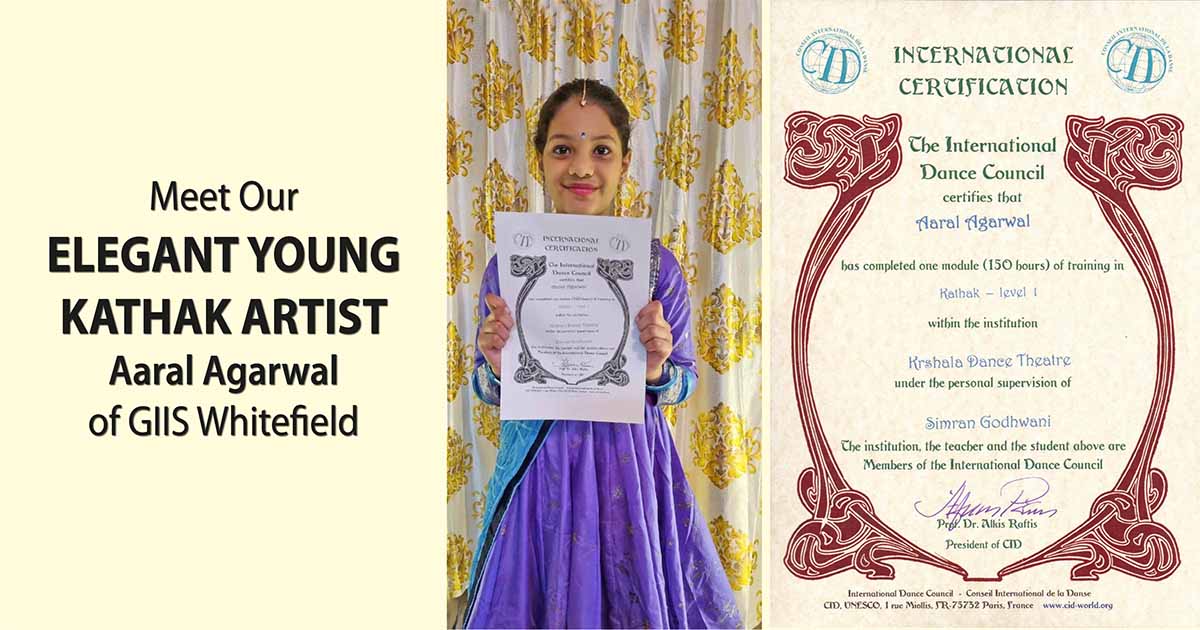 Ask a dancer about Kathak, they will gracefully explain it as the ecstatic art of storytelling that involves a lot of facial expressions, synchronizing perfectly with hand, foot, and body movements. Kathak is one of the ancient forms of classical dance and it holds a lot of respect across the globe for its royal lineage.
Aaral Agarwal from Grade 4H of GIIS Whitefield has very good news to share. She is one among the youngest Kathak dancers who has successfully certified for the Level 1 International Dance Council program for training in Kathak, recognised by UNESCO. She has been learning Kathak right from the age of 3 from Krshala Dance Theatre. This theatre is recognised by UNESCO to certify its students for the International Dance Council program. The program certifies students on 2 levels - Level 1 and Level 2. Students who qualify for the certification get an opportunity to give a live presentation for the UNESCO team and are felicitated with a certificate once successful. The Kathak dance requires years of practice for perfection and this is known to be judged on the basis of the story, conversation, and traditional tale with unmatched grace and finesse.
Her parents are very proud as she is the youngest in the dance academy to have achieved the first level. They sincerely appreciated the support of GIIS Whitefield teachers in encouraging her talent.
'Her teachers in GIIS have always been supportive of her passion and encouraged her to excel. Looking forward to your support and encouragement.' - Piky Ashesh Agarwal (Mother)
GIIS has always encouraged the passion for dance and music as part of our trademark 9GEMS curriculum and we have the best teachers on board to help students have a natural interest in various forms of dance. It is a proud moment for teachers too to see their students have such a high level of determination, dedication, and confidence.
GIIS Whitefield is happy for her achievement and we wish her the best in pursuing her love for this distinguished classical dance form.