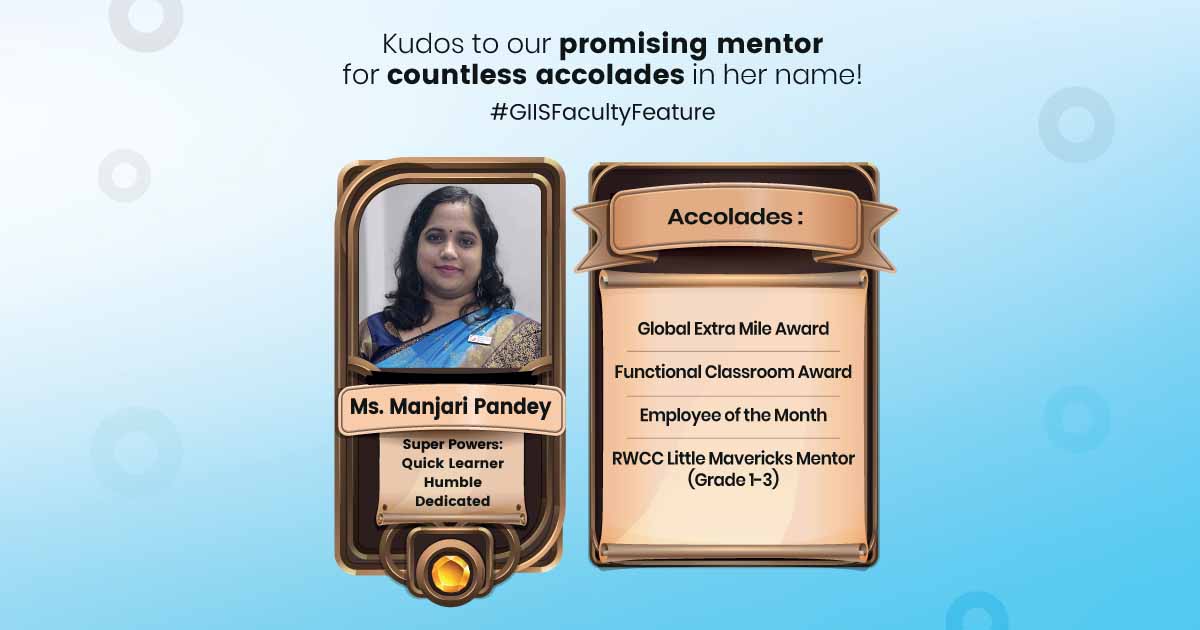 The best way to teach is to become a good learner every day. Ms. Manjari Pandey has always been adding to her learning and implemented the same in her role as a teacher. She has been an important faculty member in the Primary department of GIIS Whitefield for 3 years and her contributions to upraise her professional commitments have shown very good results. The journey of a teacher involves bringing a good change in every student and she is regarded as a thoughtful teacher cum guide to all her students. She is a very supportive colleague as she extends all the necessary help to all her teacher buddies in accomplishing success in all the events or projects assigned as part of the curriculum.
She is also a recipient of GIIS Extra Mile Award (2019-20). This is an award that applies to employees who have gone above and beyond their daily tasks and roles to ensure service excellence is achieved. She has also secured the 3rd position in the Functional Classroom competition in 2019. This was based on the use of a display board interactively to create dynamic learning experiences. The theme was around the use of GIIS 9 GEMS in the present-day curriculum.
Ms. Manjari is calm and at the same time very focused when it comes to giving the best to children and stands as a well-deserved recipient of 'Employee of the month'. She was awarded the 'Best Primary Teacher (Grade 1 to 2 category) title in August 2019 for her commendable role as a mother teacher for the tiny fresher kids who have graduated from kindergarten to learn the new ways of learning in the Primary segment. Yet again, she was honored with the Best Primary Teacher (Gr 3 to 5) certificate in December 2020, in recognition of her dedication, passion, and hard work.
She has received multiple appreciation letters for her proactive attitude and excellent execution of tasks assigned to her. Virtual Independence Day, Environment Day, and iCare are some of the many events where she showcased very good leadership skills. She was the project head of the RWCC Little Mavericks (Grade 1-3) team that won the 2nd runners-up award in 2020. She received the certificate of participation for GALS 2021 under sub-track - Improving Teaching Methodologies through 360 Degree Feedback.
Speaking about her upskill training, she has completed certifications in augmented reality & virtual reality in Education, Teaching Strategies in Science, and Environmental Education in Practice. She is a humble human and a motivating colleague who believes in sharing her knowledge to help others in teaching. She has conducted training on the Nearpod app that allows teachers to create presentations and interactive activities based on lessons. She is always happy to share her expertise in augmented reality to enhance the learning experience of students during virtual classes.
She loves teaching and this reflects in the enthusiasm among the children during her classes.