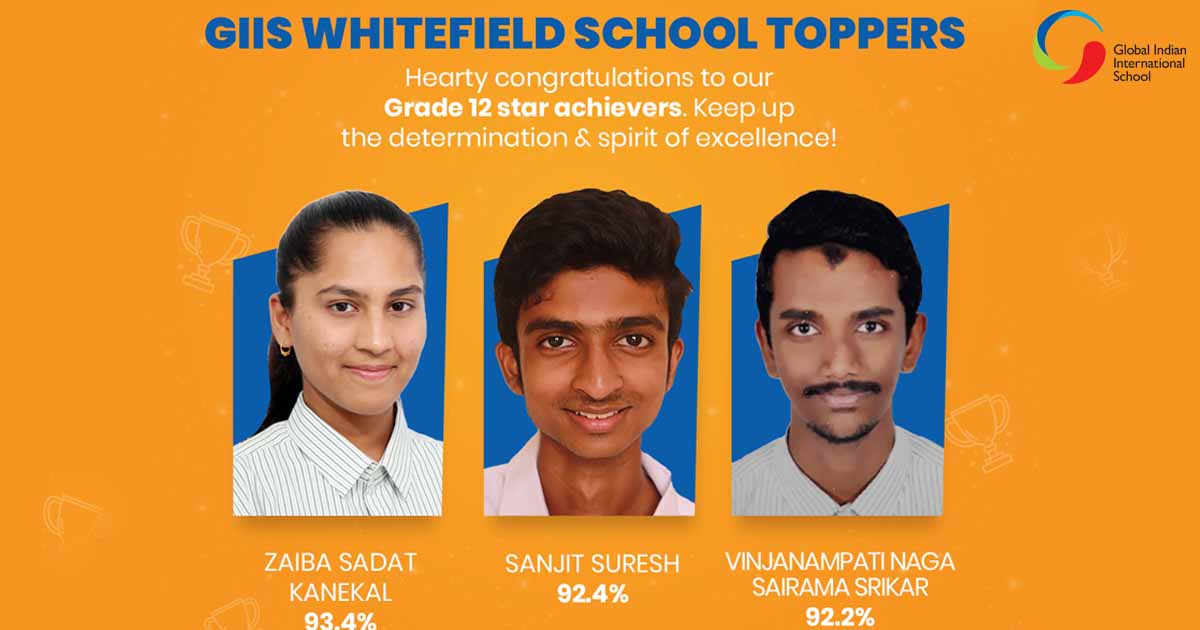 The first batch of Grade XII 2020-21 batch of Global Indian International School (GIIS) Whitefield, Bangalore achieved praiseworthy results in CBSE 2020-21 board exams. Board examination for class XII were deferred and ultimately cancelled in the month of June, 2021 owing to the COVID pandemic. Student safety was prioritised and to ensure a fair and inclusive evaluation methodology, a well thought through assessment procedure was adopted in consultation with academic experts and authorities. The evaluation metrics consisted of a student's class Xth board results, Class XI marks, Class XII internal scores and class XII pre-board results/internal evaluation.
Students have achieved outstanding results this year with a 100% pass percentage across Science, Commerce and Humanities streams. Around 30% of the batch has scored above 90%, and over 60% students of the 2020-21 batch have scored above 80% aggregate marks.
With regard to the overall school toppers, Zaiba Sadat Kanekal topped the batch with 93.4%, while Sanjit Suresh and Vinjanampati Naga Sairama Srikar secured second and third rank scoring 92.4% and 92.2% marks respectively.
SCIENCE STREAM TOPEERS (Also School Toppers)

Rank

Name

% Marks

1

Zaiba Sadat Kanekal

93.4

2

Sanjit Suresh

92.4

3

Vinjanampati Naga Sairama Srikar

92.2
COMMERCE STREAM TOPPERS

Rank

Name

% Marks

1

Harini Sri R

89.8

2

Baisakhi Das

88

3

Sumiit Tripathy

82.2
HUMANITIES STREAM TOPPERS

Rank

Name

% Marks

1

Anubhi Saxena

91.6

2

Vaishali Ashok

90

3

Aarav Pandian

87.4
90% and above (Aggregate)
| | | | |
| --- | --- | --- | --- |
| S No. | Name of Student | % Marks | Stream |
| 1 | Zaiba Sadat Kanekal | 93.4 | Science |
| 2 | Sanjit Suresh | 92.4 | Science |
| 3 | Vinjanampati Naga Sairama Srikar | 92.2 | Science |
| 4 | Madhumita K H | 91.8 | Science |
| 5 | Anubhi Saxena | 91.6 | Humanities |
| 6 | Rishabh Singh Karki | 91.4 | Science |
| 7 | Fardeen Faisal | 90.8 | Science |
| 8 | Vaishali Ashok | 90 | Humanities |
Sharing his appreciation on the performance of the students, Mr. Ashwani Kumar Saxena, Principal, Global Indian International School (GIIS) Whitefield said, "Class XII is the stepping stone for a student's career journey, and the year 2020-2021 was exceptionally difficult for the student community owing to uncertainties caused by COVID-19. I congratulate the students on passing the exam with flying colours. The entire academic year was difficult for the students, but their outstanding performance demonstrated that hard work and dedication never fail. The teachers and parents extended the much-needed support and encouragement to the students throughout this period. Considering the crucial situation, I am glad that our students displayed immense maturity and remained resilient and optimistic."
On asking about her results, Zaiba Sadat Kanekal, school topper of the 2020-21 batch said, "After finding out my result, I did feel that I could've done better in certain subjects but overall I was satisfied with my marks, considering the conditions under which they were given. I thank all the teachers for their hard work and guidance in helping us prepare for the board exams."
Sanjit Suresh, the 2nd rank holder, while sharing his thoughts said, "I would like to thank all my teachers for helping me get to this position. I am truly grateful & blessed and will take this as an incentive to work harder. Thank you."
Topper of the Humanities batch, Anubhi Saxena said, "My journey of grade 12th was a complete roller-coaster ride because of the many uncertainties I had to face this year, yet I kept going because of the constant support from my parents and teachers. I was consistent and dedicated towards my studies. I believe that's the key to achieve success in all walks of life, just keep going on despite failures and hurdles you face."
Class XII is a very important milestone in a student's academic journey as it forms the basis of future vocational learning and career choices. Admissions in the undergraduate courses across India and abroad are dependent on these results, which will allow students and their parents to prepare for entrance examinations and finalise admission in their college/university/course of choice. Playing the critical role of bridging the knowledge and counselling gap for students while they transition from school to universities, GIIS has been organizing a series of Career guidance webinars and University fairs where students got an opportunity to interact with the best-in-class global and Indian universities to explore admission possibilities and understand processes and protocols in detail, and prepare for associated formalities.