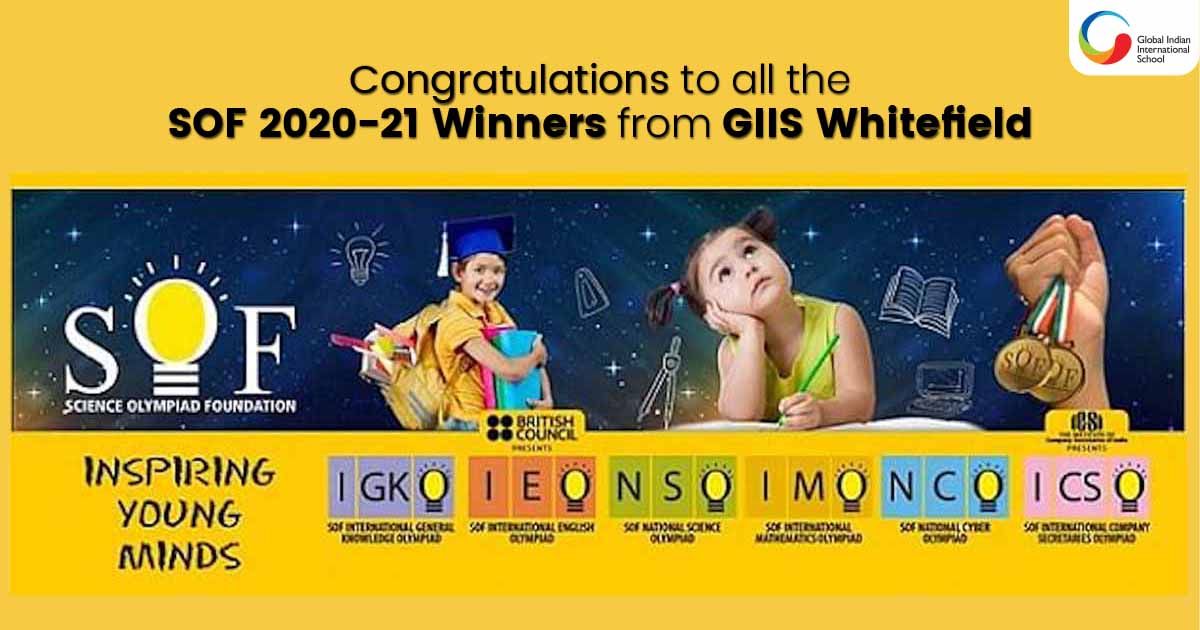 GIIS Whitefield has 40 students who are in the Top 50 International Rank list of the Olympiad competitions held this year. The Science Olympiad Foundation (SOF) Competitions for Primary and Secondary grades saw a lot of participation and students of GIIS Whitefield have scored very good ranks in various categories. The awards, medals, and cash prizes narrate the story of their hard work and success.
SOF has always been one among the popular academic competitions for students and GIIS students have been known to boost their confidence while appearing as one among tens and thousands of students across India. With the choice of categories such as IGKO (International General Knowledge Olympiad), IEO (International English Olympiad), IMO (International Math Olympiad and NSO (National Science Olympiad), students can participate in the subjects of their choice.
Our students won awards at different levels like International Gold Medal, Zonal Silver Medal, Zonal Silver Medal, Medal of Distinction Certificate of Zonal Excellence, Certificate of Distinction, Certificate of Outstanding Performance in various subjects along with cash prizes.
Such competitions catering to the national and international level parameters serve as regular qualitative and quantitative assessments that has helped GIIS students improve and do their best each time they attempt. The recognitions and ranks are definitely a motivation for all other students to participate and do their best with ease and focus.
Congratulations to all the Winners!
SOF_IGKO-2020-21
Grade

Name of the Student

International Rank

Awards - Won International / Zonal / School Award

4

MITALI VINOD UDAPUDI

6

Gifts Worth Rs. 1000/- + Zonal Silver Medal + Zonal Silver Medal

3

PARTHIVI PATHAK

6

Gifts Worth Rs. 1000/- + Zonal Bronze Medal + Certificate of Zonal Excellence

3

EKNOOR SINGH GANDHI

10

Gifts Worth Rs. 500/- + Medal of Distinction + Certificate of Distinction

9

SHREYA KRISHNA

17

Gifts Worth Rs. 1000/- + Zonal Gold Medal + Certificate of Zonal Excellence

4

AARUSH KUMAR BAG

18

Gifts Worth Rs. 500/- + Medal of Distinction + Certificate of Distinction

3

ESHA BAIJU

33

Medal of Distinction + Certificate of Distinction

6

PANCHUMARTHI TEJESH

60

Gifts Worth Rs. 500/- + Medal of Distinction + Certificate of Distinction

SOF_IEO-2020-21

Grade

Name of the Student

International Rank

Awards - Won International / Zonal / School Award

3

SEMONITI RAY

1

Gifts Worth Rs. 1000/- + International Gold Medal + Certificate of Outstanding Performance

4

AMEY ANEESH

1

Gifts Worth Rs. 1000/- + International Gold Medal + Certificate of Outstanding Performance

4

SRIYA KANCHIBHOTLA

4

Gifts Worth Rs. 1000/- + Zonal Gold Medal + Certificate of Zonal Excellence

3

ARADHYA RAY

6

Gifts Worth Rs. 1000/- + Zonal Bronze Medal + Certificate of Zonal Excellence

9

QIRATH SHEIKH

12

Gifts Worth Rs. 500/- + Medal of Distinction + Certificate of Distinction

10

AASHI AGGARWAL

14

Gifts Worth Rs. 500/- + Medal of Distinction + Certificate of Distinction

7

CHARMIAN JYOTHISH CHERIAN

18

Gifts Worth Rs. 500/- + Medal of Distinction + Certificate of Distinction

9

RENU SAI ASWITHA JULIGANTI

19

Gifts Worth Rs. 500/- + Medal of Distinction + Certificate of Distinction

3

ARNAV PAL

20

Medal of Distinction + Certificate of Distinction

9

AYUSHI AGGARWAL

21

Gifts Worth Rs. 500/- + Medal of Distinction + Certificate of Distinction

4

KRITHIK REDDY THATHAGARI

22

Medal of Distinction + Certificate of Distinction

6

SREEYA SREEJU NAIR

29

Medal of Distinction + Certificate of Distinction

SOF_IMO-2020-21

Grade

Name of the Student

International Rank

Awards - Won International / Zonal / School Award

3

ISHIKA BARDHAN

1

Gifts Worth Rs. 1000/- + International Gold Medal + Certificate of Outstanding Performance

3

SNITHIK REDDY

1

Gifts Worth Rs. 1000/- + International Gold Medal + Certificate of Outstanding Performance

6

MITUL K H

2

Gifts Worth Rs. 1000/- + International Silver Medal + Certificate of Outstanding Performance

6

HINNAH TESS C

2

Gifts Worth Rs. 1000/- + International Silver Medal + Certificate of Outstanding Performance

5

SRINIVASAN S R

8

Gifts Worth Rs. 1000/- + Zonal Bronze Medal + Certificate of Zonal Excellence

3

SHANVI SAHOO

9

Gifts Worth Rs. 500/- + Medal of Distinction + Certificate of Distinction

4

HARSH RAJ

9

Gifts Worth Rs. 500/- + Medal of Distinction + Certificate of Distinction

4

VISWESH SRIRAM

9

Gifts Worth Rs. 500/- + Medal of Distinction + Certificate of Distinction

3

MUDITH ITLA

12

Gifts Worth Rs. 500/- + Medal of Distinction + Certificate of Distinction

4

ANANYA YARAGANI

19

Medal of Distinction + Certificate of Distinction

6

RISHIN DHAR

31

Medal of Distinction + Certificate of Distinction

SOF_NSO-2020-21

Grade

Name of the Student

International
Rank

Awards - Won International / Zonal / School Award

7

AKSHIT B

4

Gifts Worth Rs. 1000/- + Zonal Gold Medal +Certificate of Zonal Excellence

6

MITUL K H

5

Gifts Worth Rs. 1000/- + Zonal Gold Medal + Certificate of Zonal Excellence

3

IDHANT REWANNATH SHASTRAKAR

8

Gifts Worth Rs. 500/- + Medal of Distinction + Certificate of Distinction

5

AARAV GUPTA

13

Gifts Worth Rs. 500/- + Medal of Distinction + Certificate of Distinction

3

ANISH VEDSEN

14

Gifts Worth Rs. 500/- + Medal of Distinction + Certificate of Distinction

4

MITALI VINOD UDAPUDI

19

Medal of Distinction + Certificate of Distinction

3

ANANYA DEB

23

Medal of Distinction + Certificate of Distinction

3

ISHIKA BARDHAN

24

Medal of Distinction + Certificate of Distinction

4

AMEY ANEESH

27

Medal of Distinction + Certificate of Distinction

10

AASHI AGGARWAL

43

Medal of Distinction + Certificate of Distinction