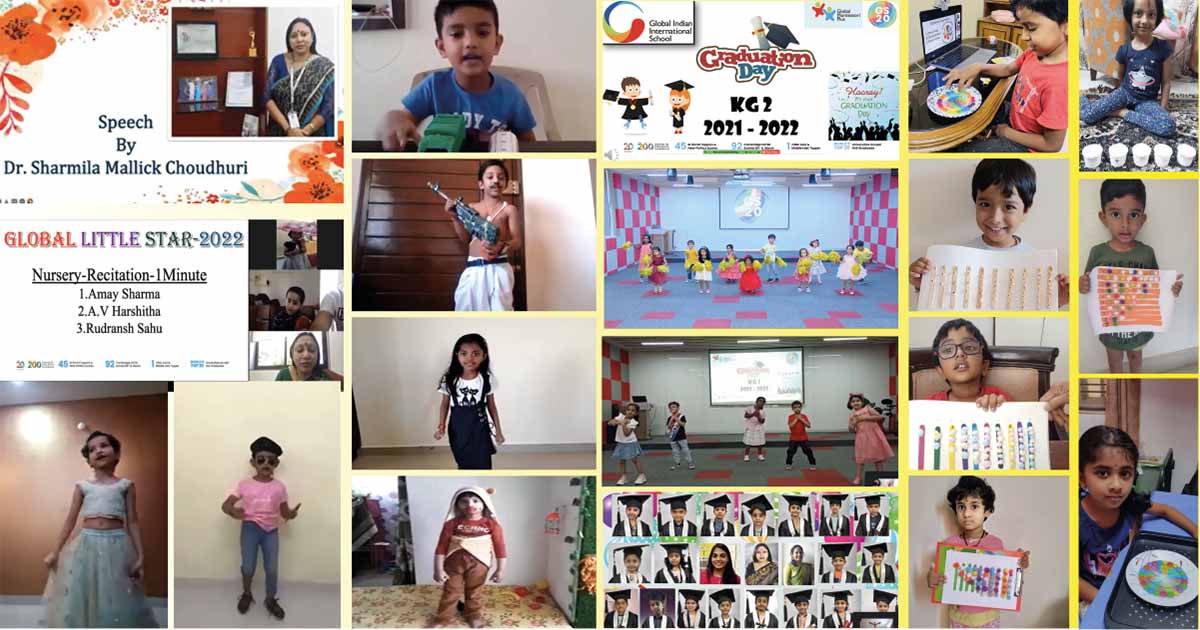 "……GIIS Bannerghatta welcomed students for physical classes this month with all the safety and security norms in place. Watching the students play around the campus and interact with their peers in a free environment is a blessing for us and we are looking forward to having more students attend physical classes. March was unquestionably a very special month as we conducted many events and activities with immense enthusiasm and the path ahead looks even more exciting. Looking back at the progresses we have made so far, I'm sure the upcoming academic year will mark greater milestones and achievements for our students."
- Ms. Sharmila Mallick Chodhuri, Principal, GIIS Bannerghatta
What an amazing month March has been! Starting with the 'Thinking Thursday' activities, our Pre-Primary tots explored multiple concepts under this segment throughout the month including- performing chemical reactions to understand volcanic eruptions, getting around how air pressure works, and depicting the various landforms of Earth through models. All these exercises were designed and performed under the guidance of parents and teachers and helped the kids imbibe knowledge in the most playful ways.
Bird feeding is a soul-soothing activity and watching the birds chirp happily brings us great joy as it connects us to nature and its delicacies. Our Nursery kids were taught how a little positive step can bring significant change in our surroundings and asked to make bird feeders using environment-friendly materials. They made beautiful feeders from used plastic bottles, egg cartons, eggshells, and orange peels and explained why we should all go organic and save the environment.
World Wildlife Day provides us an opportunity to celebrate the multitudinous flora and fauna and raise awareness about their importance. This year's theme for World Wildlife Day was "Recovering key species for ecosystem restoration" and our Pre-Primary eco-warriors actively celebrated this occasion with immense enthusiasm. The kids made various crafts around endangered wildlife species to raise awareness around the preservation, conservation, and protection of the ecosystem.
Giving a little punch of creativity to everyday classes is a good way to create buzz among the kids and generate their interest in the subject naturally, and that is what our Maths Magic activities are all about. Grade 5th and 6th students performed fun exercises under this segment to learn the conversion of different units of lengths and key data handling concepts.
The end of the month was definitely its highlight as our kindergarteners climbed a step up in the academic ladder and graduated from the Pre-primary segment. We organized a Virtual Graduation Day for the little cherubs who were dressed elegantly in graduation gowns and hats, beaming with bright smiles. Our teachers interacted with the proud parents and congratulated them on successfully guiding their children towards this achievement. It was an emotional roller-coaster ride for everyone and we wished the graduating students all the best for their future.
In conclusion, March kept us all on our toes and we can't wait to find out what wonderful surprises the coming months hold for us! Till then, take care and stay safe.
Warm Regards,
Dr, Sharmila Mallick Chodhuri, Principal, GIIS Bannerghatta