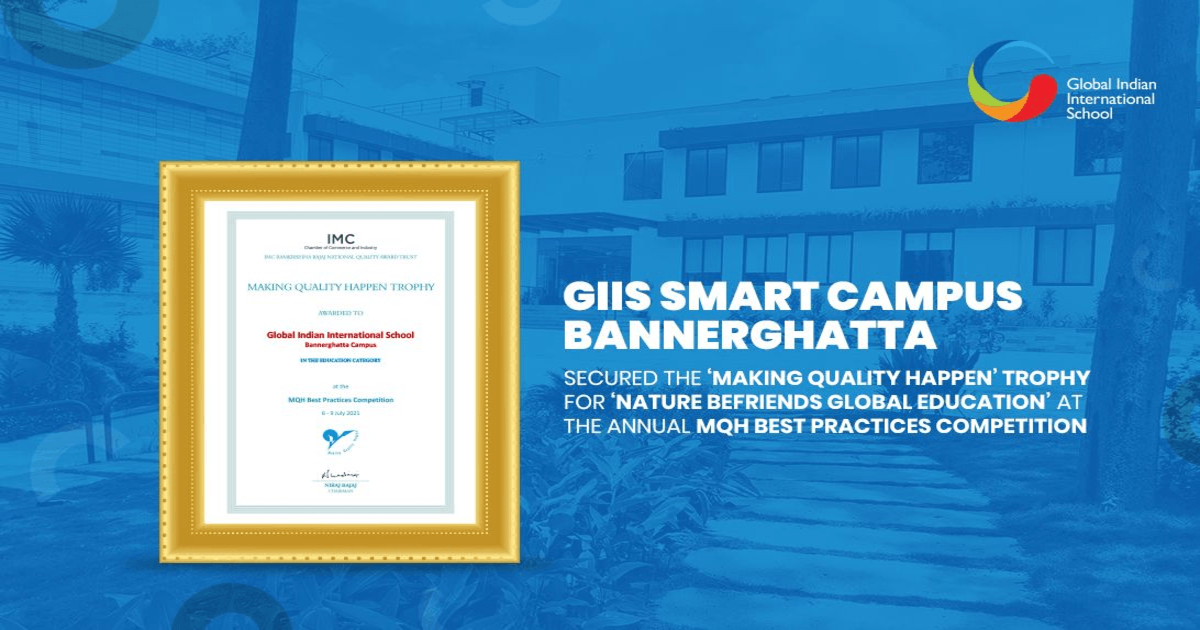 GIIS SMART Campus, Bannerghatta won the prestigious Making Quality Happen Award at the Annual MQH Best Practices Competition, held from 6-9th July 2021.
Dr. Sharmila Mallick Choudhuri (Principal) presented on the topic 'Nature Befriends Global Education'. The topic was perfect because, in today's technology-centric learning, the close association with Nature definitely gives a remarkable experience. GIIS SMART Campus, Bannerghatta is a befitting example where the very plan of setting up a school with world-class facilities was in absolute sync with the lush green surroundings around. A place where students do not just get to see SMART boards to learn, they get to enjoy the wilderness of nature and the serenity around.
The main highlights of our campus is the state-of-the-art infrastructure, the scientifically designed rooms for activities like Robotics, visual arts, STEAM lab, IT lab, Maths labs, digital smart boards in every classroom, absolute reader-friendly library, and a lot more facilities that would make children love coming to school.
A lot of awareness activities to reiterate the practice and policy of maintaining a complete "no plastic zone" makes the campus a likable eco-friendly education zone.
Activities like "My Campus, My Tree"- a tree plantation drive was initiated before Covid 19, aimed to bring children up close to Nature by observing the stages of growth of every plant that was planted. The credit of spreading the green awareness goes to the students because they have been continuing their mission to be friends with Nature, even when they are experiencing the new ways of learning by staying at home.
The concept of blending education and sustaining the purity of Nature was a strong message that caught the attention of the thought leaders of schools in the neighbourhood. GIIS SMART Campus had spread the benefits of learning with the green advantage through the wonderful activities done by our students also fondly called 'GIIS Green Warriors' as part of Earth Day, World Environment Day, and many special occasions to celebrate their friendship with Mother Nature.
The award is a great motivation to take the vision and mission of GIIS higher in making a big difference in the concept of learning and enjoying good health or mindfulness in the midst of greenery. The MQH Best Practices Competition is organized by IMC Ramkrishna Bajaj National Quality Award Trust every year and it is an excellent platform for GIIS to showcase Best Practices that have benefited the school & enabled positive results for the students.