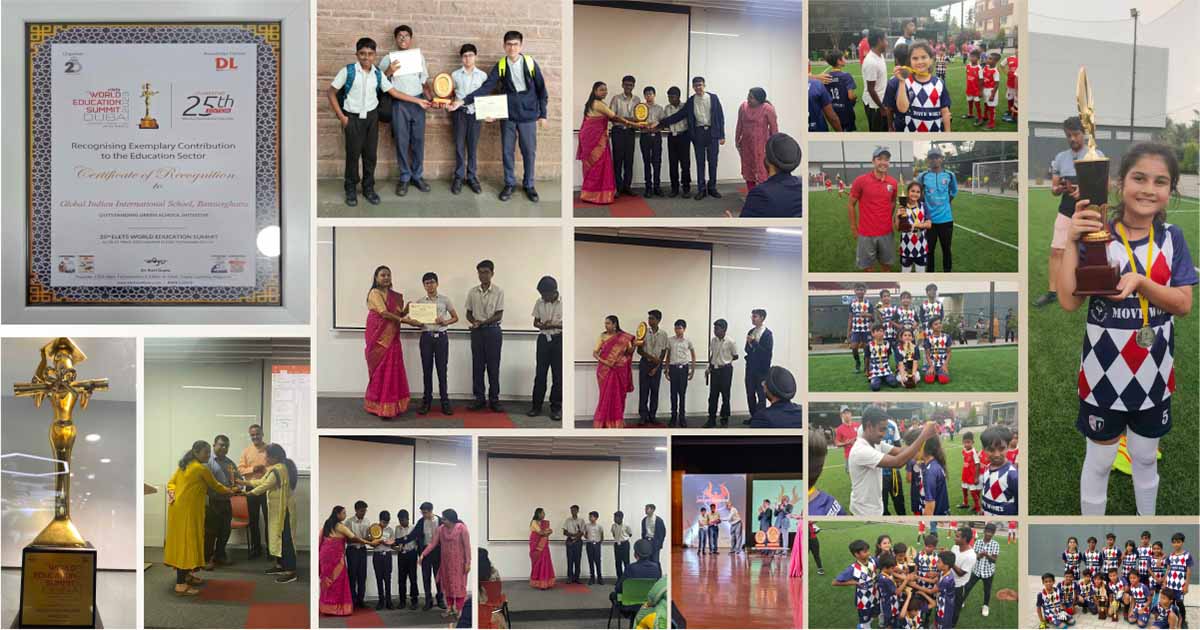 Dear Parents,
Month of May was quite fruitful at GIIS Bannerghatta. I'm excited to share the amazing news of what our students at GIIS Bannerghatta accomplished in May. Despite the fact that it was a vacation month, our gifted and talented students' exceptional accomplishments have made our campus very proud.
I would like to congratulate Kriday Pandita from grade 8 and Drishti Pandita from grade 5 on their outstanding achievements in football. In the most recent football competition, they won the football championship thanks to their commitment, abilities, and teamwork. Their success shows the enormous talent we foster at GIIS Bannerghatta and serves as an example to their peers.
In addition, I'm happy to announce that Sanjay Aravind and Madhav Sreeraj, two incredibly talented grade 9 students, won third place in the sought after Japan Quiz organized by Indian Institute of Science's Japan Habba Festival, which was held in Bangalore. Their astounding display of intelligence and tenacity has elevated our institution and strengthened our dedication to academic success.
The ELETS World Education Summit 2023 Sustainability Award has been given to GIIS Bannerghatta, which I am incredibly delighted to announce in addition to these accomplishments. This esteemed award honors our institution's outstanding environmental initiatives and persistent commitment to sustainability. We firmly believe in fostering in our students a profound sense of environmental responsibility, and this understanding serves as an inspiration for us to keep working towards the development of a more environmentally friendly and sustainable future.
These accomplishments are a result of the combined efforts of our students, our committed teachers, and our encouraging parents. These successes are made possible by their dedication, tenacity, and passion. I want to sincerely thank everyone who helped to make these achievements possible.
Let's continue to support and develop the distinct talents and skills of our students as we move forward. Together, we'll continue to provide them with an environment that encourages greatness in academics, sports, field, and sustainability.
I wish you all a fruitful and successful school year!
Warm regards,
Girish R. Arabbi
Principal, GIIS Bannerghatta