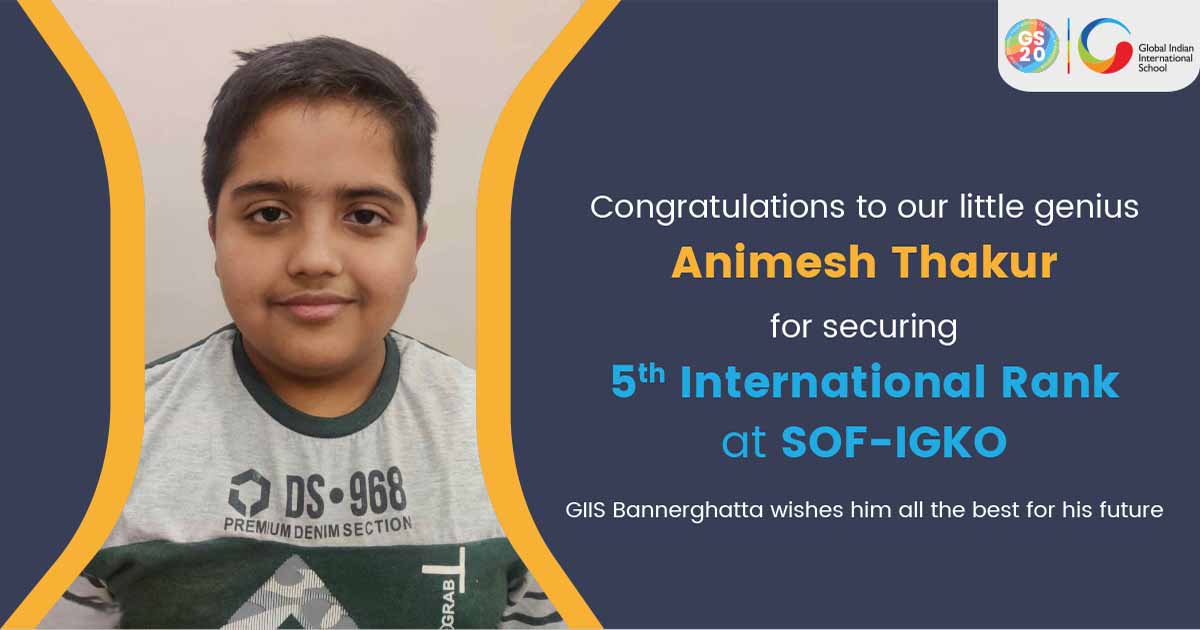 "Education is the passport to the future, for tomorrow belongs to those who prepare for it today."
—Malcolm X
Our goal at GIIS is to give a high-quality learning experience to every student. We are committed to nurturing our students into men and women who will be leaders of distinction, radiating a spirit of excellence, through high-quality education imparted by globally experienced and caring teachers building strong virtues and values while focusing on all-around development, creativity, and entrepreneurship. In the journey of facilitating a holistic development framework of learning, we meet many stars with the capabilities of bringing positive changes to the world. One such star who recently made us immensely proud of his distinguishable caliber is Animesh Thakur.
Animesh has always been a kid who shows keenness to learn beyond textbooks. His passion for science is admirable and inspires his peers as well. According to his class teacher, "….Animesh has illimitable potential. He is not only an excellent student in terms of studies but also a well-behaved child. His questions are always out of the box and he never fails to impress everyone with his wit and astuteness. Academically, he of course is extremely blessed, but what catches everyone's attention is his cheerful personality and thoughtfulness….he indeed is a special kid and I'm really excited to see him grow into an intellectual global leader…"
Animesh is currently studying in 5th standard at GIIS Bannerghatta and recently participated in Science Olympiad Foundation's - International General Knowledge Olympiad (SOF-IGKO). He not only scored 58/60 at the competition but also secured 5th rank internationally. His achievement includes securing 1st class rank and 3rd zonal rank with gifts worth Rs.1000/-, Zonal Gold Medal, and certificate of excellence. This remarkable accomplishment has brought great honor to our school and GIIS Bannerghatta congratulates him for his massive success.
On being asked about his preparation for IGKO, Animesh says "…I went through previous years' sample papers and study materials. I got a lot of support from my parents who not only provided moral support but also helped with gathering a lot of information. The Internet has limitless opportunities for learning as interactive and animation video lectures. I definitely benefitted from technology to a great extent ….."
Animesh's parents have played an indispensable part in his journey. According to his father- "…..Animesh incurred a habit of exploring fields related to science whenever he got the time. While covering the school syllabus, he keeps searching topics related to IGKO to gain more. He likes to share everything he gains with everyone that helps him keep learning and stay motivated in the longer run….."
This moment is a success for everyone that has supported Animesh so far and we would like to congratulate each of them on being a part of his extraordinary journey while also expecting them to extend their sustenance in his path to excellence further. Kudos to our young star for achieving a feat this big at such a young age. GIIS Bannerghatta is by your side at every step…………