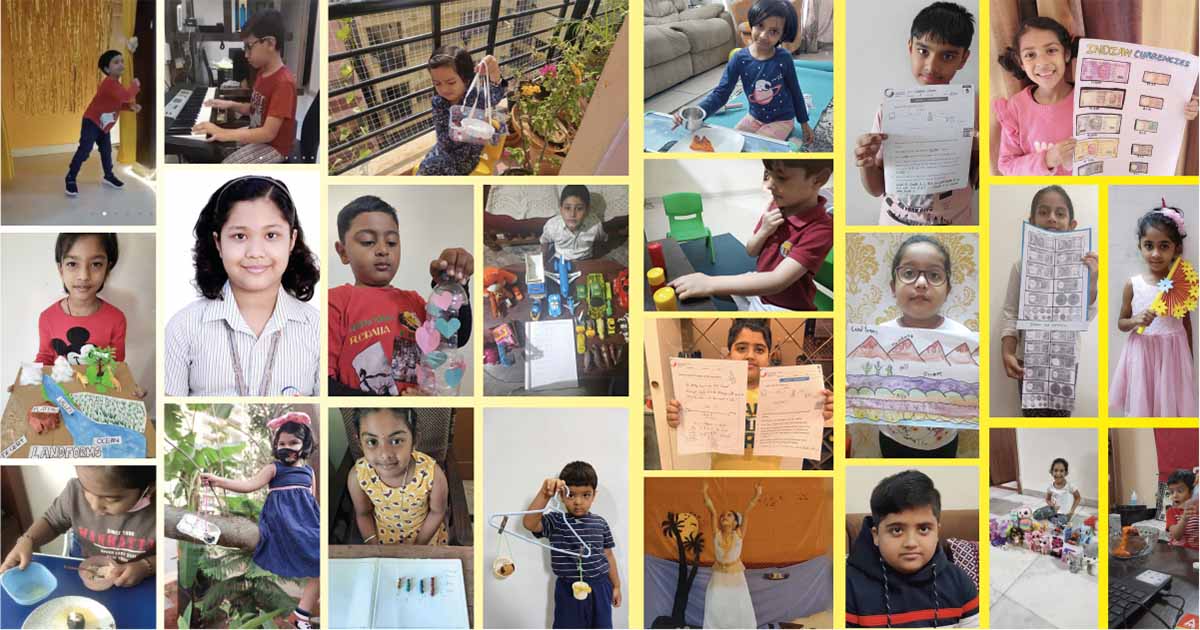 "……February was a busy month for GIIS Bannerghatta. With the fear of Covid gradually fading, we are all set to speed up the processes at school with doubled enthusiasm. From celebrations to competitions, this month was full of excitement for all the students and teachers. I wish this trend continues till the end of the year and we meet the kids soon on the campus."
- Dr. Sharmila Mallick Chodhuri
Dear Parents,
The month of February was an exciting one. With such a great activity and event line-up, it definitely feels like the school is returning to its normal self. Though all the processes are still conducted virtually, we have made peace with this novel learning culture and developed an unmatched rhythm that helps organize any kind of event seamlessly.
The month began with Kids performing various creative and insightful classroom activities to get around the basic concepts of mathematics and science.
Grade 1 children learned about Data Handling in the most playful way. They grouped different objects according to their sizes, shapes, types, and colors and also learned how to use tally marks to represent survey data.
The tiny munchkins of Pre-Primary performed an interesting activity to understand the basic concept behind burning. Not to forget, you played a great role in making sure this activity is conducted safely and prepared the kids accordingly, keeping in mind all the necessary precautions.
Mathematics has a different relationship with every student and this bond depends on how effectively it is taught and what is the extent of understanding developed by the students. Children of GIIS Bannerghatta always have the best time learning basic maths concepts through fun and engaging activities. With the creative and innovative efforts of our teachers, Grade 1 students recently got around multiplication and understood it in the simplest way- repeated addition.
With innumerable festivals celebrated across the world by different communities, and a myriad of distinct rituals and traditions surrounding them, there is one festival that unites people beyond boundaries and encourages them to respect each other's culture- International Festival Day. It provides us with an occasion to explore and experience festivals from all around the world and our students celebrated this day with great fervour, performing a series of activities to understand the significance of famous festivals of different countries.
Coming to the achievements part, the first accolade in line was the CII MILCA Gold award which was won for the 2nd consecutive year by Grade 6 students who presented their project: 'Building Bridges to Education' under the mentorship of Ms. Rachita Shetty- Teacher, Middle School and myself.
Competing with their friends from other global campuses, our Grade 5 students also bagged the 1st position in the Young Scratch Programmer competition held under Global Student Exchange (GSE) and gathered loads of appreciation from the judges.
The end of the month was undoubtedly the highlight of February. We celebrated Virtual Annual Day- "Exuberanza" with incredible zeal and witnessed a gala event whose grandeur would be remembered for years to come.
Global Little Stars 2022 was yet another event that provided kids an opportunity to unlock their hidden talents and shine. It was a glorious affair and a pleasure for all the participants and viewers alike.
To sum up, February was a wonderful month for GIIS Bannerghatta setting the bar a little higher and promising a great year ahead.
Warm Regards,
Dr. Sharmila Mallick Chodhuri, Principal GIIS Bannerghatta