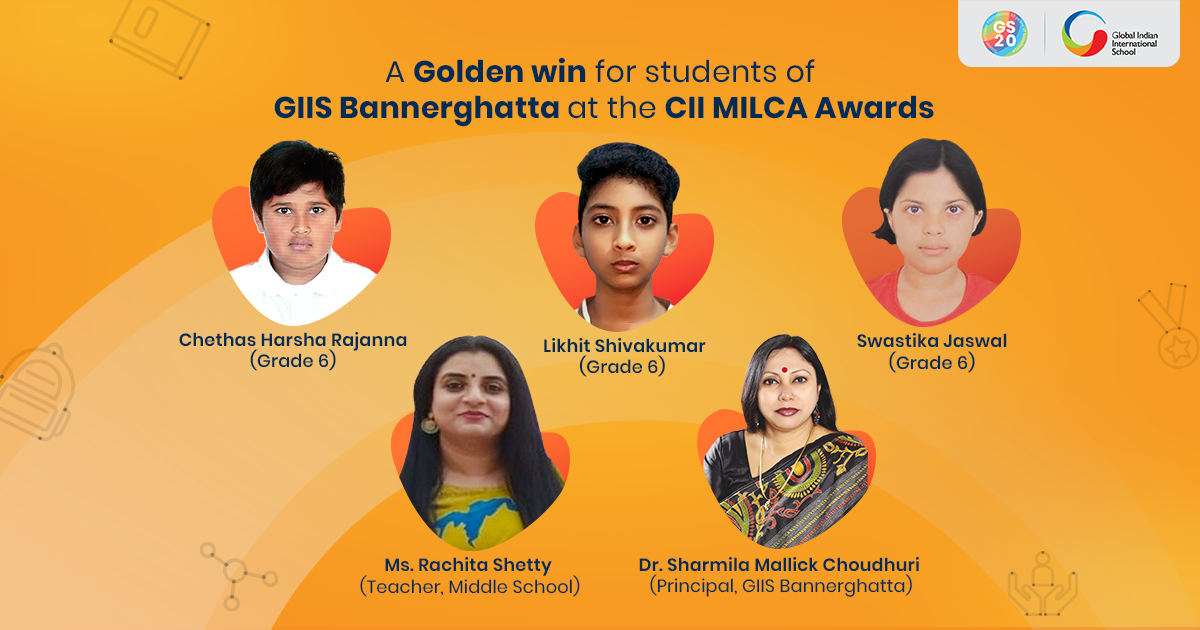 The Confederation of Indian Industry (CII) works to create and sustain an environment conducive to the development of India, partnering Industries, Government and civil society, through advisory and consultative processes.
The CII Most Innovative Low-Cost Automation (MILCA) awards are instituted to motivate, foster, and recognize the creative and innovative spirit of students and their ability to develop intelligent, simple, and cost-effective solutions using available technologies, automation, and IT tools (Digital Science) and their own creative ideas.
Grade 6 Students of GIIS Bannerghatta, Chethas Harsha Rajanna, Likhit Shivakumar, and Swastika Jaswal presented their project: "Building Bridges to Education" under the mentorship of Ms. Rachita Shetty, Teacher, Middle School, and Principal Dr. Sharmila Mallick Choudhuri. They won the CII MILCA GOLD award for the second consecutive year.
The students spoke about how the pandemic brought with it, an educational divide between the urban, rural and semi-urban population and explained how their initiative can bridge the education divide for their less fortunate peers. This 'divide' instilled in them an urge to do their bit for the larger community. They assessed the impact of the pandemic on students with case studies, unraveling how many students were impacted by the lack of access to devices that deprived them of the joy of education. They spoke at length on how the rapid shift to e-learning prompted by the pandemic has resurfaced long-standing issues of inequality and a digital divide in India that must be addressed by future economic, education, and digitalization policies. Having had the luxury of online classes and access to the latest in educational technology, they opined that there was an urgent need to address this issue.
The short-term steps advised by our students were – Stationery and Device Donation Drive to the needy at the campus and a virtual connect with students of nearby government schools to bridge the virtual connect. The students also started a social media outreach with Facebook Page to spread the word on the mission and vision of their initiative.
Long Term steps devised by the team consisted of Tie-ups with NGOs, Flagship CSR program of the school, regular classes for the underprivileged students, open and free access to GIIS campus infrastructure – library, sports facilities, and many more.
The Judges praised the young minds and the school for their exemplary work which reinforced the school's vision of honing future-ready citizens with an entrepreneurial mindset while focussing on bringing out the humanitarian values of community care. The students in turn answered all the questions with poise and confidence.
The win has only motivated these students to work towards making this initiative of the school blossom into a greater CSR activity for the school in the days to come.
"Educating the mind without educating the heart is no education at all." While our journey of building bridges to education continues …