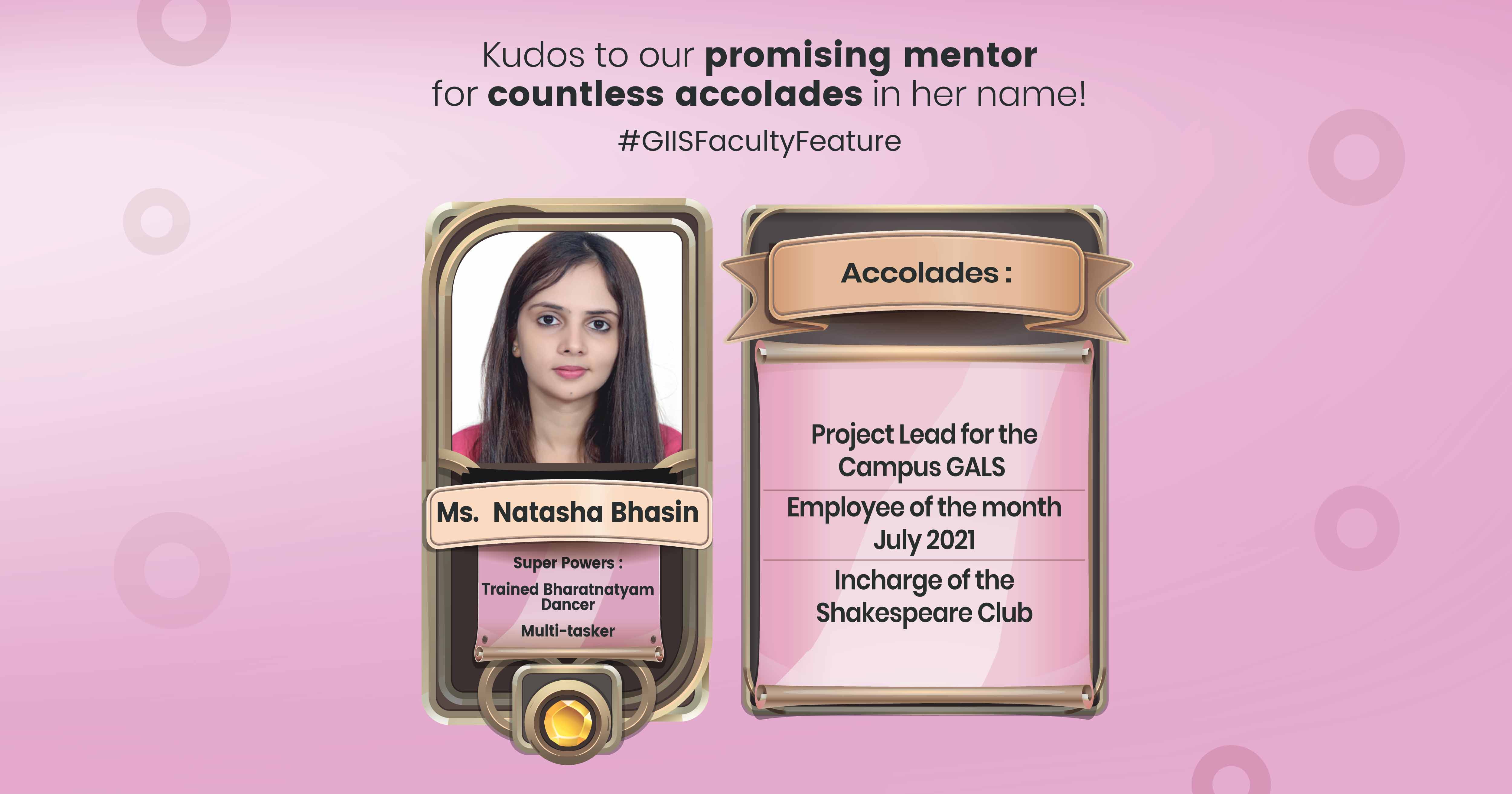 Natasha Bhasin joined GIIS Ahmedabad as TGT English in the year 2020. A hardworking and passionate teacher, she has contributed to GIIS Ahmedabad within a short span of time with her creativity, skills, positivity, collaborative approach, and innovative thinking.
"The real secret of success is enthusiasm", said Walter Chrysler. She is always ready to take up the opportunities that come her way. Her ebullient nature, enthusiasm, and effervescence make her one of the most loved teachers of GIIS Ahmedabad.
Having pursued her studies from Mumbai, she carries a rich knowledge of her subject. She mentored the students of Middle School who eventually bagged the first position in the Global School Exchange Programme on the topic- World Problems. She trained students for mono acting, monologue, limericks, creative writing, and poem recitation in Interschool events like 'Sampada'(INTACH), 'Divine Fest' by Divine Child International School, and Al Tasamuh by GIIS Abu Dhabi. She was the SPOC for RWCC 2021 organized by GIIS Smart Campus, Singapore in which the school bagged 16 Awards, and she is also the SPOC for GEMPAK Vaganza organized by GIIS Malaysia.
She is an integral part of the special assemblies, her compèring skills have added charm to events like Women's Day and Teachers' Day held at GIIS Ahmedabad. She contributed to the scriptwriting for the school's Annual Day event as well. She leads the UNIVAL team (Grades 6 to 8) that plans the festival celebrations at the school. Natasha is the Incharge of the Shakespeare Club for the Middle School Segment.
Being a trained Bharatnatyam dancer herself, she prepared the students for Inter GIIS Dance Competition 'Jhankaar' and also for the dance during Diwali celebrations at school.
She is a part of the GS 20th Anniversary Celebration and the Sustainability Project Teams at GIIS Ahmedabad. As a Project Lead for the Campus GALS -Global Citizens and Global Students Exchange Project, she guided her team to churn interesting ideas for making GSE an exciting platform for the students.
She was awarded the 'Employee of the month- July 2021' in recognition of her ability to handle multiple responsibilities at a time.
Mr. Caesar D'silva, Principal, GIIS Ahmedabad says, "GIIS Ahmedabad is proud to have Natasha in the Team, who has added value to the school with her ingenuity, resourcefulness, and passion for teaching. We, at GIIS Ahmedabad, convey our best wishes to Natasha for a successful future ahead at GIIS."