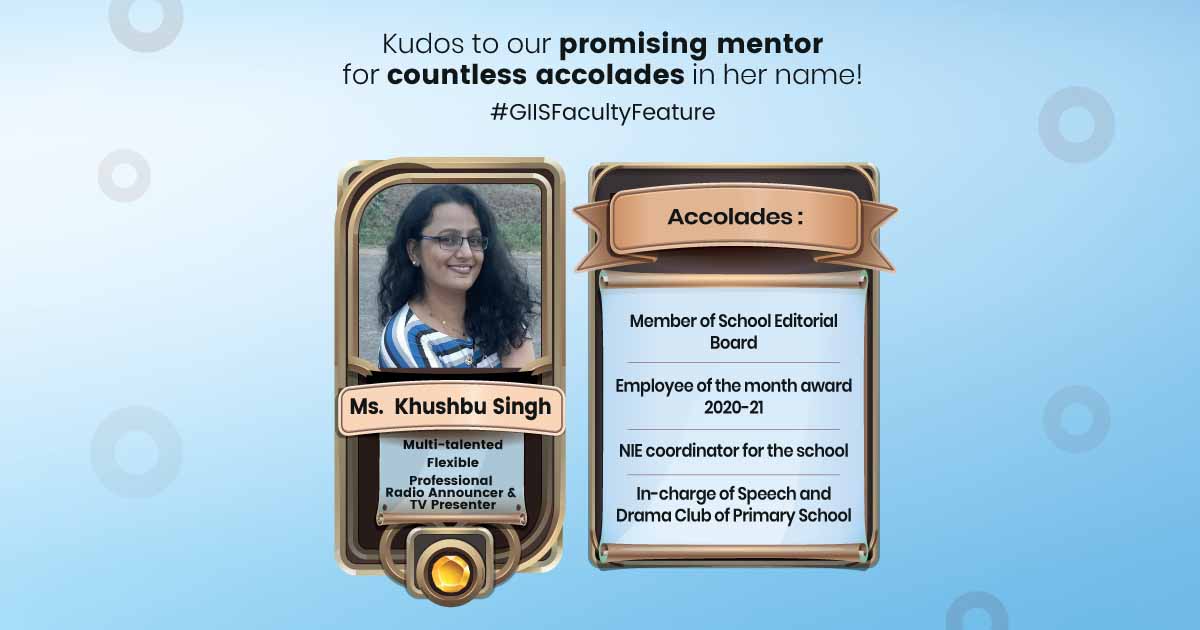 "Nothing can dim the light that shines from within". This quote of Maya Angelou holds true for Ms. Khushbu Singh, a Primary teacher at GIIS Ahmedabad. Though she joined GIIS Ahmedabad in the year 2020, within a short period, she has contributed immensely to the school with her versatility, creativity, talent, and skills.
Khushbu holds a Masters in English Literature and Diploma in Journalism and Mass Communication. She has rich media exposure as an Announcer for Akashvani and Yuvvani, All India Radio, and Newsreader for Doordarshan.
Among the prestigious events, she has hosted - The Opening Ceremony of World Soft Tennis Championship at Sardar Patel Stadium Ahmedabad, The Prime Minister's initiative 'Oorja' ( Under 19) Football Championship, organized by CISF, in presence of eminent sportspersons, Hon. Governor and Hon. Chief Minister of Gujarat, NIOH (National Institute for Occupational Health) Golden Jubilee Function, ICRH 2016 and Kalorex Champions Test Annual Felicitation Programme at Ahmedabad Management Association. She has also undertaken an International Project on "Peace" with the Haela State School, Israel.
Khushbu has been actively involved in the various events and activities held at GIIS Ahmedabad. She was the Event Incharge- for World Peace Day, a Teacher representative for the QC Presentation during the Global Excellence Day 2020, and is in charge of the Speech and Drama Club in the Primary School. As a member of the school Editorial Board, she encourages students to regularly write articles and poems which have been published in The Times of India, NIE. She was the Co-ordinator for Team Ahmedabad for Virtual Inter GIIS Educators and Staff 'Athleta 2021'- Season 1 by GIIS Abu Dhabi, wherein she bagged the first position in two sports challenges and second position in the other.
She has been the compère for various programmes of GIIS Ahmedabad like the Annual Day and Republic Day. Moreover, she has directed Skits for the Independence and Republic Day Celebrations 2020 and presented videos and Insta reels in various programmes of the school.
A YearBook Album prepared by her for her class was widely appreciated by the parents. She has been recognized as the GIIS Ahmedabad Employee of the Month in the year 2020 for her contribution.
Khushbu recently recorded a podcast with Neev Kanani, the singing star of GIIS Ahmedabad on the completion of his one-year training with GIIS Shekhar Ravjiani School of Music as part of the GIIS SMART cast.
Mr. Caesar D'silva, Principal, GIIS Ahmedabad says that the school is proud to have a team of dedicated and multi-talented teachers and conveys his best wishes to Khushbu for a bright future ahead with GIIS Ahmedabad.