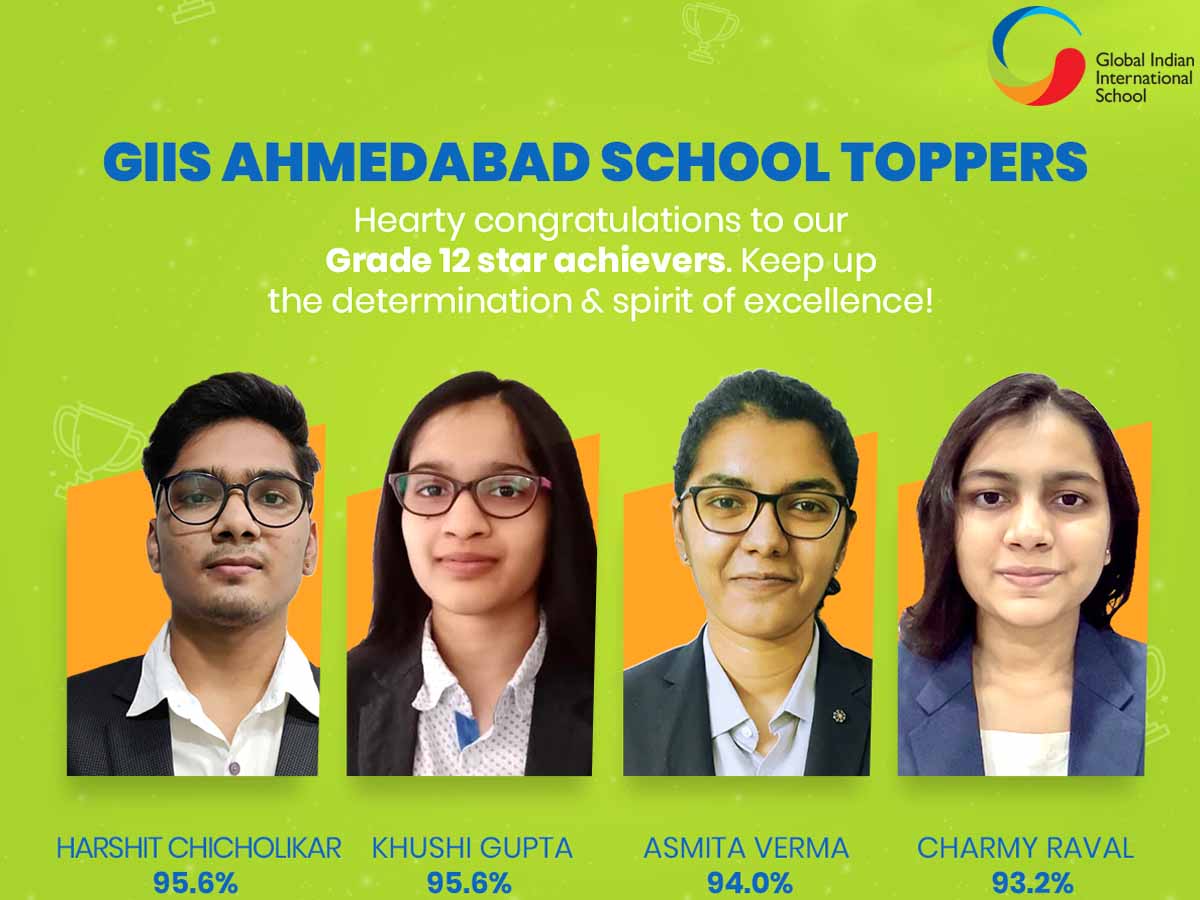 Global Indian International School (GIIS) Ahmedabad Class XII students feature among the top in the merit list of the CBSE board exams.
Representing the first batch of Grade XII, Harshit Chicholikar & Khushi Gupta jointly took the top spot with 95.6%, followed by Asmita Verma with 94 % marks and Charmy Raval scoring 93.2%. About 40% of the students who appeared for the board exams scored above 90% and over half of the batch scored above 80%. GIIS Ahmedabad students have scored a near-perfect score (99% marks) in English and Business Studies subjects. The school average of 80% is noteworthy.
Commenting on the laudable results scored by his students, GIIS Ahmedabad Principal, Mr. Caesar D' Silva said, "The cohort has achieved outstanding results with a 100% pass percentage across Science & Commerce streams we offer at GIIS Ahmedabad. I congratulate the students on passing the exam with flying colours. The entire academic year was difficult for the students, but their outstanding performance demonstrated that hard work and dedication never fail. The teachers and parents extended the much-needed support and encouragement to the students throughout this period. Considering the crucial situation, I am glad that our students displayed immense maturity and remained resilient and optimistic."
List of subject wise toppers:
| | | |
| --- | --- | --- |
| Subject | Student Name | Marks Scored |
| English | Aadi Jain | 99 |
| Physics | Harshit Chicholikar | 96 |
| Chemistry | Harshit Chicholikar | 98 |
| Mathematics | Khushi Gupta | 95 |
| Business Studies | Khushi Gupta | 99 |
| Accounts | Khushi Gupta | 93 |
| Economics | Charmy Raval | 96 |
| Computer Science | Mril D'silva | 98 |
| PE | Aadi Jain | 98 |
Class XII is a key milestone in a student's academic journey as it forms the basis of future vocational learning and career choices. Admissions in the undergraduate courses across India and abroad are dependent on these results, which will allow students and their parents to prepare for entrance examinations and finalise admission in their college/university/course of choice. Playing the critical role of bridging the knowledge and counselling gap for students while they transition from school to universities, GIIS has been organizing a series of Career guidance webinars and University fairs where students got an opportunity to interact with the best-in-class global and Indian universities to explore admission possibilities and understand processes and protocols in detail, and prepare for associated formalities.