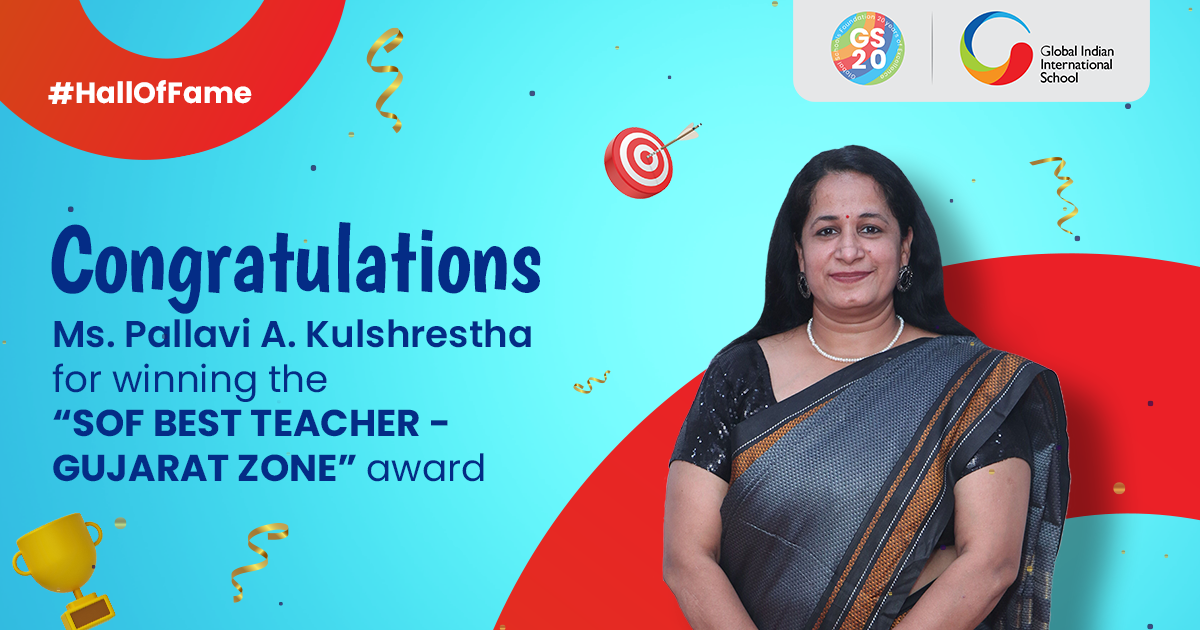 "Good teachers know how to bring out the best in their students." - Charles Kuralt
In keeping with the spirit of the above quote, Pallavi Kulshrestha from Global Indian International School, (GIIS) Ahmedabad has been bestowed with the Best Teacher Award in the Gujarat Zone for International General Knowledge Olympiad (IGKO) by the Science Olympiad Foundation (SOF). Pallavi Kulshreshtha is receiving this SOF Best Zonal Teacher award for the third year. This award includes a trophy, citation, and a cash prize.
The SOF has awarded Pallavi Kulshrestha the 'Best Teacher Award for Gujarat Zone' in recognition of her leadership qualities and her path-breaking initiatives for the cause of education. Under her leadership, the number of SOF registrations has increased and the students have performed brilliantly in various Olympiads. Among the several Olympiads organized in the year 2021-2022, GIIS Ahmedabad students have been awarded 30 medals for International English Olympiad, 22 medals for IGKO, and 38 medals for National Science Olympiad.
According to SOF, the Best Teacher Award - Gujarat Zone for IGKO is a noteworthy achievement, since more than 68,000 schools across 48 countries had participated in the seven Olympiads.
In his congratulating message, Mahabir Singh, Founder Director of SOF said, "Your achievement is all-important since the last 2 years have been full of uncertainties, and yet you worked tirelessly to ensure students continue to learn. The excellent performance of GIIS Ahmedabad students is a testimony to your dedication to the cause of education."
Mr. Caesar D'silva, Principal, GIIS Ahmedabad conveyed his best wishes to Pallavi Kulshreshtha saying, "Congratulations to Pallavi for winning the SOF Best Teacher Award title for the third time. I really appreciate Pallavi's passion, dedication, and hard work toward the cause of education. She has persistently continued her quality work which matters not only for thousands of students of GIIS but has also motivated many teachers to follow her as their role model."