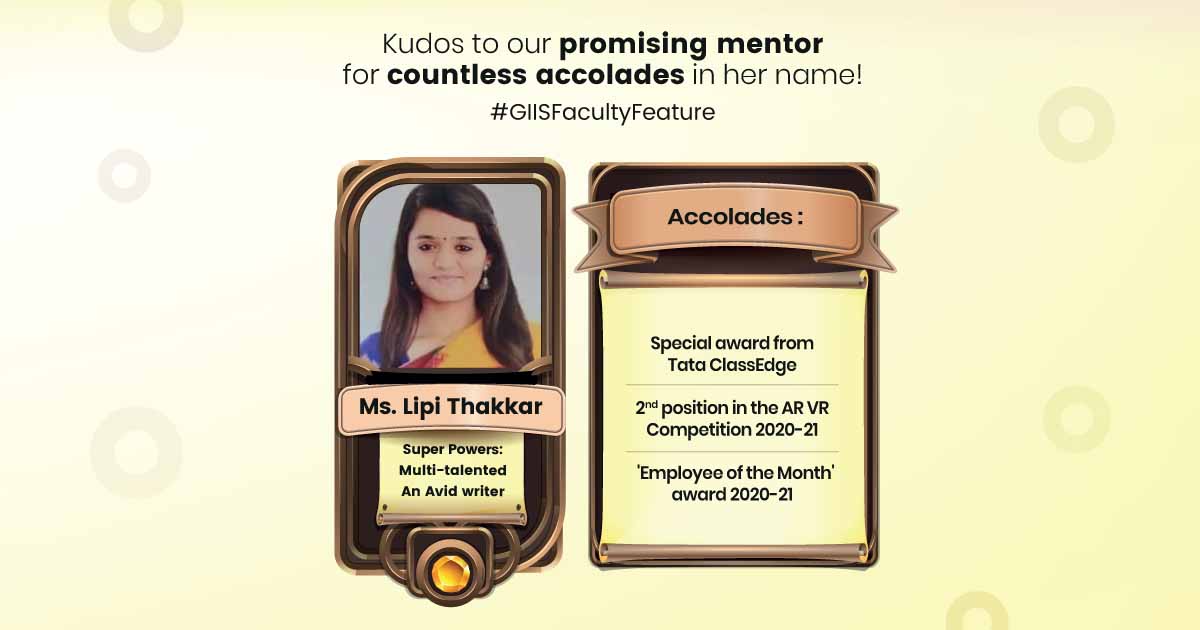 GIIS Ahmedabad is proud to have a team of dedicated and talented teachers- the forte de power of the school.
Lipi Thakkar, one of the Primary teachers of GIIS Ahmedabad recently bagged a special award for her effective use of the Tata ClassEdge online platform. The award consists of a cash prize of Rs. 2000, a trophy and a certificate.
Lipi believes that each day is a new beginning and an opportunity to learn something new. She has been receiving a lot of appreciation from the parents for her seamless integration of AR Learning with Maths, EVS, and English subjects using various digital tools and apps like ARLOOPA, 3D-Bear, Assembler, DEVAR, Augmented Scanner, and WowBox AR to provide an enriched learning experience to her students.
She had secured the second position in the AR VR Competition 2020-21 held for the teachers at GIIS Ahmedabad. She was interviewed by the students of Grade 9 for the segment- 'A Day in the life of a Teacher' as part of the entry from GIIS Ahmedabad for the Video Making Competition -BEAMS during GIIS LEAPS 2020-21 organized by GIIS Hadapsar.
She has attended various training programmes by IMCTF (Initiative for Moral and Cultural Training Foundation) on inculcating values in children and CBSE training programmes on the new structure of assessment, Innovation in Science Education, and so on. She had also successfully undertaken the responsibility of conducting micro-teaching sessions for the teachers of her segment in the year 2020-21.
Lipi is a multi-talented teacher. Her song and dance performances during the Annual Day and Republic Day Programmes at GIIS Ahmedabad(Year 2020-21) and the GIIS Staff Awards- 2020-21 were appreciated by one and all. She has anchored various programmes at GIIS Ahmedabad which include the Christmas celebration, Annual Day, Foundation Day, and Global Little Stars.
She had also received the 'Employee of the Month' award for her contribution to the school in the year 2020-21.
She regularly writes articles and one of them was recently published by The Times of India, NIE.
Mr Caesar D'silva, Principal, GIIS Ahmedabad, and the staff convey their best wishes to Lipi for a bright future ahead with GIIS.