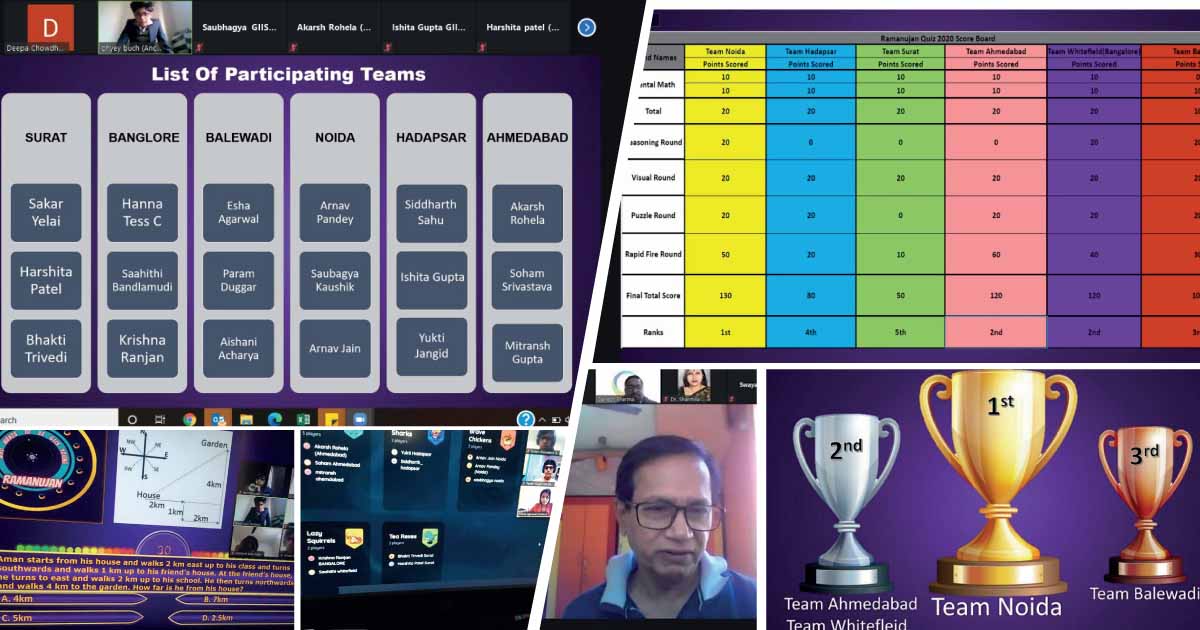 "An equation means nothing to me unless it expresses a thought of God."-- Srinivasa Ramanujan
Global Indian International School, Ahmedabad hosted a virtual 'Ramanujan Math Quiz 2020', in which all India campus students participated with full zeal and enthusiasm.
Ramanujan Math Quiz is held every year for GIIS schools across India to commemorate the birth anniversary of mathematical genius Srinivasa Ramanujan, popularly known as 'The Man who knew Infinity'.
The quizzes for the Juniors (Grades 3 to 5) and Seniors (Grades 6 to 8) were held on 17th and 18th December 2020 respectively.
The Quiz based on the popular KBC Format had five exciting rounds- Mental Math Round, Visual Round, Reasoning Round, Puzzle Round, and Rapid Fire Round. The last round- the nail-biting Rapid Fire Round was conducted on the Quizziz platform which was thoroughly enjoyed by the participants.
On the occasion, Mr. Caesar D'silva, Principal GIIS Ahmedabad said, "The idea behind Quiz Competitions like these is to help students to think from a different perspective. It promotes teamwork, problem-solving skills, time management skills, and encourages learning of the concepts in a fun way."
Mr. Rajiv Bansal, Country Director, GIIS India was impressed with the level of confidence and skills exhibited by the students during the Quiz. He was all praises for the professional manner in which the Quiz was conducted. He gave special compliments to Dhey and Anisha from Grade 8 of GIIS Ahmedabad for their dynamic styles as the young Quizmasters.
Ms. Sunita Jaisingh, National Academic Head, GIIS India who had organized this event, applauded the participants for their wonderful performance under the guidance of their mentors. She congratulated GIIS Ahmedabad for conducting the Quiz interestingly and innovatively.
After a tough contest, the results of the Quiz were as follows:
Juniors:
| | |
| --- | --- |
| First Position | GIIS Hadapsar |
| First Runner Up | GIIS Noida |
| Second Runner Up | GIIS Whitefield |
Seniors:
| | |
| --- | --- |
| First Position | GIIS Noida |
| First Runner Up | GIIS Ahmedabad & GIIS Whitefield |
| Second Runner Up | GIIS Balewadi |
Ms. Ami Betai, the Middle School coordinator, GIIS Ahmedabad who managed the entire event said, "Though winning is a great motivation, the more important factor is participation. It was indeed a great learning experience for all the teams."
The main objective behind such competitions is to raise awareness among students about the importance of mathematics for development and research.