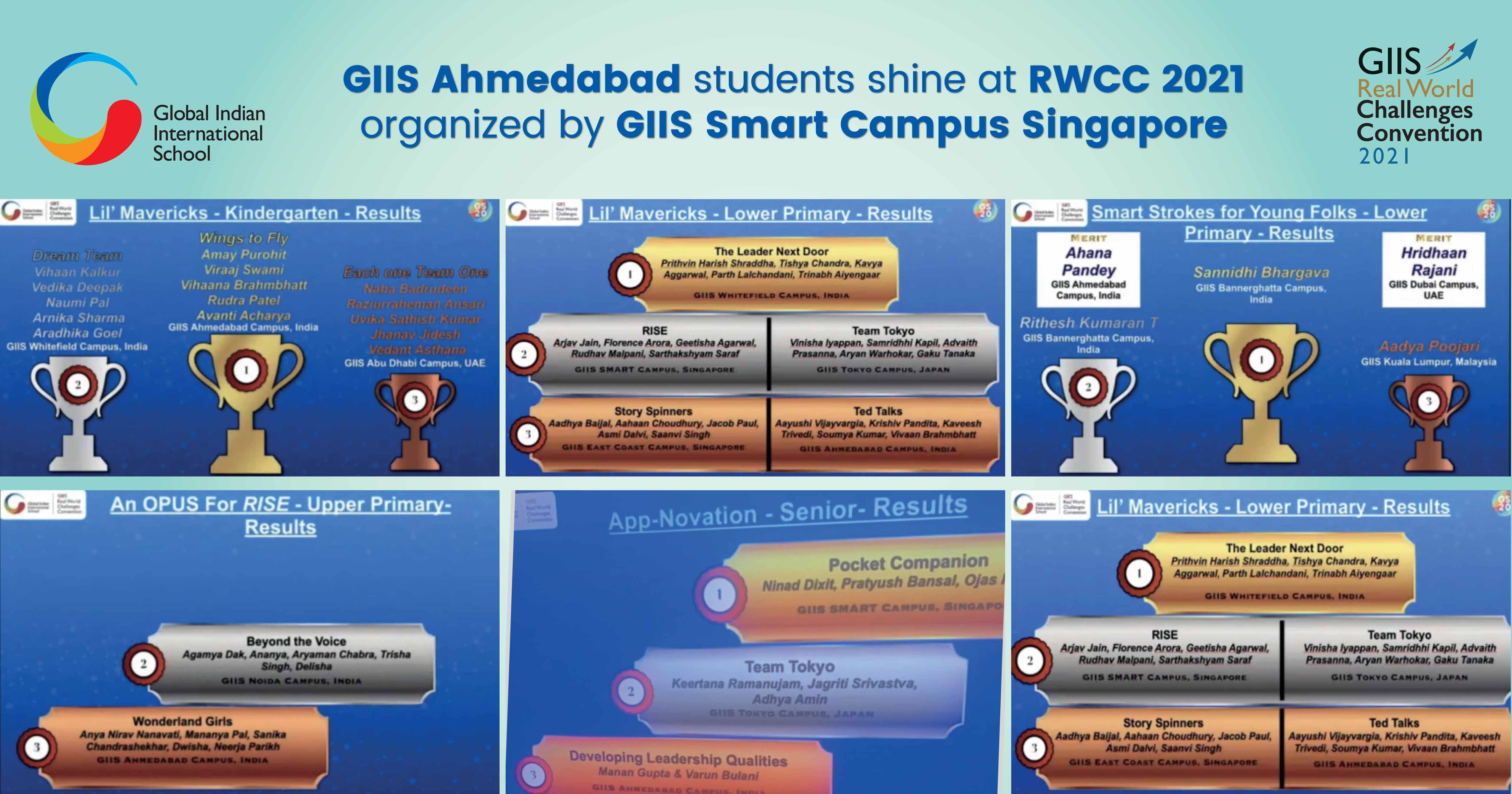 Global Indian International School successfully organized its tenth Real World Challenges Convention virtually on 30th November and 1st December 2021 at the GIIS Smart Campus.
The GIIS Real World Challenges Convention is a unique platform that encourages the students across GIIS Campuses to network with a host of people and problems, to research on their chosen topic, find solutions, and present the process. The theme for the event was 'RISE As Leaders of Tomorrow'.
This convention aims at bringing together GIIS schools to celebrate creativity and foster innovation and entrepreneurial skills and sustain the same in teaching and learning. More than 800 participants from 12 GIIS campuses took part in various competitions this year.
There were participants from GIIS Abu Dhabi, Dubai, Ahmedabad, Balewadi, Whitefield, Bannerghatta, East Coast, Hadapsar, Kuala Lumpur, Noida, Smart Campus, Tokyo, and Yuva Bharati International School. The convention was opened to students of all age groups starting from KG to Grade 12, who actively participated in the RWCC 2021. It was also open to parents, students, and academic leaders.
Dr. Gnana Ghandhi, Padma Shri Awardee and an eminent personality in cryogenic rocketry from ISRO, graced the occasion as the Guest of Honour and gave an inspirational keynote address. Mr. Atul Temurnikar, Chairman, Global Schools Foundation, and Ms. Melissa Maria, Principal, GIIS Smart Campus also encouraged the students with their motivational speeches.
The students from GIIS Ahmedabad participated in most of the events at RWCC 2021 and bagged several prizes as follows:
1. Smart Strokes For Young Folks
Category: Lower Primary-Merit Certificate -Ahana Pandey
Category: Upper Primary- 2nd Runner Up -Yash Bhavsar
2. Perspective Matters
Category: Secondary- 2nd Runner Up -Dhyey Buch
Category: Middle School- Winner- Soham Srivastava
3. Innovative Social & Commercial Entrepreneurship Challenge
Category: Secondary – Individual- 2nd Runner Up- Dhyey Buch
Category: Senior – Team- 2nd Runner Up-Team: Green Earth - One More Use- Mahek Sawlani, Mahalaxmi Iyer and Nikunj
4. Appnovation
Senior Category- 2nd Runner Up -Team : Developing Leadership Qualities- Manan Gupta and Varun Bulani
Secondary Category- 2nd Runner Up -Team : Launch Pad -Shivakshi Gupta, Suhani Parikh and Prushti Dalsania
5. Lil Mavericks
Category: Kindergarten-Winner- Team: Wings to Fly- Amay Purohit, Viraaj Swami, Vihaana Brahmbhatt, Rudra Patel, and Avanti Acharya
Category: Lower Primary- 2nd Runner Up -Team: Ted Talks- Aayushi Vijayvargia, Krishiv Pandita, Kaveesh Trivedi, Soumya Kumar, and Vivaan Brahmbhatt
6. AdZapp
Secondary Category-2nd Runner Up -Team: Rise of New Leaders Samiksha Subhrojyoti Dey, Shivakshi Gupta, and Pushti Dalsania
7. An OPUS for RISE
Category: Upper Primary- 2nd Runner Up -Team: Wonderland Girls- Anya Nirav Nanavati, Mananya Pal, Sanika Chandrashekhar, Dwisha, and Neerja Parikh
8. Live It Click It Share It Category
Secondary- 1st Runner Up -Vanya Sidana
9. Quality Circle Presentation
Category: Middle School- 2nd Runner Up -Team: Reinforcing Emotional and Social Skills during the Pandemic -Seeya Pandya, Aarush Mehra, and Shaanvi Shukla
Category: Secondary- 2nd Runner Up- Team: Gap Squad -Bhavya Mistry, Bhavya Bhandari, Karshit Joshi, and Nachiketa Bhatnagar
Mr. Caesar D'silva, Principal, GIIS Ahmedabad extends his congratulations to these students and their teacher mentors for winning accolades at this prestigious forum.?