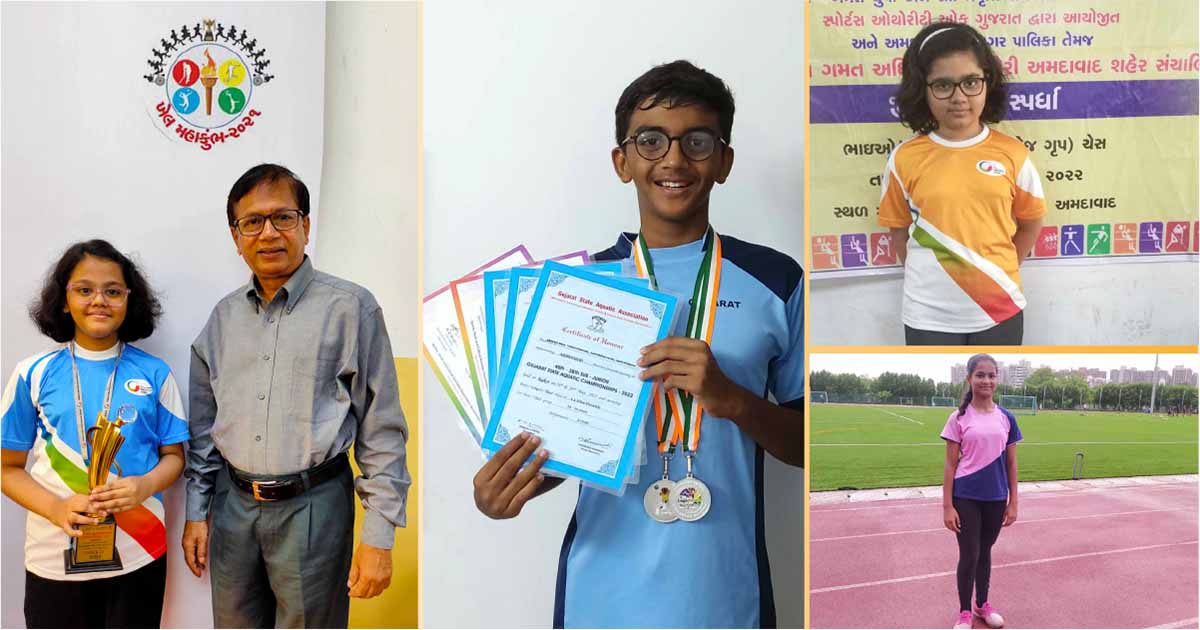 "Everyone has the fire, but the champions know when to ignite the spark." - Amit Ray
Global Indian International School (GIIS) Ahmedabad is thrilled to share that its students have shown an outstanding performance during the Khel MahaKumbh 2022 Sports Tournament. The tournament has been a mega-achievement for GIIS Ahmedabad. The students won a total of 6 medals in three events-Chess, Athletics and Swimming Competitions. Out of these 6 medals, 4 medals are won at the district level, while two medals have been bagged at the state level.
Khel MahaKumbh Sports Tournament is conducted after a span of every two years. The Competition is organized at School, Taluka, District, Municipal, Zonal, and State Level Competitions. Khel MahaKumbh is a government-organized Sports Tournament to encourage athleticism and sports in the state of Gujarat.
Chess Competition
A total of 5 students of GIIS Ahmedabad participated in the Chess competition. Aditri Shome and Margi Chudasama from Grade 6D qualified for the District Level U-11 Competition, which was organized at Rifle Club, Khanpur, Ahmedabad. Under the mentorship of Mr. Jasvantsinh Darbar, Aditri Shome won the Chess Competition, while Margi Chudasama stood in second place. Both the girls were selected for State Level Competition.
Athletics Competition
"The key is not a will to win. Everybody has that. It is the will to prepare to win that is important." This adage by Bobby Knight resembles the spirit of the GIIS Ahmedabad athletes. Ananya Sharma of Grade 9A qualified for the District Level U14 100m race organized at Gujarat University Track, Navrangpura, Ahmedabad. She was trained by the school coach Mr. Jasvantsinh Darbar. She stood at the third position and was selected for the State Level Competition.
Swimming Competition
The swimming champion of GIIS Ahmedabad, Kartikeya Patel, Grade 9C, qualified for the Khel MahaKumbh District Level 100m Backstroke Competition. He bagged second place and silver medal in the District Level Competition and qualified for the State Level Competition.
In the State Level Khel MahaKumbh Swimming Competition, Kartikeya participated in the 4X100m medley relay and 4X100m freestyle relay race. GIIS Ahmedabad is proud to announce that through his practice, perseverance, and dedication, Kartikeya bagged silver medals in both competitions.
Mr. Caesar D'silva, Principal, GIIS Ahmedabad congratulated the winners saying, "We are really proud of these GEMS of GIIS. It is really commendable that these champions have achieved these milestones at a young age. These medals are the result of their hard work, dedication, rigorous practice, and perseverance. Kudos to their sports teacher and parents for their constant guidance and support."