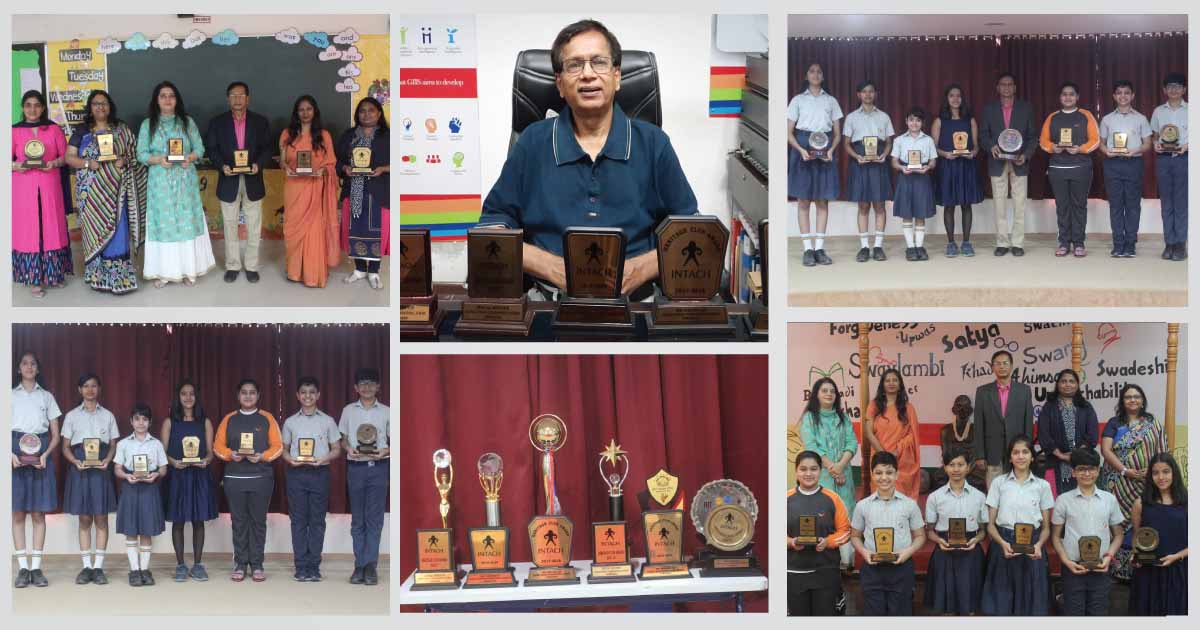 GIIS Ahmedabad has continued its legacy of winning INTACH Heritage Club Awards for the 7th Consecutive year.
This year, GIIS Ahmedabad bagged the Best Heritage Club Category Award for 2020-21 and has created the legacy of winning in the category since 2014, the year of the school's inception in Ahmedabad.
Since 1984, Indian National Trust for Art and Cultural Heritage (INTACH) has pioneered the conservation and protection of India's natural and cultural heritage and is today the largest membership organization in the country dedicated to this noble task.
Every year INTACH recognizes the contribution of the Heritage Clubs with awards in three categories- New Achievers, Special Mention, and Best Heritage Club (Top 3 Positions).
Each student who is a member of the Heritage Club is motivated to participate in heritage conservation and to learn more about the local craft and natural heritage, participate in heritage festivals, museum education and outreach programmes, heritage walks, and tours and make films on culture and heritage.
Mr. Caesar D'silva, GIIS Principal congratulated the teachers and students of the GIIS Ahmedabad INTACH Heritage Club and said, " The awards are a testimony of the excellent work being done by the school for the promotion and celebration of the rich Indian Cultural Heritage through its INTACH Heritage Club right from its inception. Youth can act as a bridge between cultures, heritage, and development. They can serve as agents in promoting heritage, intercultural understanding, and good citizenship values. Hence, at GIIS Ahmedabad, we always encourage our students to become stakeholders and custodians in protecting our country's heritage through meaningful engagements."
Under the guidance of the teacher mentors Ms. Khyati Joshi and Ms. Khushboo Patel, a lot of activities were conducted in the Academic Year 2020-21 as part of the GIIS Ahmedabad Heritage Club. These included celebrations of festivals, special days, special assemblies, folk dance and music competitions, art and craft activities, quizzes, heritage tours, movie making, the contribution of articles for INTACH newsletters, and so on.
Congratulations to all the winners!