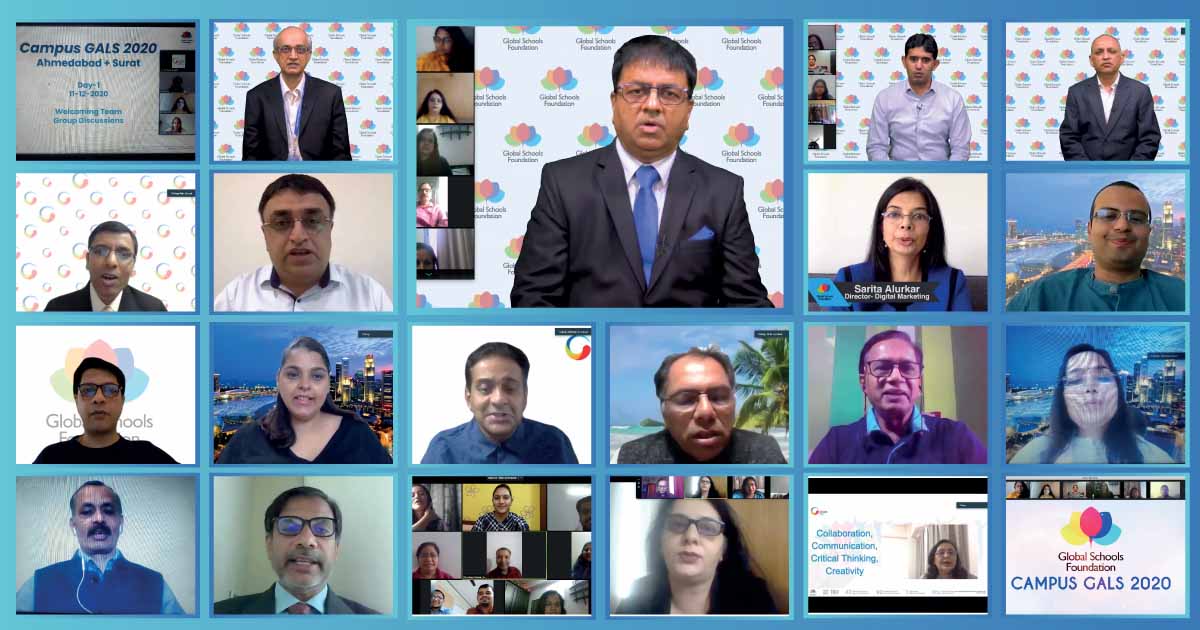 The GALS (Global Academic Leaders Summit) is an Annual Convention wherein the GIIS fraternity across the globe brainstorms on existing and newer initiatives adopted by GIIS. After the success of Global GALS, GSF launched Campus GALS 2020 to foster innovation at the grass-root level and align the GIIS Campuses to the vision and mission of GIIS. Global Indian International School Ahmedabad and Surat Campuses collaborated for the first-ever Virtual Campus GALS 2020 which was held successfully on 11thand 12th December 2020. All the staff members from both the Campuses participated in the Summit.
On Day 1 of the 2 day event, Ahmedabad and Surat began with an inspiring speech by Mr. Atul Temurnikar, Chairman and Co-Founder, GSF in which he expressed hope that the dynamic exchange of ideas during the Summit will help GlIS achieve greater success. This was followed by motivational speeches from Mr. Kaustubh Bodhankar, Deputy CEO, Mr. Rajiv Katyal, Deputy COO, and Country Director, Mr. Rajiv Bansal, and other GEO Directors among many others.
The Functional Heads in their messages encouraged the participants to contribute meaningfully with their ideas on improving the Academics and Operations of the school for increased Stakeholders' satisfaction. Mr. Caesar D'silva, Principal GIIS Ahmedabad in his thought-provoking speech asked the participants to reflect on their role as GIIS teachers with an openness to learn and change. Ms. Rachana Sharma, Principal GIIS Surat in her address motivated the teachers to use the GALS platform to ideate, innovate, and lead as educators. The break-out sessions held thereafter had the participants of both the campuses leading exciting focused group discussions on various GALS Tracks or Projects to address the challenges and opportunities of the 21st Century. The day ended with closing remarks and feedback by the Principals of Ahmedabad and Surat Campuses.
Day 2 was indeed packed with 28 presentations by all the participants on various sub-tracks under four main Tracks: Track 1- Enhancing Classroom Teaching and Learning Process- Innovative Use of Digital Resources, Track 2- Improving Performance of Teachers and Students, Track 3-Stakeholders' Messaging and Enrollments and Track 4- Risks and Compliances.
Principal GIIS Surat, Ms. Rachna Sharma in her closing remarks said, "Campus GALS 2020 has been a fruitful event as issues faced by both the Campuses were discussed and strategies for the way forward were also presented. We are happy that team spirit and bonding of a very high level was witnessed during the event".
Mr. Caesar D'silva, Principal GIIS Ahemdabad said in his concluding message, "The success of Campus GALS 2020 is the result of synergy, collaboration, meticulous planning, coordination, and execution by both the Campuses. The amazing insights, practical ideas, wonderful solutions based on research that have emerged during the Summit will be implemented at Campus level which will, in turn, contribute to the overall growth and success of GIIS."
This brainstorming event was indeed a great experience for all the staff members of both campuses.