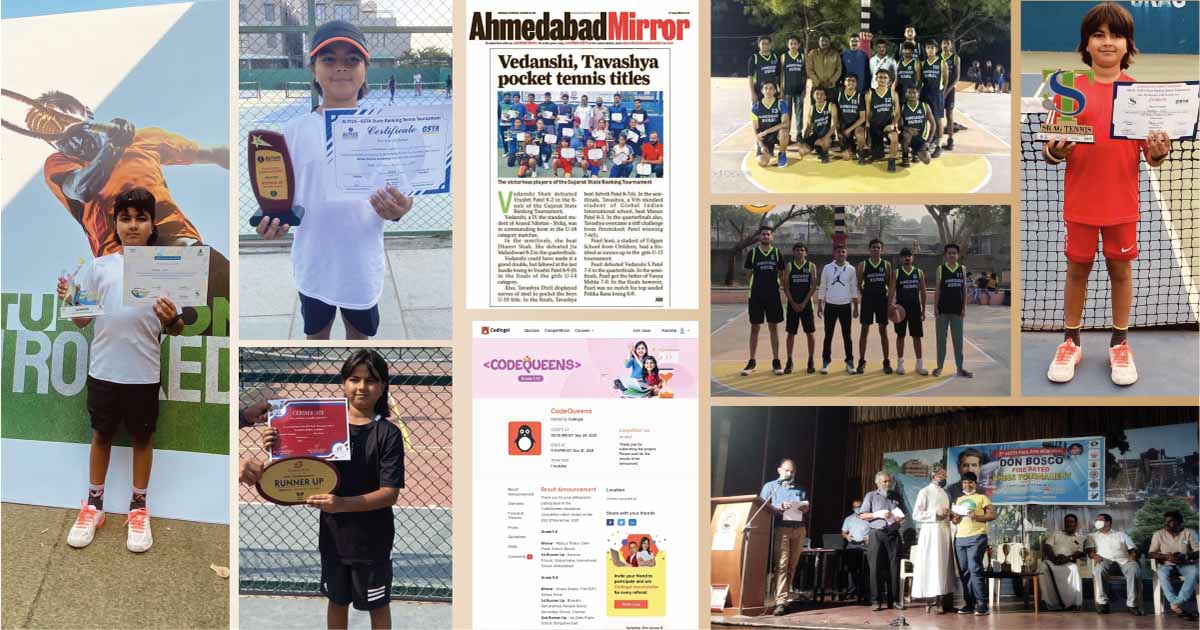 Under the 9GEMS Holistic Framework, GIIS provides multiple platforms to the students to develop their skills, hone their talents, and also get recognized for the same. GIIS Ahmedabad is proud to share the success stories of its students in Sports Tournaments and National Coding Competitions held recently.
State Level Basket Ball Tournament:
The SAG (Sports Authority of Gujarat) had hosted State Level (U-19) Basketball tournament from 17th to 21st December 2021 under the observation of SAI (Sports Authority of India). Three students from GIIS Ahmedabad were selected to represent the Ahmedabad Rural Team in this Tournament- Yuvraj Assudani from Grade 11, Jaival Patel from Grade 12, and Om Butani from Grade 10.
The Ahmedabad Rural Team secured the First Runners Up in the Tournament in close competition with the Surat City Team. The GIIS students representing the Ahmedabad Team will now face the Selection Round for the National Tournament to be held later.
Tennis Championship:
Tavashya Dixit from Grade 5 bagged the Winner's Trophies in the SRAG-STGA State Ranking Tennis Tournament and the Tennis Championship (U10) organized by AITA (All India Tennis Association), Ahmedabad, and the First Runner Up Position in the State Ranking Tennis Championship by ALTIUS Academy.
Chess Championship:
Aatman Raval of Grade 6 participated in FIDE Rated Chess tournament in Thrissur, Kerala, and secured the fifth spot in 1100 category and first spot in the other state category. Aatman has jumped 80 points from his earlier rating.
Coding Competition by Codingal and Code2Win:
Kanisha Korat from Grade 4 secured the First Runner Up Position in the National Level Coding Competition 'CodeQueens' held recently and has made the school proud.
GIIS Ahmedabad also congratulates the school level winners of the Code2Win Competition organized by Eupheus Learning, who will participate in the National Round:
Hardik Raval Devarsh – Grade 1
Divy Savariya- Grade 1
Lakshya Singh- Grade 4
Arham Shah- Grade 6
Ankit Vishnubatla- Grade 7
Pratik Singh- Grade 8
Riya Prajapati- Grade 9
Mr. Caesar D'silva, Principal, GIIS Ahmedabad conveys his congratulations to the students and the mentors for these achievements and expresses hope that Team Ahmedabad will continue its winning streak.