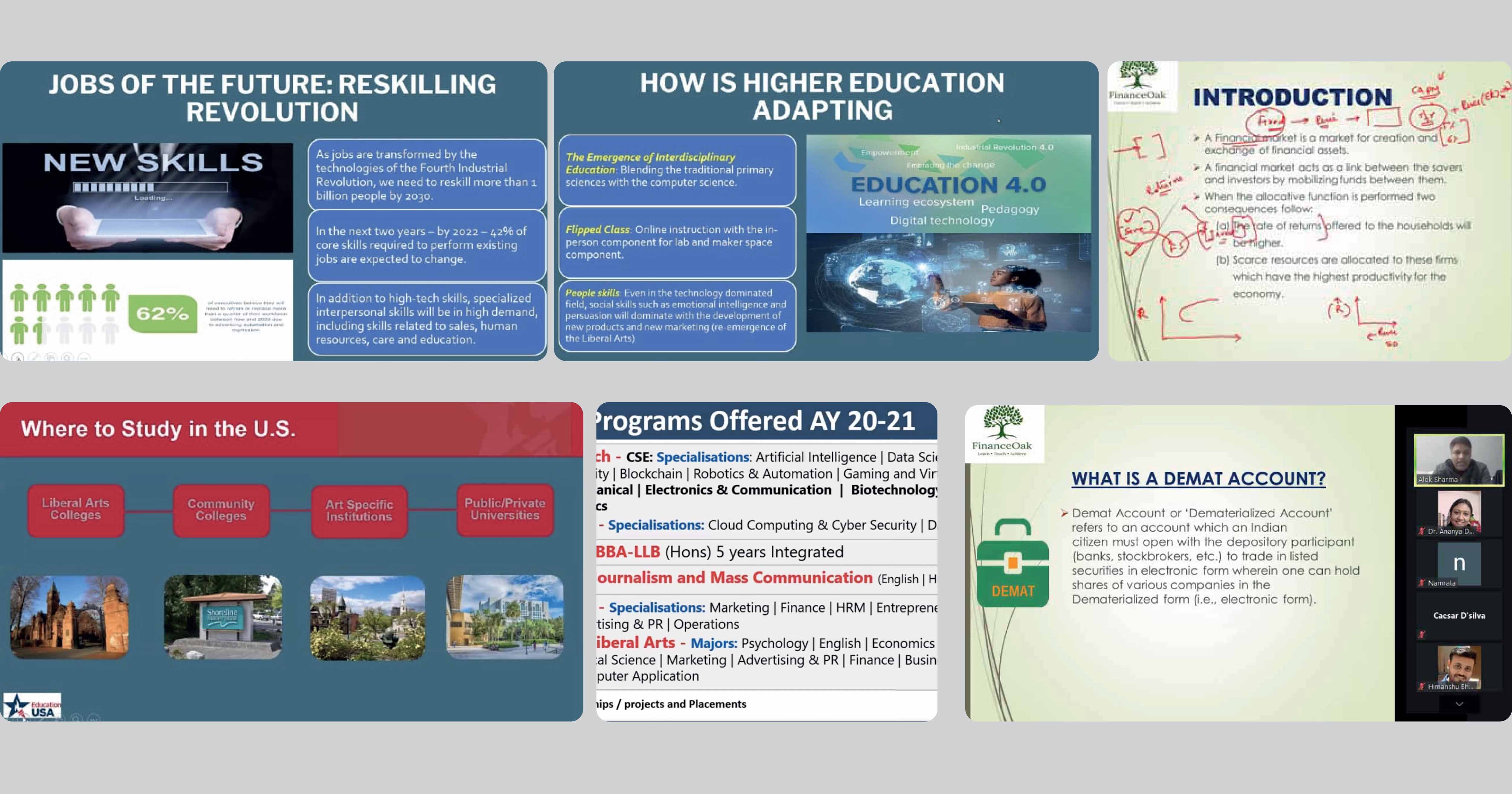 The best way to predict the future is to create it."
-Abraham Lincoln
Choosing the right career can often be a demanding task for both the children and their parents! Global Indian International School, Ahmedabad came up with just the right platform to make this task easier for them.
The school organized a Virtual Career Counselling Fair from 21st to 23rd December 2020. Experts in the field were invited by the school to provide an opportunity to the students and parents to gain insightful knowledge regarding career options through exciting sessions spanning three days! Students and teachers from GIIS Surat, Noida, and Bangalore Campuses also attended the Fair.
The first session 'A Journey into the World of Financial Markets' was conducted by Team Finance Oak for the students of Grades 11 and 12 Commerce on Day 1. Financial Markets hold a significant place in the curriculum. Therefore, this session not only helped the Commerce students understand the relevant concepts in detail but also ignited a passion and desire in them to learn more about the Financial World.
The second session on the same day was on 'Skills for Success in post COVID World'' conducted by The Times of India, NIE in collaboration with Bennett University which was attended by the teachers and students of Grades 11 and 12. In this session, the participants were informed about undergraduate opportunities, challenges, and approaches to achieve success in the post-COVID world.
Day 2 and Day 3 of the Career Fair had sessions on - Your 5 Steps to Study in the USA conducted by the EducationUSA Advisers along with Officials from US University.
The Sessions covered aspects like - Define your priorities, Familiarize with US degrees, Finance your Studies, Develop a budget, Find ways to reduce educational costs, Scholarships, Research CPT – OPT, the application process, and so on.
Principal, Mr. Caesar D'silva shared his views, "With the rapidly changing scenarios in the world of work and education, the need for career counselling and guidance has become critically important for school students too. This is because career guidance and counselling help them make well-informed educational and occupational choices. It is with the aim of assisting our children in this direction that GIIS Ahmedabad had organized the Virtual Career Counselling Fair".