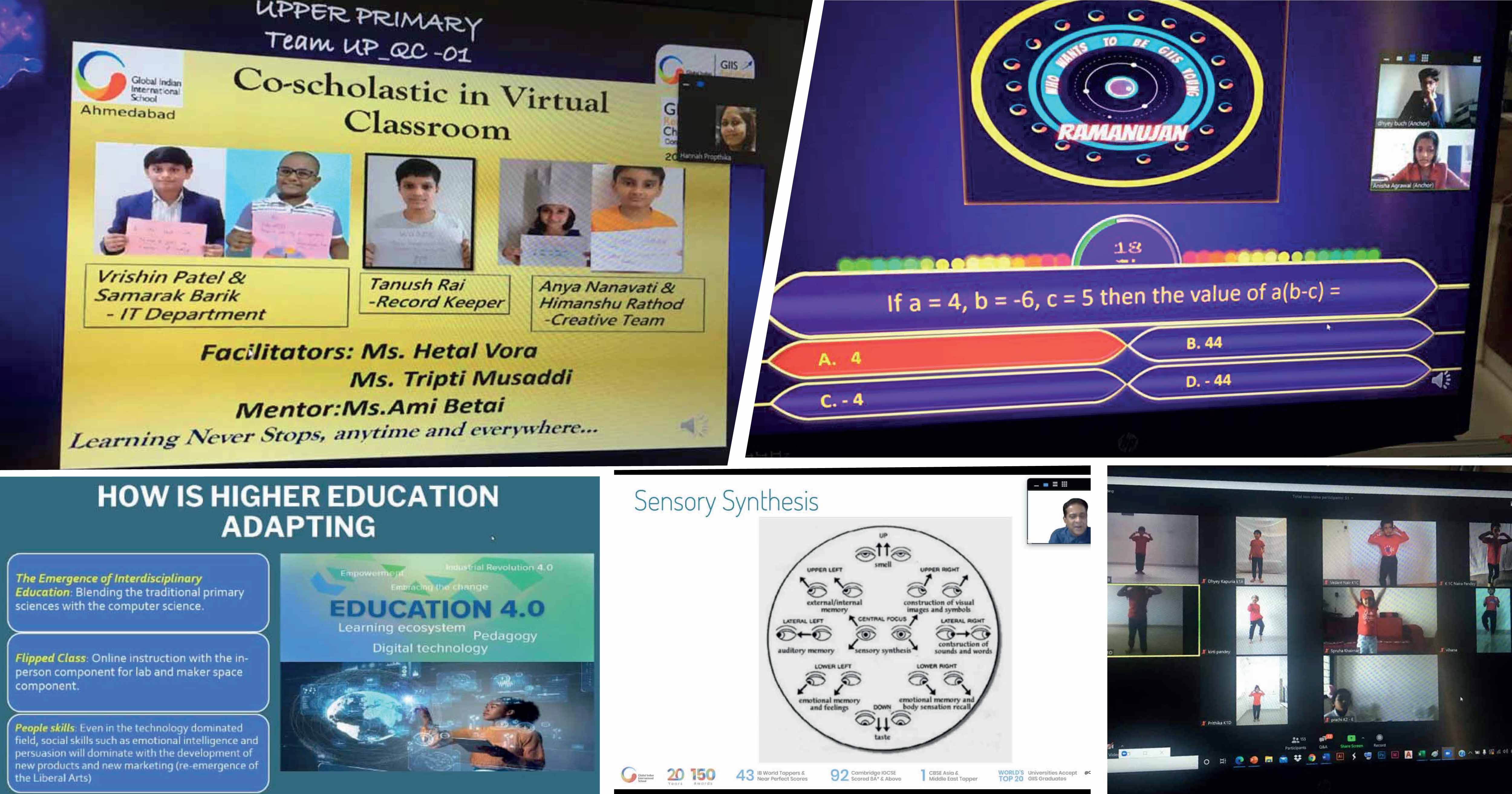 Dear Parent,
The year 2020 has been unlike any other year we all have had in the last many years! The year has left an indelible mark on human history! The year has also been extremely challenging and trying for many of us, personally as well as professionally. The pandemic has not only changed the way we work, learn, and interact, it has made us re-think all our preconceived notions about life and truly humbled us! However, we have all shown tremendous resilience in the wake of this calamity and emerged stronger. And as they say- This too shall pass!
December-the last month of this year has come as a ray of hope, positivity, and a light at the end of a tunnel! And as we bid goodbye to the year 2020, we all look forward to a better 2021.
True to the GIIS philosophy of "we will find a way, where there is none", we continued devising multifarious scholastic and co-scholastic activities for our children to give them the best learning experience even on a virtual platform! Here are the glimpses of some of the major activities of GIIS Ahmedabad during the month of December 2020.
GIIS Ahmedabad took part in the Real World Challenges Convention (RWCC) 2020 organized by GIIS Smart Campus, Singapore, and secured the second runners up trophy in the event. Moreover, our students gave a stupendous performance and were among the top three winners in four out of five events held as part of Global Students Summit at GIIS Dubai. Rewards for the dedication and hard work of our students and teachers and moments of pride and joy, as GIIS Ahmedabad yet again proved its mettle!
Our tiny tots of Pre Primary enthusiastically participated in the Virtual Sports Day conducted for them. They had a great time completing the fitness tasks and thrilling sports challenges provided to them! The Christmas celebrations organized for the students of Pre Primary to Grade 8 students spread the joy and colours of festivities around.
GIIS Ahmedabad hosted the Ramanujan Maths Quiz 2020 for GIIS students across India Campuses in a stimulating and innovative Quizzes and Gameshow format- a great and fun learning experience for all the participants. GIIS Career Counselling Fair was organized by the school, especially for the students of Grade 8 to 12, in which representatives from Education USA, FinanceOak, and Bennett University guided the students about various career options and admission processes in renowned universities to help them make informed choices. The Virtual Science Mela put up by the students of Grades 3 and 4 had some amazing working models and science projects by our young scientists!
The Heartfulness Programme on life-skills for self-development and inner-excellence is yet another initiative of the school for the holistic wellbeing of our students. Our parent connect programmes continue successfully as we had one more webinar on effective communication with them.
Campus GALS 2020 was a platform where our teachers got a unique opportunity to contribute to the growth of GIIS with their innovative ideas. The valuable contribution and service of some of our staff members were recognized during the first Annual Global School Awards, which has filled our hearts with elation, renewed energy, and enthusiasm!
We will keep you all posted about the exciting events that keep happening at GIIS Ahmedabad. We look forward to your continuous support as we enter the calendar year 2021. And we once again reiterate our commitment to provide quality education to our children.
I fervently hope that the New Year brings good tidings to all of us. Leaving behind all the darkness, may it lead us towards eternal light!
Wish you all a Merry Christmas and a Happy, Healthy, Safe, and Prosperous New Year 2021!
Caesar D'silva
Principal,
GIIS Ahmedabad