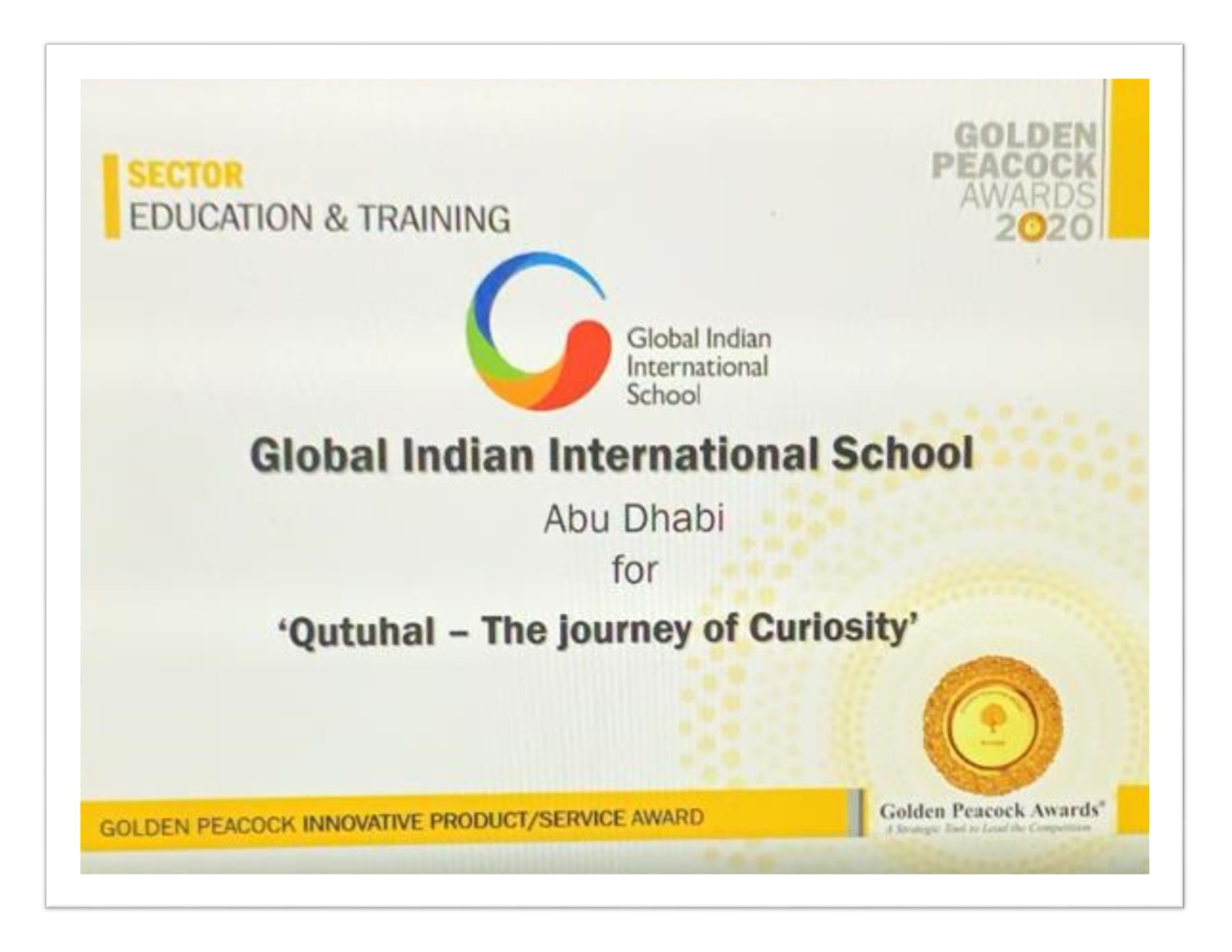 GIIS Abu Dhabi has been awarded the Golden Peacock Award under the Best Innovative Product and services category for "Qutuhal, The journey of curiosity". The award instituted by the Institute of Directors (IOD) is regarded as the benchmark of corporate excellence worldwide. Mr Atul Temurnikar, Chairman, Global School foundation received the award virtually on 15th July 2020.
Qutuhal, a Creative, Innovative and Multi-Disciplinary initiative, was introduced in the year 2018 at the campuses in UAE and is in line with the UAE vision of Innovation. The program in GIIS has been successfully integrated as a part of school of the future and the smart learning concept. Qutuhal program offers all the children an exciting range of opportunities for collaboration, workshops and competitions. Students are constantly motivated towards critical thinking and creativity through ideation and collaboration.
While the teaching learning happens in the class, the child has to experience the real life problems and try to find out solutions for the same, either alone or through collaboration. To encourage and develop this habit 'Ideation walls' have been put up in the campuses and weekly posers and problems are put there for the children to find a solution. This is done by way of enhancing critical thinking through debates, discussions and collaboration. The learning process is further strengthened by activities like Quality Circles, Industry visits and through Leadership Lecture series with industry experts.
Qutuhal has been specially recognized by the Institute of Directors and is by far the strongest endorsement of the richness and strength of the initiative. The recognition given by IOD has truly inspired us to challenge ourselves and develop the creativity of our students and the community. The organization take this opportunity in expressing the gratitude to the highly respected jury of IOD, Hon'ble Justice M. N. Venkatachaliah, Chairman, Institute of Directors and former Chief Justice, Supreme Court of India, Justice (Dr.) Arijit Pasayat, former Judge, Supreme Court of India and former Chairman, Competition Appellate Tribunal & Authority for Advance Ruling (Customs, Central Excise & Service Tax) and the entire IOD team for the recognition to the GIIS Abu Dhabi, Journey of excellence.
---
Get in touch with us, to know more : https://abudhabi.globalindianschool.org/admissions/enquiry-form
---