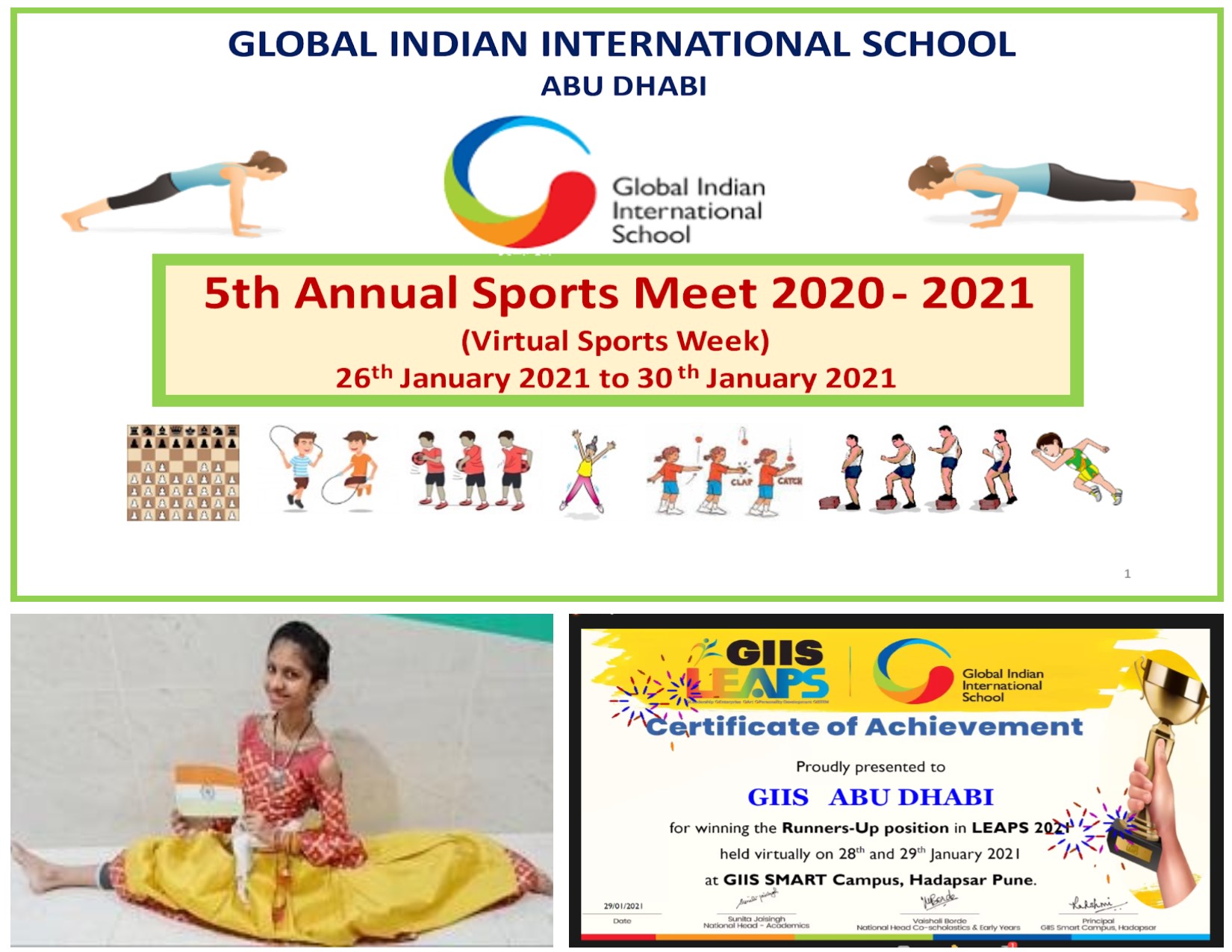 VIRTUAL SPORTS WEEK
GIIS Abu Dhabi had organized 5th Virtual Sports Week 2020-21 from 26th to 30th January 2021. Students from class 1 to 12, their Parents, Teachers & staff participated in various forms of fun filled games and activities throughout the week like Chess, Rope Skipping, Plank, Shuttle Run, Speed Bounce, Balance, Squat, Step-ups, Push yourself, Ball Coordination, Climb the Mountain and Sports Quiz etc.
All the participants exhibited their fitness and sportsmanship spirit with a new challenge every day.
GIIS Abu Dhabi is committed towards the overall development of our students with a holistic approach towards their physical, emotional and mental development.
Real World Challenges Convention (RWCC)
Congratulations to our Appnovators of Grade 11 Arleen Monterio, Rahini Sharma and Soham Shindae for winning the First Position for Appnovation in the 9th Real World Challenges Convention (RWCC) 2020 hosted by GIIS Smart Campus Singapore. The App is an Anxiety reliever that helps our users to track their anxiety and it provides a few relaxation exercises which help calming down.
The students of Grade 3 Charvi Rajesh, Shawn Deepu, Ruhika Rajesh Kumar, Chris Manuel and Nirzara Bakliwal had enacted a skit based on the theme 'Rise as Leaders of Tomorrow' and won the 2nd position. They showed the values of respect, integrity and leadership skills in their skit. The students enacted the story of children undergoing the effects of COVID 19 and as a result how some students took an initiative to give back to their community with their efforts to spread happiness and positivity around them. Grade 10 students Suraj Dayma and Tejas Raj bagged the 3rd position in the student Conference where they researched and presented on Crisis and the Role of Leadership in different countries.
Webinar- First Aid
GIIS, Abu Dhabi always focuses on the development of the life skills of every child. In order to make our children aware of the hidden dangers that may happen to anyone at any time, the school provided them with a vital knowledge of First Aid. We made certain that every member of the GIIS family received the training. Proper knowledge in first aid boosts our confidence and we act immediately in case of emergencies. The training was conducted on 7th January, 2021 and the session was led by Ms. Anna from our school's Health department.
The programme helped the students realize how to respond calmly and quickly in an emergency situation.They were given information regarding various injuries and the ways to deal with them. The last segment of the session was an interactive one. Students grabbed the opportunity to clarify their doubts. It was, undoubtedly, an enriching, fruitful session.
Manahil Arabia
Al Manahil Arabia is an Arabic language learning class organized by GIIS Abu Dhabi campus for the parents. It is a three-month course. The class is on Every Saturday with two batches. One in the morning at 10 am and in the evening at 3 pm. The duration of the class is around 1 hour 30 minutes. In this class the parents are given basic Arabic language modules and online interactive exercises using Pad-let, QUIZZES, Near-pod etc. Parents are learning basic Arabic such as reading, writing and speaking. Almost 100 parents are attending the class regularly and interestingly. Moreover, this Arabic class program is taking place for the first time in our campus and it goes well and also parents are benefited from the class.
Pinhole Camera Activity
Today, nearly everyone has a digital camera, and it's easy to take a perfect photograph every time. But like many electronics, cameras may seem mystical and complicated to our children as well!
The Science activity was conducted to construct and understand working of a pinhole camera to explain to our 6th Grader how simple a camera can be, and how light forms an image on the film. It helped our students gain insights on the science of optics, and it was a fun art activity, too! The images produced were surreal, artsy, and quite unique. It also helped them learn the differences in quality and style between old photographs and today's images. They were amazed that they can build their own camera!