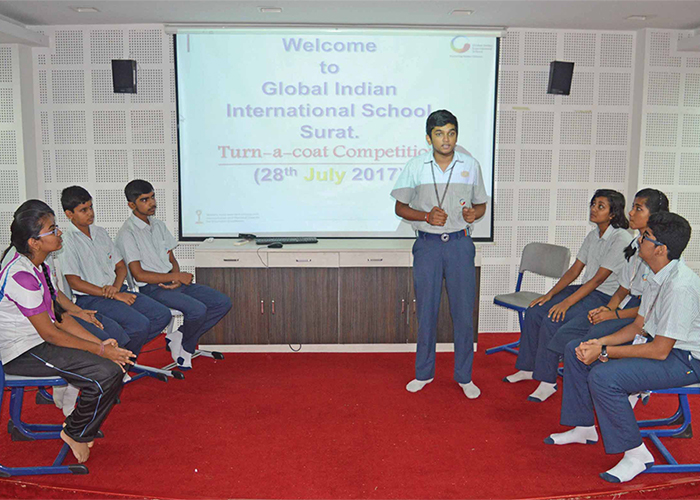 "He, who decides a case without hearing the other side, though he decides justly, cannot be considered just"
Effective research, extensive analysis and great communication skills are few desirable qualities of a good debater. Other than preparing individuals to think logically and reason with all their senses, debating competitions prepare students to face situations life may throw at them.
Promoting use and development of effective communication skills and personality development, Turn a Coat (English) competition was conducted for secondary classes of Global Indian International School (GIIS), Surat. Students from grades 6-11 participated with full enthusiasm and vigour in the competition organized to test their reasoning and critical thinking abilities.
Mr. Chintan Vaidya & Mr. Sandeep Desai, renowned English trainers graced the competition as judges. Each student spoke with utter confidence and poise, keeping forth their argument in a well-mannered way. Students had been given the topics well in advance, which helped them in framing their arguments better. The topics for the competition were:
Do you think National Festivals & Celebrations brings about unity? – For Std 6 – 8
Dreams need effortless sleep and aim needs sleepless efforts. – For Std 9 – 11
Choosing winners was a tough task for our judges as each participant had showcased exceptional calibre while speaking in favour or against the motion. Winners were decided on rubrics like knowledge about the topic, argument formation and validity, ability of keeping conflict at bay, etc.
The art of debating lies in the ability to put forth your thoughts and opinions on plate without offending anyone. There is a thin line between speaking thoughtfully and speaking just for the sake of it, which must be adhered to, as debates are meant to bring out the best of qualities and not arise conflicts or hurt any one's sentiments.