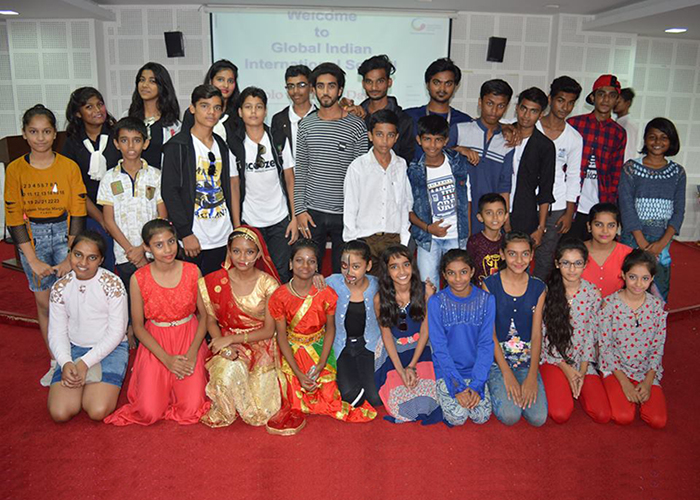 Dance is the most expressive form of art. It connects people together and makes them understand one's emotions. Apart from numerous physical benefits, dance has the power to cure a lot of health problems. It is among the most tried and tested activities that help children become social and comfortable with peers.
With an aim of encouraging creative skill development among students, Global Indian International School (GIIS), Surat organized an Inter-House Dance competition for students of grades 1-10th. The competition was majorly categorized into two parts i.e. juniors (Grades 1-5) and seniors (Grades 5-10). Gracing the occasion as judges were Mr. Sanju Mevada (Dance Teacher, Nobel School) and Mr. Yash Gawai (Dance Academy owner, 7S Academy). Both of the judges invited are well known dance professionals and have been in the industry for years.
The competition kicked off with the customary Morning Prayer followed by an official welcome of the judges with flower bouquets. Excitement rolled as students from the junior and senior category showcased their bit one after the other. There were two types of categories for the students to participate i.e. solo and group dance. Our chief guest for the day, Mr. Sanju Mevada was ecstatic to see such great performances.
After a tough competition and various rounds of discussion, the results for the competition were declared. For junior and senior categories the result list was as follows:
Sr. No.

Name of the Student

Class

Rank

Group : A Solo (Std -1st to 5th)

1

Sourya jain

I-A

1st

2

Karan Aghera

I-A

2nd

3

Ishika Agarwal

1-A

3rd

Group : B Solo (Std -4th & 5th)

4

Kiran Sahu

V-A

1st

5

Unnati Aghera

IV-B

2nd

6

Kaya Bachani

V-A

3rd

7

Shamim banu Shaikh

V-B

3rd

Group : C Solo (Std -6th to 8th)

8

Sushree Sangita Behra

VIII-B

1st

9

Arpita Agarwal

VIII-A

2nd

10

Tejaswini Antil

VI

3rd

Group : C Group (Std -6th to 8th)

11

Shivam, Manish
Chetan & Ishan

VIII-B

1st

12

Harshita &Yashashvi

VI &VII

2nd

13

Kirti Khattar & Saloni Rai

VI

3rd

Group : D Solo (Std -9th to 11th)

14

Hayyan Malik

XI -C

1st

15

Sujal Patel

IX –A

2nd

16

Vishal Patil

IX - B

3rd

Group : D Group (Std -9th to 11th)

17

Rahul Choudhary & Raj Verma

IX-A &
XI - Commerce

1st

18

Aditi Prabhakar & Rupali Jha

IX – B
IX – B

2nd
The objective behind conducting this inter-house competition was to encourage maximum participation and to recreate the spirit of sportsmanship and fair play. This gave our students a chance to understand that in a competition, one wins and the other loses, and that is how the game goes on.