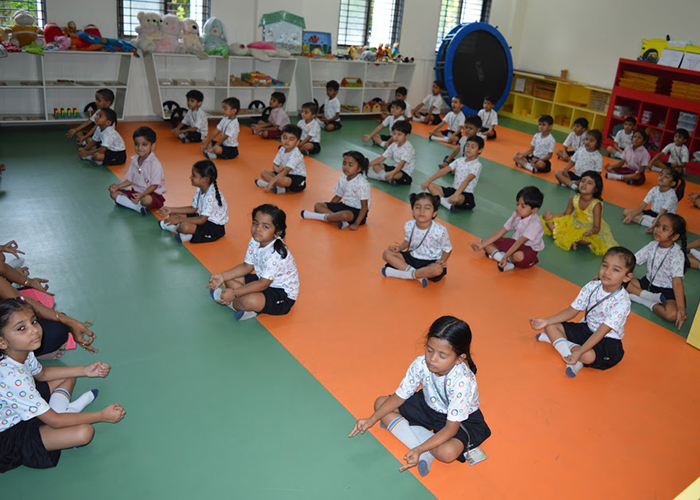 Yoga is the union of mind, body and soul. An exceptional practice to simulate mental balance, critical thinking and physical strength, Yoga has indeed opened up paths of eternal peace for humans. 21st June is celebrated as International Yoga Day around the world with thousands of devotees celebrating the discipline/practice based and rooted in India. Celebrating its third year of existence, Honourable Prime Minister of the country Sh. Narendra Modi introduced the day to the world in 2014 which also happens to be summer solstice. He believes that yoga has the power to transform one's life in inexplicable ways than ever known to mankind.
Paying a heartfelt tribute to Maharishi Patanjali, also known as the father of yoga, students of Global Indian International School (GIIS), Surat celebrated the International Yoga day with extreme galore and enthusiasm in the campus.
Starting the day with Suryanamaskar, various Yogasanas were performed by grade 5 – 11 students under the expert guidance of Ms. Hetal. Asanas like Tadasan, Vrukshasana, Bhadrasan, Sashankasan, Bhujangasana, Pavan muktasana, Savasana, etc. were performed to mark the importance of physical fitness and general well-being of children during their development years. Apart from the asanas, 2 minutes Anulom Vilom exercise and a 6 min dhyan mudra i.e. meditation was also performed to foster better concentration and decision making capabilities among all.
Closing the event with a pledge to make Yoga an essential part of one's life, students, teachers and staff of GIIS Surat had the most amazing experience as they got a chance to explore their inner capabilities and physical endurance.