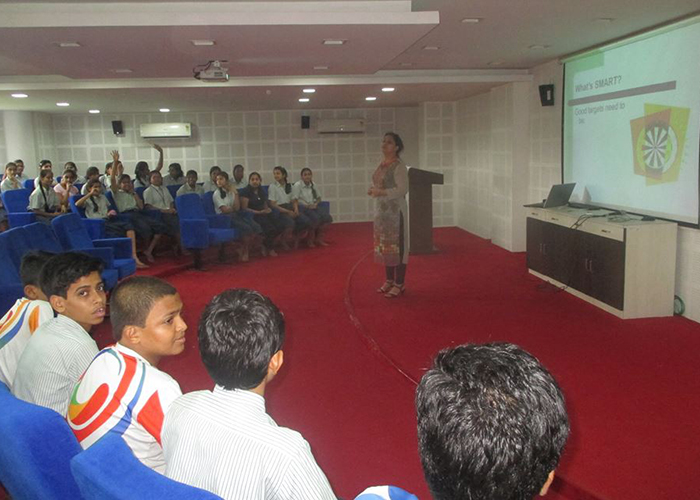 Goal setting plays an important factor in determining your way towards success. It helps you achieve form and direction, and also pushes you to extreme of your efforts so that you can achieve what you really want in life, academically or otherwise. But has anyone one thought why most people fail in achieving what they have preconceived during goal setting? The answer is that many of us don't set realistic goals. We often sway in dreams of becoming what we want to, without realizing that small steps of success that eventually take us to our desired accomplishment.
Since grade 9 and 10 students of Global Indian International School (GIIS), Surat are preparing for their board exams and career in general, a session on "Goal setting and Personalized learning" was conducted by Ms. Vaishali Borde – Head, Co-scholastics and Ms. Sunita Jaisingh – National Head, Academics proved quite useful. The idea was to encourage students to come forth and discuss their career plans and how they plan to achieve it, and to help them assess individual learning, develop action plans, remain motivated and positive, gain confidence and reach targets they have set.
The session was indeed noteworthy for all our students as each one of them actively answered questions posed by Ms. Viashali and Ms. Sunita. Ms. Vaishali gave students effective insights on how to plan and work towards achievement of goals by adopting short term and long term planning. Speaking on the occasion she added, "GIIS believes in Learner Centric Education and one way of doing it is by letting students develop their own SMART goals. Students are engaged when they have clear goals and a meaningful way to gauge their progress."
Adding to her tips, Ms. Sunita Jaisingh emphasized on the importance of personalized learning. She encouraged students to follow the self-learning approach as it really boosts their learning abilities and makes them self-dependent. She even introduced students to online content (websites) that can add more stars to their knowledge. Speaking on the subject, she further added- "a lot is available online these days. From simple subjects like basic maths to complex derivatives, the ocean is infinite to discover and conquer. Make sure you understand what you are aiming at and take correctives steps in that very direction."
We hope that the session helped our students in deciding the paths they want to take in future. The tips and tricks shared will surely help them imbibe good learning habits and touch height of success in whichever field they choose to master.