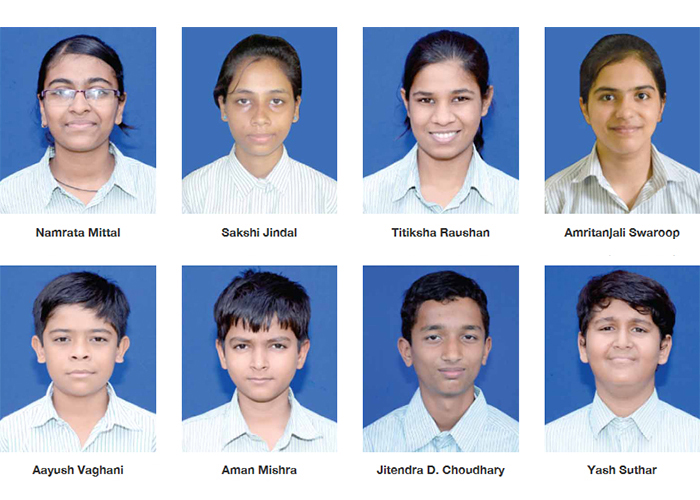 We are delighted to share that grade 10 students of Global Indian International School (GIIS), Surat have achieved outstanding results in the CBSE Examinations held in March, 2017. This was the first batch from GIIS Surat campus to take the CBSE Examinations, and we couldn't be more proud to tell the world that each of them have cleared the examinations in first division i.e. 60% and above.
8 students from the campus have scored a perfect 10 (CGPA) and 6 students got nearly perfect score of 9-9.9 CGPA in the finals. Keeping the standard of school's education quality high, our students have made us proud by performing exceptionally well in all the subjects.
Since this was our first batch to take the board examinations, a mark of academic excellence and compete worthy example has been set by our current batch of class 10 students; for students who appear in the coming years. And, we are sure that the coming scholars from the campus will make us proud and take the game to a whole new level.
Perfect Score - CGPA 10
Namrata Mittal
Sakshi Jindal
Titiksha Raushan
Amritanjali Swaroop
Aayush Vaghani
Aman Mishra
Jitendra D. Choudhary
Yash Suthar
Highlights of CBSE Class 10 (2017) Results
Total no. of students who took examination : 37
100% result – All Passed
Students who have secured perfect CGPA 10 : 21.62%
Students who have secured CGPA 9 and above : 38%
School (all subject) CGPA average : 8.3
Subject wise GPA (All Students Average) :
| | | |
| --- | --- | --- |
| English | : | 9.0 |
| Hindi | : | 8.4 |
| Math | : | 7.9 |
| Science | : | 8.1 |
| Social Science | : | 8.4 |
| I.T. | : | 9.4 |
CGPA Analysis
| | | |
| --- | --- | --- |
| CGPA | No. of Students | Percentage |
| 10 | 8 | 21.62 |
| 9-9.9 | 6 | 16.22 |
| 8-8.9 | 3 | 8.11 |
| 7-7.9 | 19 | 51.35 |
| 6-6.9 | 1 | 2.7 |
| Total | 37 | 100 |