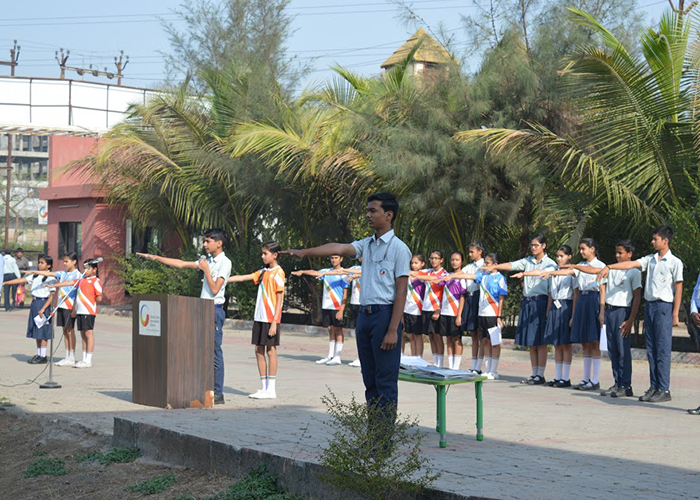 "

Show your faith in me and in my work by remaining quiet. The magistrate had the right to arrest me, because I disobeyed his order. If I am sent to jail, you must accept that as just. We must work peacefully. And violent act will harm out cause.

"
As the entire nation commemorated completion of 100 years of the Champaran Satyagraha, also known as the Indigo Revolution, staff and students of Global Indian International School (GIIS), Surat too celebrated its 100th anniversary with lot of devotion and reverence. Since the month of April holds a special significance in the history of the iconic event, the centenary celebrations revolved around the story which lead to successful execution of the non-violent campaign started by Gandhiji against the British Rule.
A century ago, Mahatma Gandhi had taken several steps to improve the condition of the farmers and general public in Champaran. These included efforts towards basic education, skill development, women empowerment and cleanliness. To disseminate Gandhiji's teaching and his immense contribution in Indian Freedom Struggle through the path of Satyagraha and Ahimsa, GIIS Surat conducted a Special Assembly with an attempt to propagate the significance of Chaparan Satyagraha through various events and activities like Bapuji's Bhajans – Vaishnaiv Jan to Tene Kahiye, Spin a Yarn (Anecdotes about Bapuji's Life), an Oath for Sanitation and Cleanliness, etc.
As the celebrations advanced, the episode of the Champaran's Indigo Revolution was narrated to the students. They were acquainted with Gandhiji's early life, struggles and sacrifices he did for the freedom of the countrymen. Beautiful Bhajans made every one present sway in the emotion of patriotism and pride. As the assembly moved towards its closure, an oath for cleanliness was sworn by everyone present during the assembly.
The objective behind conducting such special assemblies or celebrating such historic events is to acquaint our students with the sacrifices people like Gandhiji has made for the freedom of our country.
Propagator of Gandhian values, GIIS schools across the world educate its students as per his teachings and life principals. As a part of the Mahatma Gandhi Center of Universal Values, each student is inspired and adviced to take up the path of non-voilence and other relative principals that can help an individual in a much better way than non-voilence.