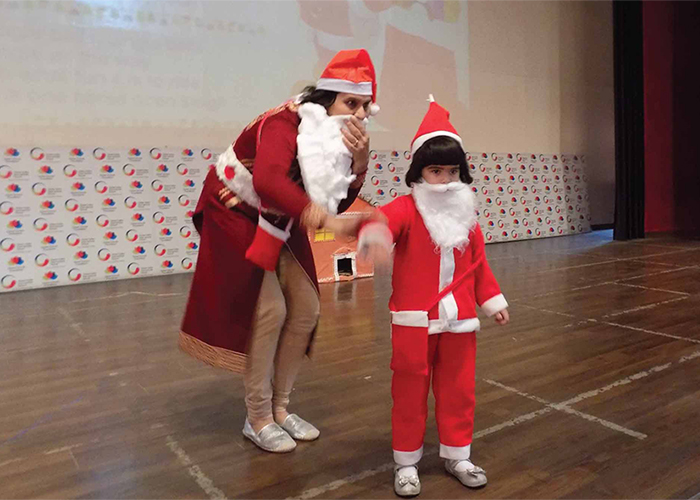 Come December and the festive mood sets right in. Everyone in the world gears up for Christmas and the New Year, biding good bye to everything good and bad, preserving all the lessons learnt and memories made, and moving forward to a fresh new start and opportunities to grow and flourish.
Celebrating the birth of Lord Jesus, the occasion of Christmas was celebrated with a lot of excitement and joy in the school campus among the students, staff, and teachers. A special assembly was conducted by pre-primary and primary wing of the school for their respective students, to make them understand the importance of the festival and why it is so important for Christians and everyone else.
For primary classes, the celebrations began with some heart to heart talk on moral values by Ms. Beena Varghese – TGT – English, Global Indian International School (GIIS) Noida followed by a group song by students of grades 1-2. A melodious carol by grade 6 students set the mood feistier, as everyone in the audience joined the choir while they sang praises to the lord. Next was a spectacular dance performance on the delights of Christmas where students of the school danced in full swing and joy.
The best part of the assembly was a surprise visit from the Santa himself. Dressed in a red and white oversized coat and hat, our little Santa looked uber cute as he came with ringing bells and singing Jingle bells jingle bells.
For the pre-primary wing, teachers of the kindergarten organized a short yet powerful stint for the tiny tots of the school. Gracing the occasion, to buck up our little enthusiasts and make them familiar with the festivities was Ms. Sunita Jaisingh – Academic Coordinator, GIIS India who made the celebrations all the more merrier.
Teachers from the pre-primary wing organized a small skit based on the birth episode of Lord Jesus, followed by a happy song to cheer them up. What got the most smiles during the special celebrations organized was a surprise visit from the Santa who came ho-hoing and waving to our little reindeers. Little did they know that it was their very own Rachna mam behind that big fat belly and white overgrown beard costume, distributing sweets and laughter all around.
As students returned to classrooms to have their classroom party started, Santa paid visit to each class of the school along with his bunch of folks singing Christmas songs and carols. And, the day came to a happy end with the spirit of Christmas upheld.