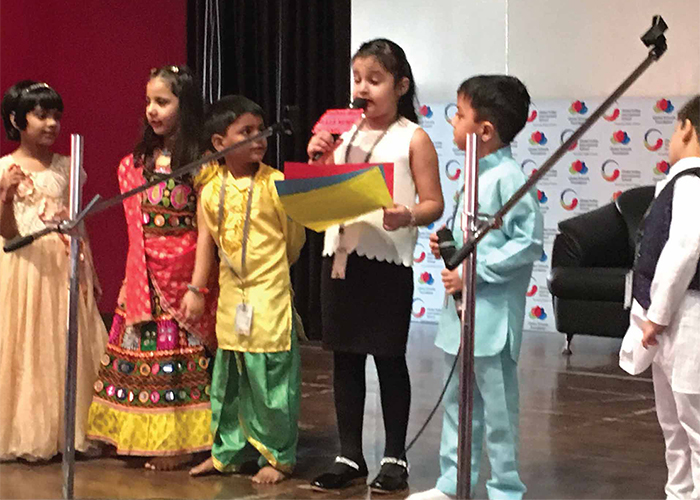 Come Diwali and every one dips in the fervour of festivities and happiness. The festival of lights and a symbol of victory, Diwali (also known as Deepawali) has a more meaningful significance than just being a mere festival to the people of India. For some it was the return of the lord, and for some it was the victory of their guru over evil. But above all what holds true importance here is the fact that Diwali is one festival of India that unites everyone irrespective of their religion to celebrate the eviction of darkness over light.
To bring forth the value of the festival and to sensitize students about the rich cultural heritage our country holds, a special assembly was conducted by grade 1A students on Diwali – the festival of lights. After the Morning Prayer, students presented an informative presentation on significance of the festival and how it should actually be celebrated. The celebrations progressed with a melodious song sung by students of grade 1A followed by a beautiful enactment which brought out the ill effects of bursting crackers during Diwali. A group of students presented a small skit in which a GIIS news reporter presented a survey on how people of India celebrated Diwali, so as to make everyone well informed about Green Diwali and its benefits.
Towards the conclusion of the event, a beautiful dance was presented on stage to set the festive mood right and to ramp up the happiness quotient of the audience. Celebrating Diwali definitely brings awareness in our students, as each one of them observes what is happening around them. Kids have an impact which helps them in remembering that Diwali is not about just bursting crackers and adding to the existing high levels of pollution, but is also about being happy and content with whatever one has. And also, that Diwali is more colourful with our lovely friends and family around than anything else.
So, from this year onwards let's celebrate Diwali without crackers and make this Diwali happy for people who don't even know what happiness and light in life means to one.