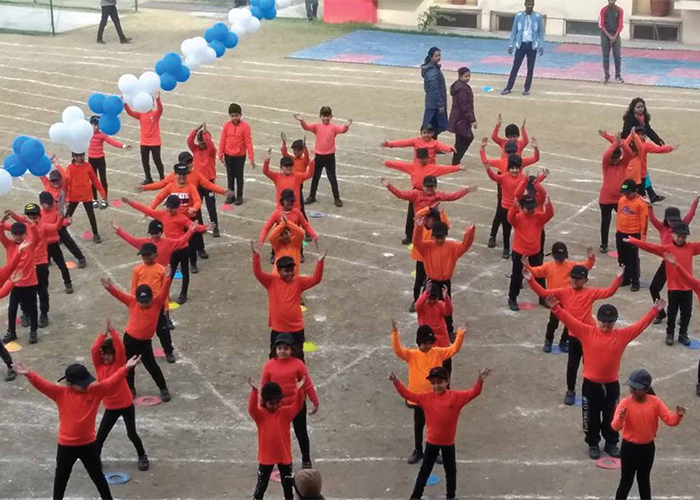 With a hope to heal the pain caused by so much of destruction and hate towards everything human, Global Indian International School (GIIS), Noida conducted its 5th annual Sports day meet for the pre-primary wing today in the campus with a lot of enthusiasm and games galore.
A cold winter morning blooming with beautiful decorations adorned the school campus as little buds of GIIS Noida entered the playground with their lighting smiles. The theme for this year's sports day was "Paws on Parade" and every aspect of the program was designed as per the theme. Tiny tots of the school were all dressed up in different animals' attire, giving out loud the message of peace and harmony among all.
Gracing the occasion with her vivacious presence the Principal along with the Academic Co-ordinator declared the sports meet open as they disbursed white and blue balloons in the sky. Addressing the parents, she expressed her happiness on seeing such great anticipation from all the parents who came to support our little munchkins.
The stage was set and the curtains unrolled as the youngest members of the GIIS family came to welcome all to the sports day celebrations. Students from pre-nursery presented 'save the tiger drill' in their tiger costumes. Next were little caterpillars from KG grades showcasing Cosmic Yoga depicting life story of a hungry caterpillar. And then came little birdies of GIIS Noida to show a chirpy bird drill in their red costumes and red head gears.
Advancing to the sport part of the day, various races were conducted for students of pre-nursery and KG sections of the pre-primary wing. Since theme of this year's sports day was based on the animals – various type of animal races like monkey race, bunny race, caterpillar race, jelly fish race, bunny hurdle race, etc. were conducted with absolute excitement. Adding to the excitement, each race participant was dressed in the costume of an animal in accordance to the race.
The theme "Paws on Parade" was a part of a bigger aim which Global Indian International School (GIIS), Noida wishes to achieve. Since many parts of the world practice animal cruelty and extortion, the pre-primary sports day was organized to put across a message of treating animals with the same love and care we treat our children with.
As the meet advanced towards its closure, parent participation was awakened in form of a race designed especially for them. It was great to see parents voluntarily stepping forward to participate in the event, taking them back to their childhood days and memories. At last, prize distribution ceremony took place where winners from each of the races conducted were felicitated with medals and certificates. The principal along with the pre-primary Academic Coordinator, thanked each and every parent for coming and making this event all the more enjoyable for their children.