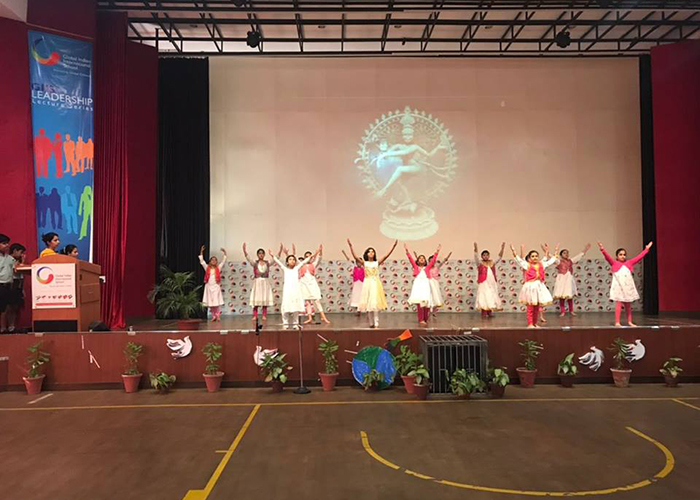 Music is the language of soul and the voice of God. Music is for the young and the old. Music is naïve yet music is life.
Music knows no boundaries, knows no limitations. It is a virtue that connects people beyond religions and countries. Listening and singing provides one with inner calm and happiness, and even gives some the strength to carry on in life. Listening to music, over the years has proved fruitful for individuals from every age group. Children, teenagers, young, and the old have known to reap indirect benefits from the mere existence of music in their lives.
Celebrating World Music Day through the means of a special assembly, students of Global Indian International School (GIIS), Noida celebrated their love for music in the most spectacular way possible. The morning set the day and paved the way for our students to rejuvenate their spirits, so that they remain rooted to the moral values through the Morning Prayer sung by fourth graders.
Grade 5 students took over the stage to present a brief introduction on the importance and history behind World Music Day celebrations. Here they stated:
"Music gives a soul to the universe, wings to the mind, flight to the imagination and life to everything."
Moving into the rhythm, Divya from grade 6 sang a melodious rendition, doing justice to the Kirwani raga "Ek Radha ek meera" with great emotions and melody. Following her, Shreya from grade 7 presented a mesmerizing instrumental piece under the mentorship of our Instrumental Music Teacher. Audience was spellbound to hear such notes played with accurate tempo and dynamic contrasts. Soumya of grade 7 thereafter sang 'Mai kaun hoon' which was originally sung by Meghna Mishra.
Senior students of the school, from grades 7-9 performed a unique combination of a famous thumri "Naina more taras gaye" amalgamated with western rap piece on harmonium, drums and keyboard. This performance left everyone spell bound as nobody had heard or witnessed the jugalbandi of western and eastern music executed with such finesse. Lastly, students from grades 3-5 performed a group dance on instrumental piece named "Dheere jalna" where they exhibited mudras like -pushpak hastak, tal hast chakra, Madhya hast and urdh hast, etc.
While addressing students towards the end, the Principal encouraged and urged the children to incorporate some elements and forms of music in their life, for music is a way of living one's life happily.
Music holds a special place at every GIIS campus as it gives a great opportunity to our students to prepare themselves for the life ahead. Listening, singing or playing music lets children invoke their aural and sequential learning senses, which significantly helps in overall development. Music also helps in concentration development and sharpening of memorization skills which ultimately help them in their academics and life in general.