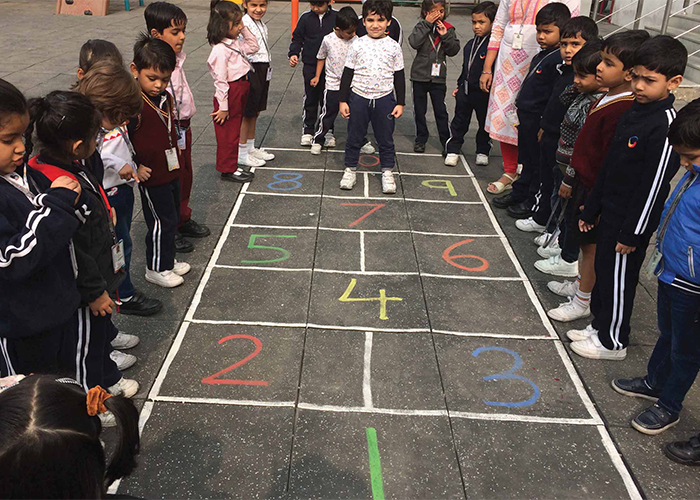 Education is that fact life which gives one the ability to be positively different from people who don't get the privilege of being educated in life. Education brings about a holistic change in one's personality, and gives one the power to conquer the world with his/her knowledge and skills. Mathematics, on the other hand is that part of the education that helps people in leading a civilized life full of personal fulfilment and achievement. It is more than a subject; a phenomenon that makes one well informed and analytically reasonable.
Encouraging mathematical concepts, Maths week at GIIS Noida was aimed at building interest for the subject among students of the pre-primary wing. Different activities and games were organized by the teachers to help children in the development of decision making abilities and mental math skills. Maths week celebrations were carried over 5 days full of fun-filled activities and games, helping our tiny tots to love the subject even more.
Day 1 : presence of Maths and numbers was discussed and concepts like Date, Time, Distance (measurement through steps), Budget (e.g. birthday Party) Money, Cooking (quantity of ingredients used), Attendance, Shopping, Discount, etc. were closely studied in class. Teachers organized a question answer session to test their knowledge on telephone numbers, house numbers, calendars, street numbers, clocks, traffic signal lights etc.
Day 2 : students from pre-nursery, nursery, and KG made different mathematical shapes as a part of their craft making activity. Our little stars had fun with shapes were they made clocks, balloons, etc. using different craft material.
Day 3 : Tambola game was played with students where the teacher had given one slip each to every student with random numbers written on it. She called out numbers and the children crossed(x) the respective numbers. What a fun way of learning maths!
Day 4 : Different math games were played in all the classes of the pre-primary wing. Jump the number, incy wincy spider, number with shape quantity, etc.
Day 5 : Final day of week called in for mega celebrations i.e. Learning while shopping. Shopping mart was arranged in school corridor with two shops put up i.e. candy and stationary shop. They displayed wonderland of shapes which had craft work made by all classes .The teachers came with their respective classes and helped the children to do shopping with paper money. It helped children to learn the concept of money & quantity. Each class purchased candies or lollipops and smiley sketch pens (Rupees 5 each).
The main objective behind organizing a week long Maths learning fest was to make students familiar with the number and pre-number concepts, enhance their logical and critical thinking abilities, and develop a positive approach towards mathematics and utilize it to have a good time for leisure.