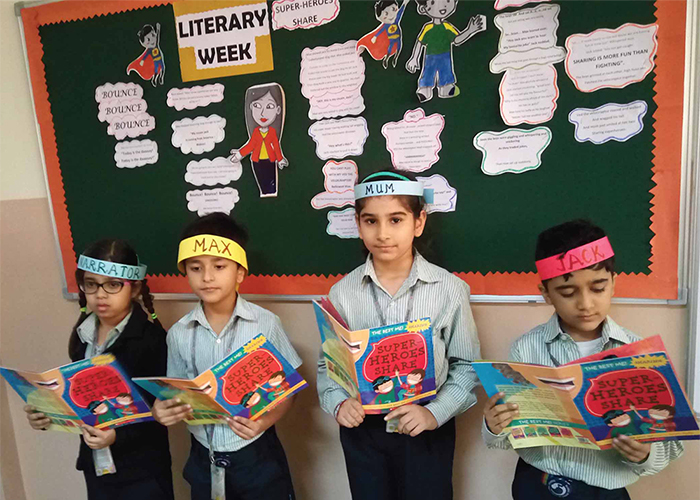 "It is literature which for me opened the mysterious and decisive door of imagination and understanding. To see the way others see. To think the way others think. And aboveall, to feel."
The English Department at GIIS, Noida conducted literary week and Festival of words celebrated through a series of activities appropriate for students of various grade levels of the primary wing from 23rd to 27th of October, 2017. Varied activities were conducted for students of grades 1-10 with an objective of providing students with a platform to hone their written, spoken expressions and to foster reading habit among them. The school wore a festive look with colorful posters and copies of students displayed in the class.
The kinds of activities conducted for students were as follows:
Grade level
Classes
Activity
Objective
Lower Primary
Grade 1 & 2
Story Theatre (Story Dramatization)
To know different types of stories be able to dramatize them, enhance their reading skills.
Upper Primary
Grade 3
Know Your City (Know more about Historical Monuments, places of tourist interest)
To enhance their creativity, knowledge & research skills through the activity.
Grade 4
Acrostic Poem (On Tourist Places/Monuments)
To increase vocabulary and apprise them with this genre of poetry and rhyming words.
Grade 5
Poster Making (With Slogan on favorite Monuments)
To know about famous heritage places, their restoration works & enhance writing & speaking skills.
Middle School Level
Grade 6 to 8
Inter-House Turncoat Debate Competition Theme (Tourism)
To enhance their speaking skills understanding of the topic fluency.
Secondary Level
Grade 9 & 10
Essay Writing (Travel & Tourism)
To bring out the imagination, enhance thinking & writing skills.
Literary week started with a Planning session where students were split to groups and were made to research and frame the outline on how to proceed with their respective activities. The final two days of the week were used to perform the activities in their respective classes, under the guidance of English Teachers.
In Grade-I, The story "Elephant and Friends" was chosen for reading and role-play. Grade 2 students participated in role play activity on the story "The Rainy Days for the Rabbit". Different roles were assigned to the students like monkey, elephant… etc. where they read and enacted scenes related to the story taken up.
Students of grade III participated in an activity called 'Know your City', where they pasted a picture of their favourite historical monument of Delhi on an A3 Sheet and wrote important facts about it.
Students of grade 4 wrote an acrostic poem on famous tourist places like Havelock, Manali, and Nainital etc. They were briefed about the task on the first day of the activity and worked in groups and wrote poems, not only to learn about these places but also learn how to work in a team.
Grade V had Poster making and coining a slogan activity on their favourite monument and also expressed ways and means to preserve and protect it. Grade IX & X had Essay writing competition on the Topic - 'Travel and Tourism in India', highlighting its current status and future prospects. The finale of the Literary week was the inter house Turncoat Debate competition between classes VI-VIII.
Students of Classes 6 to 8 took an initiative to prove their ability as a special speaker who has command over language through Turncoat Debate. This 'Speak up Contest' was designed to help the students in developing communicative skills, confidence and poise in speaking. Students of Classes III-X were given a theme as 'Travel & Tourism' taken from the CBSE guidelines suggested to be conducted during the month of October. As Literary Week overlapped with the same time, we had incorporated the same theme in the Literary Week Activities.
The Preliminary Round of the Turncoat was held on 26th October at different venues for each House and the students who were screened, participated in the Final Round on 27th October. The Judges of the session were our Pre-Primary Co-ordinator and the HOD of the English Department at GIIS, Noida.
At the concluding ceremony of this event, the Principal advised students to keep themselves open to the current issues and be updated with the information about tourism in India. She encouraged students to take time to listen, know and discern the potentials hidden in each issue and to seek and derive the values hidden in it.
Overall, Literary Week brought students closer to the magic of language and Literature.