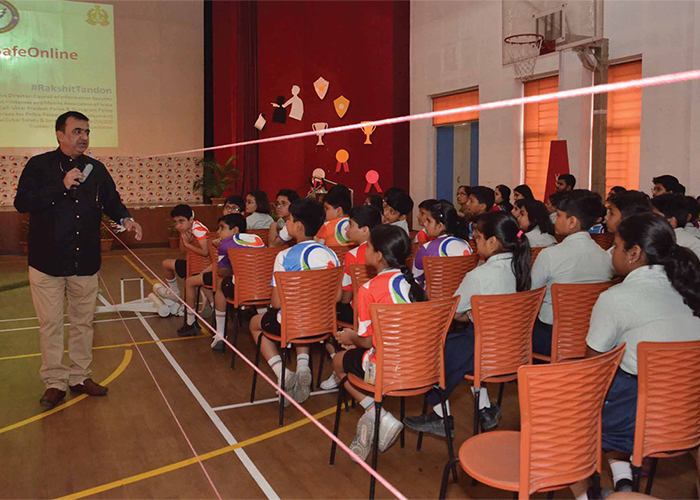 Considering the Current Cybercrime scenario, for the safety and security of the students in school, Global Indian International School (GIIS), Noida organized an interactive session on Cyber security for parents, staff including Ms. Vandana Midha – Principal, GIIS Noida and students of Classes VI to X of the school on 14th October, 2017. The session was taken by the very famous Rakshit Tandon – Director, Council of Information Security (CIS).
Mr. Rakshit Tandon, a well-known name in the field of cyber security, is amongst the best online security professionals of the country. He has played an instrumental role in contributing towards the Children Online Protection Act in India, and his work has been appreciated by the UNICEF in a report on the same subject. Mr. Tandon is also an Investigation Expert with the Cybercrime unit of Uttar Pradesh and Gurgaon, Haryana Police.
Mr. Tandon highlighted the critical issues of cybercrime and suggested measures to safeguard children from falling into the cyber trap. The session started on a note to familiarize the audience with basic rules of using online accounts. During his session he shared some insightful tips and tricks on using e-wallet cards (i.e. ATM Cards) for paying bills while shopping or eating at restaurants.
Great learnings were shared with parents, staff and students by Mr. Tandon who talked about safety of children while working online. It was an interactive session about the ethics to safeguard oneself while using social network sites like Facebook, Instagram, WhatsApp and Net-Banking etc. During the session, an Interactive workshop was also held where students, teachers and parents shared their experience and expressed views. He urged each one to responsibly utilize internet on various available devices, for internet is a blessing if used wisely else human acts like hacking etc. are making this boon turn into curse. The highlighting revelation of the session was the number of children who have been engaging themselves in illegal hacking, which is a criminal offense and can put its practitioners behind bars for making fake profiles, rob banks and ridicule peers.
The session ended on a positive note as the principal of the school requested parents to avoid giving mobile phones and gadgets to their kids and be personally involved in their child's nurturing development process.
As an educational institution, while we train our students to keep them abreast with technological advancements such as artificial intelligence, it is equally important to safeguard them against cybercrime and fraud. The objective behind conducting such sessions for our young students is to prevent them from falling prey to any online crime or fraud. Also, at the same time encourage them to use it responsibly and with mindfulness. Parents too need to be aware so that they can monitor their kids' online behaviour as they have free access to the internet these days and they use it for various academic purposes too.