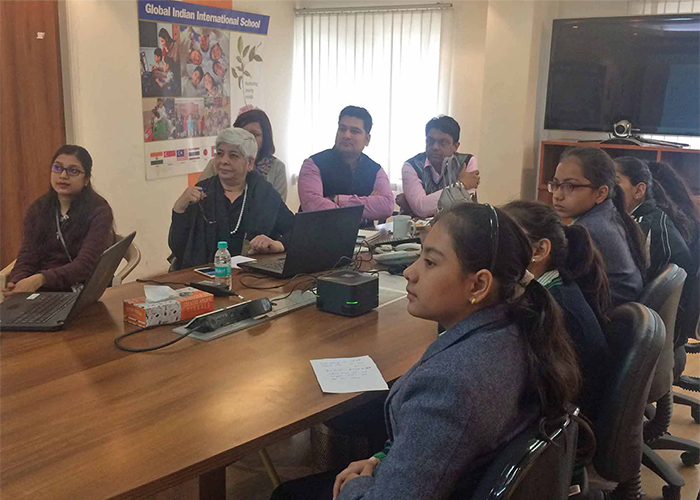 To promote communication, confidence building, and team play among students of grade 7, a global student exchange (GSE) programme was conducted for pupils of GIIS Noida, Abu Dhabi, and Tokyo. The topic for this GSE was virtual tour of the school campus, where each group had to showcase the gala of facilities their campus offers.
Students got an opportunity to showcase various parts of the school like the playground, MGCUV Lab, Academic labs, including resources that they get to access on daily basis. These resources/facilities give them the opportunity to grow and learn beyond limitations, and nurture them to be a leader of world tomorrow. After all, today's youth is the sole bearer of a country's future in the global world.
Each campus had multiple entries and the best one was showcased during the knowledge exchange session. The session started with Global Indian International School (GIIS) Tokyo presenting their beautiful campus in form a video slideshow beautifully amalgamated with the 9 Gems framework. The video was a beautiful attempt towards showcasing school facilities in combination to the values they carry for outstanding student learning. How each corner of the school has been built to deliver educational objectives of the holistic framework i.e. 9 Gems was also shown in the presentation.
GIIS Noida was the second one to present their work. The video was a complete inside view of the school facilities that help them become conscious individuals and hone every skills that makes them a global leader in this cutting edge world. The virtual tour video was a combination of students explaining each and every facility of the school and the kind of activities conducted in the specific self. In short, it was an interactive video with some great close ups and voice over commentary. GIIS Abu Dhabi on the other hand made a self-explanatory video where pictures and the background music was enough to speak for the purpose each facility fulfilled.
Speaking on the occasion, Ms. Sunita Jaisingh – National Academic Head, GIIS India said - "The objective of this session of GSE on virtual tour of the school was to give the children, skills of movie making and to be able to present their respective campuses with a sense of pride. Students of different geographies got a peep into other GIIS schools. They could see that though we have some very similar features yet each school is unique! I feel extremely happy to see the efforts all the kids have put in, and with the way they have put up the whole act together. It's commendable"