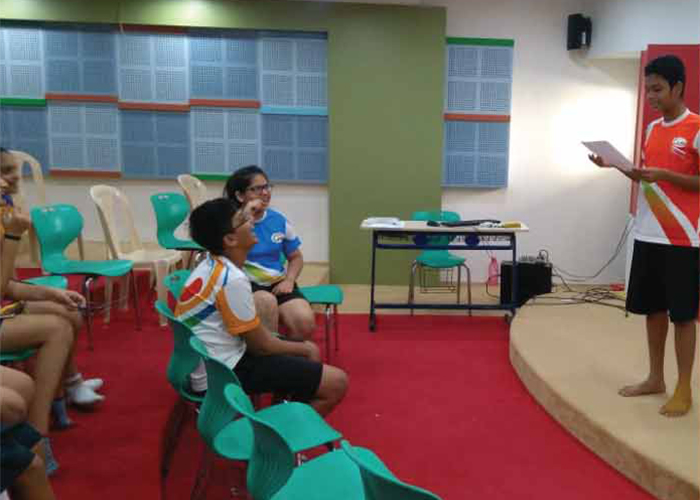 It's Singapore calling for GIIS India students!
It gives us immense pleasure in announcing that GIIS India campuses have paved their way into the Real World Challenges Convention 2017– the global competition of the year as one of the finalists for the Quality Circle Presentation. Students from the selected India campus will be representing GIIS India on a global platform i.e. the final event happening on 17th November, 2017 at the GIIS East Coast, Singapore campus.
As the finals are approaching and our students are gearing up for the ultimate showdown, the preparations are on in full swing in respective campuses, to bring the trophy home. With more than 10 categories to participate in, students are preparing harder and gearing up for the most competitive global competition of their time.
Each campus has put in best of their efforts, and will be leaving for Singapore shortly. A total of 75 students from various GIIS campuses i.e. Noida, Ahmedabad, Bangalore, Indore, Surat & Pune will be participating in different categories of events happening at the Singapore campus.
Here's a glance to the final sheet of judgement for the Quality Circle Presentation:
Category MS (Age 11 -13 years) No. of finalists: 4

Team

Campus

Project

MS QC 05
GIIS Balestier
Interactive learning
MS QC 07
GIIS Pune
Revamped traffic solutions
MS QC 08
GIIS East Coast
Stumbling blocks to academic success
MS QC 09
GIIS Noida
Stress and its impact on mental health of school
children

Category SEC (Age 14-15 years) No of finalists: 4

Team

Campus

Project

SEC OC 12
GIIS Ahmedabad
Coping with challenges of adolescence
SEC QC 14
GIIS East Coast
Every drop counts
SEC QC 17
GIIS Noida
Safer place for little ones
SEC QC 18
GIIS Pune
Social media addiction
Apart from the Quality circle presentation, students will also be competing for Transformation Turncoat, OPUS, and Conference and will be judged on the spot. Final entries for the pre-judged events (i.e. Art & Craft, Adzapp, Essay writing, and business plan) from each GIIS India campus has already been sent and the final result is awaited, to be declared at the RWCC grand finale.
We are super excited and happy as the feeling of healthy competition is running high among GIIS India participants. Here's wishing good luck to the final bunch of students from the India campuses. May you all perform beyond your capabilities and make us more proud.